Construction & Grassing Complete on Nicklaus Course in Arizona
The initial 27 holes of the Jack Nicklaus Signature course at The Ritz-Carlton Golf Club, Dove Mountain will open on January 17, 2009. Construction and grassing have been completed at the Golf Club, which will host the 2009 Accenture Match Play Championship in February.
Twenty-seven holes of golf and a 50,000-square-foot clubhouse complex currently make up the $60 million The Ritz-Carlton Golf Club, Dove Mountain. The first par-72 18, comprised of two tournament nines, stretches 7,810 yards from the tips, while the third par-36 nine measures 3,880 yards. A final par-36 nine, planned for construction in 2010, will extend 3,780 yards from the back tees.
Nicklaus designed his Signature courses to accommodate the best gallery areas for viewing the unique match-play tournament format, and has worked to make the courses a challenge for the players as well as a pleasure for the spectators. In addition, The Ritz-Carlton Golf Club, Dove Mountain was designed with the environment in mind, with irrigation of the courses provided completely by reclaimed water.
"I'm pleased with the course," Nicklaus said. "It has nice movement to it and great vegetation, with beautiful saguaros. I tried to create a challenge for Tour players, with long shots from the tournament tees and lots of strategy to the greens. The fairways are pretty friendly, though, and will lend themselves to an enjoyable round for members."
In addition to accommodating large-scale events, the Ritz-Carlton Golf Club, Dove Mountain courses emphasize playability and aesthetic appeal for all golfers, and will be available to a select membership as well as guests of the Ritz-Carlton, Dove Mountain resort. Memberships will be reserved for owners of the residences at The Ritz-Carlton, Dove Mountain, with a limited number of additional memberships available to non-residents on an invitation-only basis. Resort guests and members will alternate between the courses each day.
"We've created as many as 10 pin positions on every green, so the Tour has a variety of options, and the members have enough pin positions that they can do what they need to do," said Nicklaus.
The Ritz-Carlton Golf Club, Dove Mountain is a collaboration involving Arizona developers Cottonwood Properties and Greenbrier Southwest Corporation and the Ritz-Carlton Hotel Company, L.L.C. as manager. Cottonwood Properties, a Tucson-based firm, developed the 27-hole Jack Nicklaus Signature layout at La Paloma Country Club. Greenbrier Southwest Corporation's golf involvement in the Southwest include Kierland Golf Club, a 27-hole Scott Miller design in Phoenix; the 18-hole Tom Weiskopf layout at Seven Canyons of Sedona; and the Gary Panks-designed Twin Warriors Golf Club at New Mexico's Hyatt Regency Tamaya Resort.
Since his architectural debut in 1969, Nicklaus has designed 261 courses worldwide, and his business, Nicklaus Design, has 321 courses open for play around the world. Nicklaus Designs are represented in 31 countries and 38 states. At least 83 of them have hosted close to 600 professional tournaments or significant national amateur championships. At least 59 Nicklaus Design courses have appeared in various national and international top-100 lists. The firm currently has projects under construction or under development in 40 different countries.
"We are delighted to have Jack Nicklaus' artistic genius behind the design of these golf courses, and it's an honor to work with him again," said David Mehl, president of Cottonwood Properties, the master developer and owner of Dove Mountain. "This project will solidify Dove Mountain's position as one of the Southwest's most exclusive communities and further enhance its reputation as a national golf destination."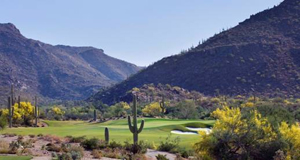 About The Ritz-Carlton Golf Club, Dove Mountain

The Ritz-Carlton Golf Club, Dove Mountain will serve as the centerpiece for the half-billion-dollar 850-acre Ritz-Carlton community in northwest Tucson's high Sonoran Desert. The club will serve The Ritz-Carlton, Dove Mountain, a 250-room resort, as well as 300 single-family homes at the Residences at The Ritz-Carlton, Dove Mountain. Twenty-seven holes of golf and the 50,000-square-foot clubhouse are under construction and scheduled for completion in January 2009, with the fourth nine planned for 2010. For further information, visit:The Golf Club Dove Mountain The Golf Club Dove Mountain or call 407/206-6208.