Construction Underway at Golf Project near Pyramids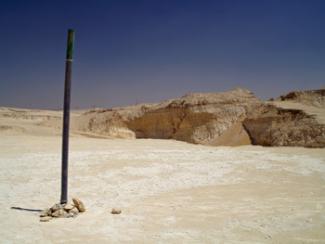 The Future Green on New Giza's Par-3 13th Hole
Construction at one of the Middle East's newest golf and real estate developments - New Giza in Egypt - is underway.
Tim Lobb, principal of Thomson Perrett & Lobb, the international golf course architecture practice founded by five-time Open champion Peter Thomson, has just returned from a site visit with design associate Andrew Goosen. Lobb confirmed that staking has been completed and site prep has begun. When completed, the course will offer views of the nearby ancient Pyramids.
"With so many golf developments having been put on hold over the past year, it is a credit to the developers and everyone involved with New Giza that the project is moving forward," said Lobb.
"The site for the golf course is part of one of the most dramatic landscapes we have worked on, with incredible hilltop views to the Pyramids and 50-meter-high cliffs, which have been incorporated into the golf course design.
"The news that there will be an MGM Grand Resort on site underlines New Giza's status as a landmark development for Egypt. It is a very exciting project to be involved with."
The community will be part of a 1,500-acre development which will also include a second hotel, hospital with 540 beds, medical school, university, two schools, sporting club, two mixed-use areas with restaurants, shopping malls and office spaces, plus 5,500 villas, townhouses, and apartments in 10 neighborhoods surrounded by parks and lakes.
The course, the development's centerpiece, will be built along the higher portions of the desert property, incorporating natural features to create a unique experience.
"We are fortunate to have such an outstanding piece of land to work with," Lobb said. "We are not actually having to move huge amounts of earth to create interest and excitement in this golf course, as the hills, ravines and cliffs are already there. What we are doing through the design and construction is bringing the drama of the landscape to life for golf, and we have no doubt that New Giza will be a landmark project for the region."
The course at New Giza is scheduled to open in 2012, while the MGM Grand at New Giza is expected to debut the following year. For additional information, visit www.newgiza.com.