Conversations with the Unknown Architect - Part 2
By: Tony Dear
[Editor's Note: This is Tony Dear's second installment in his "conversations" with "unknown" architects. Actually, the designers profiled in both stories (for Part 1, see http://www.cybergolf.com/golf_news/conversations_with_the_unknown_architect) have considerable skills and cachet in the industry though they're not quite as well known as the Nicklauses, Doaks, Palmers and Coores & Crenshaws of the golf world. Here's Tony's profile of three more highly skilled golf course architects - in their own words.]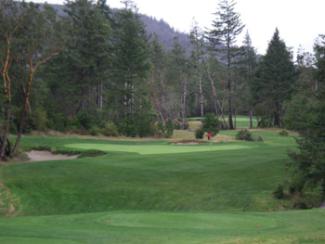 One of the Tree-Lined Holes at Bandon Crossings
Dan Hixson

How did you get your start?

I got started in the business by simply deciding that I wanted to become a golf course designer and had enough guts or lack of brains to resign my position as head professional at Columbia Edgewater CC in Portland. I never really had a mentor in the business. I admired what Bunny Mason was able to achieve as a full-time golf professional and part-time designer, who eventually built 15 to 20 courses in the Pacific Northwest. He also was the head professional at Columbia Edgewater at one time. He and I talked about courses a lot and we co-designed a nine-hole par-3 course at Columbia Edgewater, which was my first project of any size. While he and I did not have very many similarities in design philosophy, I did learn a great deal from him.

I really wasn't qualified to go to work for another architect or firm so I went out on my own. Scott Larsen (at the time owner of Larsen Golf Construction) was the person that encouraged me that I could make a go of it. He taught me a lot about construction and how to take ideas first from my head, then to paper and finally to the ground. The superintendent at Columbia Edgewater, then and now, Gordon Kiyokawa, also taught me a lot on that project of the technical issues of drainage and converting somewhat derelict land into fine turf for golf.

Give us two pieces of great advice you've benefited from.

Hands down the best advice (which I already knew about my old profession) came from John Harbottle, who told me I didn't have to know everything in this business, and that there would be someone on the project that does have the required knowledge. "Knowing how to find the answers is more important," he said. "Know the golf side, you'll figure everything else out in time." He definitely was right. There is always tons of free information from many different people who have experience building courses.

The other great advice was from no one in particular, but we have all heard it hundreds of times - "Find out what your passion in life is, and do it."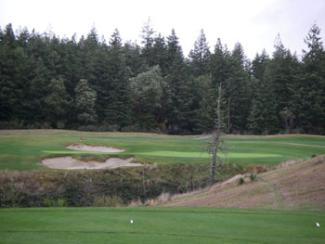 Dan Hixson's Bandon Crossings
If you were to showcase your work to someone who'd never heard of you, where would you take them?

My three completed projects: Bandon Crossings, Crestview and Wine Valley all have a very diverse look from each other and I would not hesitate to show them all to someone. This is a hard question as I wrestle with trying to stay objective about my work as a means to improve.

What has been your favorite project to date?

Certainly Bandon Crossings would be hard to beat as a favorite. It was my first full course project and, with a great client, contractor and a wonderful piece of land, with an abundance of sand. There were so many times that I stopped and appreciated how lucky I was to be building a golf course with as much freedom as the owners gave me. The combo projects of Wine Valley and Crestview were great as well, but made for an incredibly busy summer. I would spend three or four days a week at Wine Valley (in Walla Walla, Wash.) managing a relatively large crew, then drive seven hours for a couple days of dozer-work at Crestview (in Waldport on the Oregon coast) . . . repeat. Did that for about 17 weeks.

How did you survive the economic downturn?

To be honest, the bad economy didn't really change anything for me. Certainly, it has kept the number of new projects down, but I have never really stopped building. I have a number of clubs and courses for which I consult. Most courses are not in a spending mode currently, but there are still many that are doing smaller projects to keep improving their facilities. I do quite a few long-range plans in a way that the clubs can implement projects when the funds are available. I am also designing/building a new resort course in Eastern Oregon called Silvies Valley Ranch. We have been building it for several years with a very small crew, taking our time to get things right.

How do you see the industry, and your place in it, evolving?

I think the average cost to build a new course will become much lower. It has never made any business sense to me to build a course that costs over $10 million. In my opinion, if you are building on a site that requires spending that much to make it happen, it probably shouldn't be a golf course. There will always be exceptions, but trying to put together a business plan for a $20 million course requires a form of accounting that is very creative.

I rarely have to chase after work as my phone keeps ringing. I think I have enough projects in the pipeline to keep me busy for quite a while. I have been asked about going overseas, but I really have no desire to build a course in China. I am not really equipped to even go there. Truthfully, I don't want to build a course that I probably will only play once.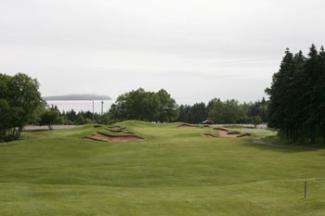 The Remodeled 15th Hole at Highland Links
Ian Andrew

How did you get your start?

I began with a small club named Carrying Place (in Ontario, Canada), putting together a master plan and building greens while still in university. A short while after I graduated, I went to work for Doug Carrick. I began in the spring of 1989 and stayed till 2005. I would say Doug was my initial mentor, but the lessons that shaped my design philosophy came from other architects who I met and befriended in the late 1990s.

Give us two pieces of great advice you've benefited from.

Clyde Johnston said, "Keep your business small, the overhead low, work out of your own house and you will survive just about any type of downturn." It was great advice for me when I knew I was going out on my own. Each time I had too much work I turned down projects rather than grow. It made 2008/2009 manageable.

Bruce Hepner of Renaissance Golf (Tom Doak's firm) told me that grassing lines identify how a course will play. Bruce is one of my closest friends in the business and each time we get together we talk about grassing ideas and how the ball reacts on the ground because we believe that is the key to unlocking great architecture. Grassing lines remain the biggest focus of what I do.

If you were to show someone who'd never heard of you your best work, where would you take them?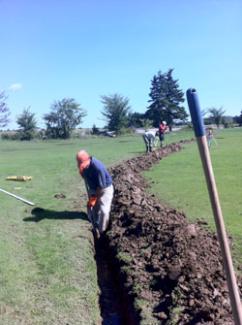 Ian Andrew Hard at Work
The Blue Course at Laval-sur-le-Lac in Quebec (Andrew's first project with Mike Weir). I wanted to give players choices, and put the ground in play. The extensive use of short grass around the greens and the massive variety in hole types result in what, I believe, is the best expression of what makes a course fun to play.

What has been your favorite project to date?

The restoration of Highlands Links (an original Stanley Thompson design in Nova Scotia), a project that has become very personal. I think the work is essential for the good of the game since other architects can now come out and see Highlands Links in its original form once again. Each time I go to the course I put on my gloves and work boots and run the crew. Everything is done by hand and built by the people of the community. The whole project is all about the big picture, which is the economic survival of a small community.

How did you survive the economic downturn?

I have a small, very specialized niche business that is based out of my home. I'm very good at putting money aside during the good times to cover the quiet periods. My restoration work has remained solid throughout the last decade despite the ups and downs in the economy. I'm getting more and more calls from further away and that's a good sign that my profile continues to rise. I also get projects through the recommendation of my peers, so I must be doing something right.

How do you see the industry, and your place in it, evolving?

I don't see any change for me. I plan to stay in North America and pursue the same type of projects that I currently do now. It would be nice to find a little more new-course work, but I really enjoy the restoration and would be happy doing that for the next 20 years. I think the industry could be in trouble down the road. While I see continual slow growth for North America for many years to come, what I see in China frightens me. This looks just like another housing bubble that if it were to burst would end new-course construction.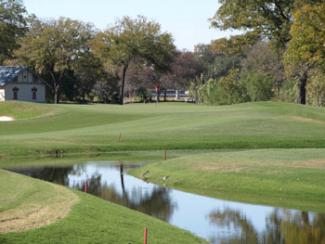 Old Brackenridge
John Colligan

How did you get your start?

I was interested in architecture as far back as junior high, so I transferred to what was referred to as the Skyline Career Development Center in Mesquite, Texas., where I studied architecture three hours a day, five days a week, along with Math, English, History etc. The curriculum was taught by two registered architects - John Swope and Terry Lunsford. I entered the School of Architecture and Environmental Design at the University of Texas at Arlington and immediately became bored with the preliminary studies in architecture because they were, for the most part, the same thing we learned at Skyline.

So I began to get interested in Landscape Architecture. After I got my undergraduate degree, I decided to go on and get a Masters in Landscape Architecture and, with my love for golf, I tailored my graduate studies toward golf course design. One day, a golf course architect named Jeff Brauer called the university and asked if there was anyone in the program interested in golf course design. Jeff called the house and my wife answered. She thought it was one of my fraternity brothers playing a joke and almost hung up. That might have ended my career before it ever got started. I worked with Jeff for 12 years working on as many as 10 projects at a time.

Give us two pieces of great advice you've benefited from.

My professor at university told me that, when designing, no solution is wrong but some are better than others, and my father told me "You can never take too many business classes." I wish I would have listened.

If you were to show someone who'd never heard of you your best work, where would you take them?
I honestly could take someone to all of our projects and they would not be able to tell that we have been involved because of the diverse design styles. That said, there is always the common thread; each course is user-friendly and aesthetically pleasing. Our motto is, "Golf should be enjoyed, not endured."

What has been your favorite project to date?

I love them all, but one of the most rewarding was Apache Links, near the town of Glen Rose, Squaw Valley. It was one of the first courses I did with GolfScapes. I designed the second course, Comanche Lakes, when I was on my own, and then got to renovate Apache about five years ago. I know I'm getting a little long in the tooth when I am renovating courses that I designed originally.

How did you survive the economic downturn?

Before it hit, we were doing a lot of work for municipalities when many of the other golf course architects were working in the private sector. When things started to slow down the private money dried up very quickly while the municipalities still had money in the coffers. With our municipal track record we were able to stay afloat working on projects for the cities of San Antonio, Fort Worth, Cleburne, Amarillo and Dallas. In addition, we have done master plans for several private clubs, including Shady Oaks in Fort Worth. I've also been busy building short-game facilities and practice ranges, and have done several major bunker renovations. And having the same location for 28 years has enabled me to build a strong local network.
How do you see the industry, and your place in it, evolving?

If some of our most recent projects are any indication, it looks as if the industry is on the upswing. Stevens Park in Dallas has gone from a low of 27,000 rounds per year to a tad under 60,000 since our renovation two years ago. Luna Vista and Keeton Park, also in Dallas, are doing similarly well. Another positive is we have been approached in recent months by people considering the construction of new courses. They haven't happened yet, but at least they are considering them.

As for our place in the market, I don't take anything for granted, but I would say that my associate Trey Kemp and I will continue to renovate courses in both the public and private sectors.
Tony Dear is an Englishman living in Bellingham, Wash. In the early 1990s he was a member of the Liverpool University golf team which played its home matches at Royal Liverpool GC. Easy access to Hoylake made it extremely difficult for him to focus on Politics, his chosen major. After leaving Liverpool, he worked as a golf instructor at a club just south of London where he also made a futile attempt at becoming a 'player.' He moved into writing when it became abundantly clear he had no business playing the game for a living. A one-time golf correspondent of the New York Sun, Tony is a member of the Golf Writers Association of America, the Pacific Northwest Golf Media Association and the Golf Travel Writers Association. He is a multi-award winning journalist, and edits his own website at www.bellinghamgolfer.com.