Coosaw Creek an Arthur Hills-Designed Beauty in Carolina's Lowcountry
By: John Torsiello
I just couldn't wait to get to Coosaw Creek Country Club. I had heard so many good things about this Arthur Hills-designed gem in North Charleston, S.C., that I was simply itching to try it out.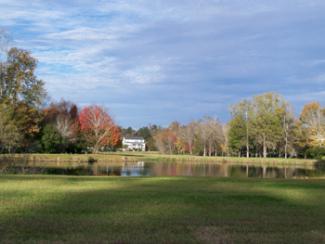 The 17th Hole at Coosaw Creek
It was a delightfully warm early-January day; you know, the kind that makes you wonder why the heck you live anywhere else than in the Southeast, as I drove through the attractive community that surrounds the golf course, stately brick homes gracing quiet streets. Once I arrived at Coosaw I was greeted by the genial general manager and director of golf, Mike Benner, and his staff who, in typical Lowcounty fashion, welcomed and wished me a great day on the course.

After a chat with the affable starter, I hooked up with a psychiatrist from Portland, Ore., who was visiting the area. I figured it would be a great opportunity to get a little free advice on my mental state. Instead, I wound up giving him tips on how to hit from and chip out of the sticky, tricky Bermuda grass turf.

Before I tell you about the course, first a primer on Arthur Hills, who, I do believe, is one of the most underappreciated golf architects of his time. Still at it at age 82, he and his firm have designed more than 180 new courses and renovated or modified more than 120 others, including some of the most significant clubs in the country, often in preparation for major USGA or PGA championships.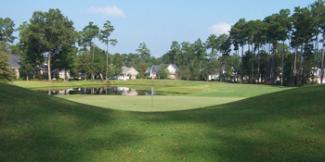 One of the Beguiling Greens at Coosaw Creek
Hills has crafted courses at Bonita Bay in Naples, Fla., Bighorn Golf Club in Palm Desert Calif., The Champions in Lexington, Ky., Wolfdancer Golf Club in Lost Pines, Texas, the Half Moon Bay Golf Links' Ocean Course in Half Moon Bay, Calif., TPC Treviso Bay in Naples, Fla., and the Inverness Club in Toledo, Ohio.

Hills is known for his wise use of the natural terrain and is big on making a player think his or her way around a layout rather than simply trying to overpower it. His courses are laced with water hazards and bunkers, and the greens are usually undulating and difficult to read, which is certainly the case at Coosaw Creek.

The first hole at Coosaw gives you an indication of the fun to come. There's a bunker that sits at the right side of the fairway about 210 yards out from the tee of the 336-yard, dogleg-right par-4 opener. The temptation, which I readily fell victim to, is to take it over the hazard to shorten the hole by 50 to 60 yards. I did indeed carry the trap, left myself with a short wedge, stuck it to 12 feet and made the putt for birdie. For once the reward was worth the risk.
Despite being located in a residential community, Coosaw Creek has the feel of a course in the wilds. That's because much of the natural area - i.e. wetlands and woods - were wisely left intact by the developers to enhance the pleasure of playing here.

The overall length of the holes is modest; the track plays - by modern standards - a mere 6,593 yards from the tips and just over 6,000 yards from the second set of markers. But there's enough trouble to force you to place drives in the proper positions or club down a bit to leave more unfettered approaches to the putting surfaces.

I think one of the best short holes here is the 160-yard third, a sweet par-3 that demands a drive over water to a very deep green. You can make birdie or easy par here, though if you come up short or push your tee ball a bit right you are going to hear a splash and looking at a double-bogey.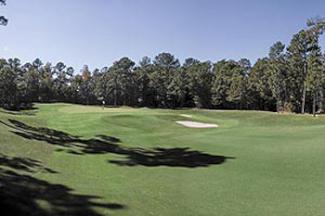 The Tree-Lined 12th at Coosaw Creek
The back nine has quite a bit of water on it, but most of the wet stuff can be cleared with relative ease off the tee. The 16th is the best par-5 on the course. It measures 516 yards from the tips and big hitters can get close to a pond that kisses the fairway about 270 yards out, which leaves a chance to reach the green in two. I preferred to play it safe after a so-so drive and hit a 4-iron to the fairway lay-up area to steer clear of sand traps, which left me with a short-iron into another deep green. A two-putt from here got me a nice par.

My playing partner continued to have trouble chipping out of the Bermuda grass and made a tough bogey after getting close in two. The thing about Bermuda I have learned is that you really have to commit to the shot, whether with a 5-iron from the rough or a delicate chip beside the green. If you don't, the creeping grass has a tendency to grab the club and either turn it over or stop it if you're not moving through the ball properly.

Many designers like to beat you up on the way to the clubhouse. Not at Hills' Coosaw Creek which concludes with a delightful 343-yard par-4 that veers sharply left before ending at another deep and very narrow green. The hole plays slightly uphill (by the way, the elevation changes here - although slight - are atypical of Lowcountry courses), so that makes the 18th play a tad longer than its yardage.
As I said, Coosaw Creek won't beat you up, but it doesn't hand out birdies easily either. This is a course where it's wise to take what the holes give you, think before pulling a driver out of the bag, and don't get too greedy on approach shots. The conditioning is very good through the green.

For more information, visit www.coosawcreek.com.
John Torsiello is an editor/writer living in Connecticut. He has written extensively about all aspects of the golf industry for a number of national and regional publications. He is a regular contributor to "Golf Course Industry," "Lawn and Landscape," "Golfing" and "Fairway Living" magazines as well as various online publications. He has strong, ongoing relationships with industry professionals and has worked closely with course owners, architects, developers, course superintendents and general managers around the country. He has won a number of awards for his writing, including first place from the Turf and Ornamental Communicators Association for a piece that appeared in "Golf Course Industry" magazine.