CordeValle: An Oasis near the Bay Area
By: Joel Zuckerman
Northern California has a unique golf appeal, with Bay Area bastions like Olympic Club, California Club, San Francisco Golf Club and Harding Park among the best-known courses. A few hours south is the "Shangri-La" of the Monterey Peninsula. Pebble Beach, Cypress Point, Spyglass Hill and numerous other dazzlers make its famed 17-Mile Drive the most sought-after roadway in golf, with the possible exception of Augusta's Magnolia Lane.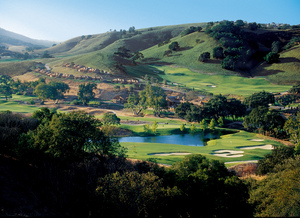 Aerial View of CordeValle's Golf Course
However, about midway between Monterey and the Bay is a little-known though highly-desirable resort called CordeValle. The Robert Trent Jones golf course is first-rate, but it's only a single component to a facility offering fabulous views, service, comfort and cuisine, among other fine attributes.

CordeValle encompasses 1,700 acres cradled in the foothills of the Santa Cruz Mountains. This Rosewood Resort seamlessly combines the natural beauty of the rolling California countryside with pitch-perfect service. The terrain features undulating meadows, tree-dotted hills, seasonal creeks and waterfalls. As a bonus, the 85-acre Clos LaChance winery and vineyard is also on site, and their tours and tasting room is every bit as popular as the golf course.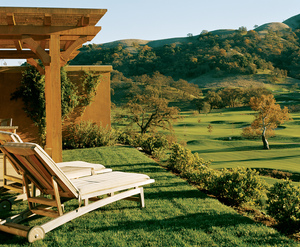 View from a CordeValle Guestroom
The PGA Tour has taken notice of the facility, the stunning golf course in particular, and is coming to CordeValle this autumn. The Frys.com Open will be contested on the grounds in mid-October. As it's a Fall Series event and beyond the regular Tour schedule, there likely won't be an abundance of marquee names. But high-profile players currently committed, including Justin Leonard, Henrik Stenson and rookie sensation and Ryder Cup participant Rickie Fowler, will assuredly be impressed with what they see and experience, both on and off the golf course.

While the Tour pros will soon be getting their first taste, another newcomer to the area is director of golf Michael Marion, who took over the reins in August. The acclaimed instructor moved his family to California after a series of high-profile positions in recent years, including upper-management positions at Pronghorn, in Bend, Ore., Promontory, in Park City, Utah, and Elk River Club in Banner Elk, N.C.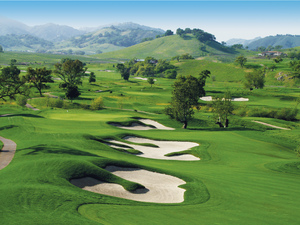 Looking Across CordeValle's Course
"The golf course here has tremendous character, and each shot has lots of value," begins Marion. "I think the PGA Tour pros are sure to appreciate that. Each shot requires thinking, whether to lay up short or attempt to fly a bunker, and using precise distance control. It's not a course to just stand on the tee box and swing away."

One hole in particular speaks to his point. The eighth (which will play as the 17th during the Frys.com Open when the routing is reversed) is a potentially drivable par-4 of less than 360 yards from an elevated tee. However, the prudent play - with water looming right, is a mid-iron or hybrid - followed by a wedge. (Or, for the resort golfers and club members playing from the 325-yard blue tees, perhaps a 3-wood and short iron.) But those with gusto and power to burn might attempt to launch the tee shot onto the green, hoping for a realistic eagle putt.

"The obstacles around the green force a player to either lay up short maybe bounce it on, or fly it to the hole, depending on the situation," continues Marion. "It's a beautiful golf course certainly, but beyond that it also has such great character."

Another hole of note is the par-5 third, which will play as the 12th during the upcoming Frys.com Open. It's 573 yards from the tips, and 555 from the blues, but length doesn't tell the story. Shaggy rough intrudes on both sides of the landing area, and if the tee ball drifts into the gunch it's tough to knock it over the first bisecting hazard, a vegetation-laden ditch that covers the entire breadth of the fairway. Once the ball is over the first set of weeds, the approach shot is even tougher. A line of head-high vegetation practically obscures the flag greenside, and a golfer better be sure he or she can carry the entire vegetable patch with the shot to the green. If the ball disappears, it become a scramble for bogey, or worse.
But CordeValle is just a golf resort like Billy Crystal is just an impersonator, or Peyton Manning just a rocket arm - there is much more to the whole story. Guests are ensconced in spacious bungalows, expansive fairway homes or secluded villas. Each of the 45 separate lodgings is tricked-out with original artwork, DVD/CD players, flat-screens, fireplaces, walk-in closets and high-speed Internet access. King-sized beds, goose-down comforters and high tread-count linens make it a snap to wind down at evening's end.

Dining is a highlight, particularly in the evening at Il Vigneto, which a server cleverly describes as serving "Itali-fornia" cuisine. Lion's Peak Grille and the One-Iron Bar are more causal dining options.
While the whole feel of the resort is rather genteel, those that prefer the concept of bodies in motion would be well served to get out of their state-of-the-art gym, well-appointed though it may be, and take on the CordeValle Hiking Trail. The lower level is akin to a green or blue ski run, but to take it up a notch, the stout-hearted and iron-legged will attempt the Lion's Loop, which heads up the highest hillside ringing the golf course, a straight-up, then straight-down journey that will test the lower extremities better than any leg press or quad machine could ever do. The quads will burn, the breath will be labored, but the views of the nearby vineyards and surrounding countryside will no doubt inspire.

Afterwards, work out the kinks at Sense, the sparkling on-site spa offering specialty treatments including a Turkish steam room and Vichy shower, and a full range of massage, facial and body treatments.
A note about the uniquely appealing service component at CordeValle Resort: Virtually every "front-of-the-house" employee exudes a notable warmth and casual friendliness, consistent from the golf shop to the spa, from the front desk to the servers, bartenders and ubiquitous bellmen that shuttle guests to and fro via limousine-style golf cart. In refreshing contrast to some of the over-the-top obsequiousness one occasionally encounters at very formal multi-star hotels (think Ritz or Four Seasons), the CordeValle crew has a different gestalt. They are perfectly friendly and delighted to help in any way, but don't smother their guests with attention. Call this mentality "California Cool."

The resort itself is out in the countryside a little bit, a couple of miles off of a relatively desolate portion of Highway 101. This is agricultural country, and nearby burgs like Gilroy and Castroville play host to their annual Garlic Festival and Artichoke Festival, respectively. But the fact is that CordeValle is centrally located. It's about 45 minutes north of the Monterey Peninsula and venerable Pebble Beach. It's maybe 40 minutes south of San Jose and its international airport, and only about an hour below Palo Alto and Stanford University. The charms of San Francisco itself are only 30 or 45 minutes to the north. But thoughts of nearby attractions will be far from your mind when gazing down from one's well-appointed bungalow at the ribbons of fairway nestled below the rolling ochre hillside, particularly in either the dawn light or coming dusk. The view looks more like an idealized oil painting of a golf course than an actual golf course itself. Drink it all in, and come to the realization you probably don't want to go anywhere else at all.

For more information, visit www.cordevalle.com.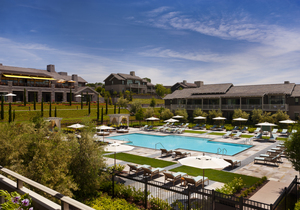 Pool View from a Rosewood Sand Hill Premier Room
Rosewood Sand Hill

For those who have business in the heart of Silicon Valley, are visiting kids at Stanford, or perhaps both, there is a great resort-and-golf component available in close proximity, without the need to trek further south to CordeValle.

Nestled amid 16 acres, Rosewood Sand Hill in Menlo Park melds the relaxed style and beauty of California Ranch architecture with fragrant gardens and stunning views of the Santa Cruz Mountains. This getaway-in-the-suburbs features 123 spacious guestrooms, a spa, gym, outdoor pool and deck, and an epicure's delight in Madera's Restaurant, which specializes in using fresh, local ingredients. Guests, many of whom are local residents looking for a quick overnight change-of-scenery from home, experience unparalleled attention to detail and service at this urban oasis.

The golf component comes into play at the nearby Stanford University Golf Course, as Rosewood Sand Hill now offers stay-and-play packages. The renowned course had previously been open only to Stanford students, faculty, alumni and their guests. The collegiate training ground of Tiger Woods, Tom Watson and Michelle Wie, the course was designed by renowned architects William Bell and George Thomas in 1930. Considering the architects also collaborated on such venerable L.A.-area courses such as Bel-Air and Riviera, it's no surprise to learn that Stanford is consistently rated as one of the finest collegiate golf courses in the country.
For more information, visit www.rosewoodsandhill.com.
Joel Zuckerman, called "One of the Southeast's most respected and sought-after golf writers" by Golfer's Guide Magazine, is an award-winning travel writer based in Savannah, Ga., and Park City, Utah. He has written five books, including the epic "Pete Dye Golf Courses" in 2008. Joel's course reviews, player profiles, essays and features have appeared in more that 100 publications internationally, including Sports Illustrated, Golf, Continental Magazine, Travel & Leisure Golf, Sky Magazine, Golf Connoisseur, Golfweek, Estates West, Millionaire and Golf International. For more of Joel, visit www.vagabondgolfer.com.