Cornerstone Colorado to Open in June
Greg Norman will be unveiling his newest American golf course this June. The 18-hole layout at Cornerstone Colorado is the centerpiece of a 6,000-acre residential community near Telluride.
The 7,978, par-72 course offers vistas of the San Juan and West Elk mountains. It's located within a private residential community where membership is limited to land owners.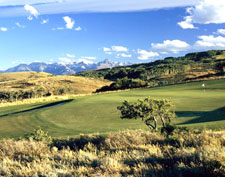 When designing a new course, Norman seeks to minimize massive earth movement, reduce large-scale clearing and take advantage of the natural facets of terrain. Cornerstone Colorado's course, which covers more than 300 acres, features aspen groves and rock outcroppings. The area is home to elk, mule deer and wild turkey, as well as plentiful wildflowers and diverse vegetation.
Norman's first look at the property came in January 2004 when he toured it on a snowmobile. The Australian was surprised to find that the snow-covered earth revealed the potential for the course. "Cornerstone will be a truly natural golf experience," says Norman. "The course brings aspens, sage and ephemeral streams into play and allows the natural landscape to dictate the flow of play."
Cornerstone members will have access to outstanding golf professionals and staff. Mark Wood, ranked as one of the top 50 instructors in the country for the past 10 years, is Cornerstone's director of golf. Kathy Hart-Wood, a former LPGA touring pro and named a top-50 instructor by Golf for Women, is director of women's golf. Tom Huesgen, who spent eight years at Pebble Beach - the last 4½ as the superintendent at the prestigious links before becoming Cornerstone's superintendent-has been overseeing construction of the course.
In addition to the Norman-designed track members will have access to a 20-acre practice facility with a short-game area, tree-lined driving corridors, an uneven lie practice area, as well as greenside and fairway bunkers. The development also boasts a bar and casual grill and outdoor dining; and a "village mercantile" that will house the golf pro shop as well as outfitters' headquarters. Nearby is the "Crazy Coyote Swimming Hole" that includes a kid's beach, fishing piers, rope bridge, climbing rocks, kid's play area, and resort quality cabanas. Future plans include Cornerstone Lodge, which will feature fine-dining, tennis, swimming pool, spa and fitness facilities.
Cornerstone is a development of Hunt Realty Investments (HRI), a subsidiary of Hunt Consolidated, Inc. that is owned by Ray Hunt and his family. HRI is involved internationally in real estate investment, development and management.
For more details, visit http://www.cornerstonecolorado.com.