Couples Grants Dying Man's Wish
Richard Farley is dying, with lung cancer ravaging his body. The former long-time owner of Montreal's Metropolitan Golf Club and a pillar in the city's golf community is running out of time.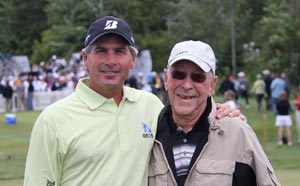 Fred Couples & Richard Farley
On Thursday at the Montreal Championship, the 67-year-old stood in the parking lot of Club de golf Le Fontainebleau, site of the new Champions Tour event, moments before he was to meet his favorite golfer, Fred Couples. The emotion was just too much. In that lonely lot, Farley's body shook uncontrollably and tears streamed down his face as he clung to close friend Carlo Blanchard. It was Blanchard, a respected teaching professional in Quebec who once worked at Metropolitan, who Farley called with a final request.
"He called me four or five weeks ago and told me he didn't know how long he had to live," says Blanchard. "He said he had one last wish, to meet Freddie. I know Freddie and (Tournament Director) David Skitt, so I knew we could make something happen. We didn't have to ask Fred twice."
Blanchard was certainly not alone. Seconds after Couples emerged from the Montreal Championship Media Centre, he walked up to Farley and the two embraced warmly. As cameras clicked and spectators wiped away tears, the two shared private words. Farley cried again.
"This man is so happy he was shaking and crying this morning," Blanchard said of Farley after meeting his hero. "I got goose-bumps after seeing that."
"I just wanted to see this day," says Farley, his voice cracking with emotion. "I phoned Carlo and told him I was dying and I wasn't going to be around much longer. I wanted to meet Fred Couples, but I just didn't know if I would make it this long. I fought and fought for another day, and here I am today. If I don't make it past tomorrow, I've seen my dream."
Minutes later as Couples stepped to the tee to take part in the pro-am with Montreal Canadiens' legend Yvan Cournoyer and current star Mike Cammalleri, Couples and Skitt sent a charge through the crowd.
As thousands looked on, Richard Farley was introduced. Couples led the thousands in an emotional and lengthy ovation. As he slowly made his way towards Couples yet again, Farley's tears returned. For a few moments, it was Richard Farley's stage.
The above story is courtesy of Marty Henwood of Synchro Sports.