Couples Returns Home in Good Health
By: Bob Sherwin
It was the end of the line for Fred Couples. His fragile back, which had impinged his play throughout his professional career, finally had eaten away at his psyche.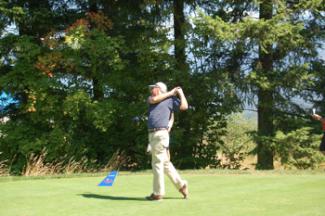 Fred Couples During Practice Round at Boeing Classic
He was fed up. He was frustrated. He would take weeks away from swinging a golf club, even months off, and the moment he returned to the driving range the pain would return. Same spot. Same agony.

"I would be up all night (before a tournament),'' said Couples, one of the favorites in this week's Boeing Classic, the Champions Tour event that starts Friday at TPC Snoqualmie Ridge in Sammamish, Wash. "I'd sleep from 5 to 7 (p.m.), eat dinner then I'd be up till my tee time. I just said, 'I'm not doing this. I've done it for 30 years.'

"It's like a toothache. I hated everybody. I couldn't get through the day. And I was not playing good. So that's where it was.''

How many doctors had he seen for it over the years? How many opinions had he received? How many experimental treatments did he undergo? Couples could have had invasive surgery, but that clearly would have been the end of the line, as he said, "You don't play a whole lot of good golf after that.''

Virtually all the doctors who examined Couples suggested the same thing, rest for a long period then if nothing improves surgery. His competitive career, as he knew it, would be finished.
At 51, he wasn't ready for the dream to die. Despite the pain, he had a competitive Masters, finishing in a tie for 15th last April. He had a strong "rookie" season last year on the senior circuit, winning four times. He collected $2.34 million in prize money. He broke long-time Champions Tour records for season scoring average (67.96), putting average (1.693) and birdie average (5.0).

He could still play well, both above and below the age-50 barrier. He didn't want to do anything that could limit his high caliber of play.

Then he heard of an experimental blood-work procedure in Germany, one not allowed in the U.S. Vijay Singh had his ailing back treated there. It didn't involve surgery but injections. That intrigued Couples, who committed to it in July 2011.

He flew to Dusseldorf and showed up the next morning at the clinic. As he sat alone in a waiting room, Couples called his girlfriend to relate his trepidation. "I was a little bit uneasy,'' he admitted.

Couples said once his doctor looked at his MRI, "He said the same thing (as his American doctors), it looks horrific. He said, 'Just to let you know, I think this will help you. I'm not really sure. You're a little worse off than I thought' . . . (but) the procedure was a no-brainer.''
Blood was taken from his arm. It was put in a centrifuge and tiny beads would force the white blood cells to overproduce protective and regenerative proteins. That serum was then injected back into him six times over five days. The procedure is called Orthokine Therapy.

"It really, really helped," Couples said on the eve of the Boeing Classic. "I don't know how long it will help. I haven't had any pain,'' said Couples, knocking on a wood table. "It could last this week; it could last six months. But three weeks ago I couldn't have felt any better.''

His first test was the Champions Tour's 3M Championship in Minnesota the first week of August. He finished tied for 26th, but no pain.

"It was a very unnatural feeling, just swinging a club, not stiff or no pain,'' he said. "I've played with a stiff back since 1994. I have no problem with that. It's the pain part I just couldn't take.''

He followed that with a victory last weekend in the Constellation Energy Senior Players Championship in Harrison, N.Y. He beat John Cook after a three-hole playoff to win his first Champions Tour major.

Strangely, his back was not the problem, but his hip stiffened up after a two-hour rain delay. "I called him (the German doctor) Monday and told him I have some really bad hip pain,'' Couples said, "and he said, 'That's OK, that should go away. But next time you come in we'll shoot your hip up, too.'
"If this lasts another month, I'll fly right back there the week after,'' Couples said.

Cook, who watched his chance at his first major title on either Tour dissolve when Couples put a 76-yard wedge 18 inches from the cup on the final hole, said he's not surprised Couples played well.

"He's played through it for a long time. It's part of his deal,'' Cook said. "We've all made sacrifices in our lives to become who we are and played the way that we have. He isn't 100 percent healthy but he has played through that.

"He's one of the great players that we've had. You look down the list and wonder if he was healthy, where that would have gone. Those are the cards he was played and he's done fantastic with it. I'm glad he's out and committed to the (Champions) Tour. He's a great addition to any field. And you know if you've won a tournament with Fred in the field, you've done something.''

The Boeing Classic is a tournament that Couples - who learned the game at Jefferson Park Golf Course in Seattle and went to O'Dea High School - wants to win most of all. He said his time in Seattle last year, in which he played the Senior PGA at Sahalee followed three weeks later by the Boeing Classic, "was the most fun I ever had playing.
"I'm always excited to come back, as I've said a million times,'' he said. "It's unique to play in your hometown. This is a big fun tournament. I want to do really, really well. I want to talk to everyone out there, but it's not an easy course. You have to be really sharp. But I always look forward to playing at home.''

Couples used his appearance in Seattle to resolve one of the lingering questions this summer. He is the captain of the Presidents Cup, a competition involving a 12-member U.S. team going against 12 non-European players at Royal Melbourne Golf Club in Victoria, Australia, November 14-20.

The top-10 players in the Presidents Cup standings qualify, but he also has two captain's picks. Couples decided that Tiger Woods would be one of those selections. "I've told him that he's going to be on the team,'' said Couples Thursday before a practice round. "There is no reason for me to wait till September 26 to pick Tiger. He's the best player in the world forever.''

It's a controversial pick since Woods, 28th on the Presidents Cup points list, had a long summer layoff due to soreness in his left knee and left Achilles, for which he spent months rehabilitating. He played in two recent tournaments, finishing 37th in the Bridgestone Invitational in early August before missing the cut at the PGA Championship the following week.

Tom Lehman, when asked about the selection, said rather obliquely, "In terms of picking Tiger, everyone has an opinion. If that's his, God bless him.''

But Couples said Woods's career body of work earned his selection. "In my opinion, when you're the best player in the world for 12 straight years and you're not on a team, there's something wrong,'' Couples said. "Everyone else can have their opinion, but as far as I know (vice-captain), Jay Haas and myself are the captains and we want him on this team.''
Bob Sherwin grew up in Cleveland and has worked in the newspaper business for 34 years in Cleveland and Mansfield, Ohio, Tucson, Ariz., San Francisco and 20 years with the Seattle Times. He's covered all sports, particularly baseball, college basketball and has written three books on the Seattle Mariners' Ichiro Suzuki for the Japanese market. He left the Seattle Times in 2005 and has since been working as freelancer. Bob has had stories published in a wide variety of publications, from the New York Times to golf magazines, baseball magazines and the Associated Press. He current lives in Sammamish, Wash.