Course Review: Seawane Country Club in Hewitt Harbor, N.Y.
By: Jay Flemma
It's tough being a small private country club in this economy, especially in hyper-competitive New York, where there are a glut private country clubs, many of which have long waiting lists and can be as selective about their members as pre-eminent liberal arts colleges are about their students.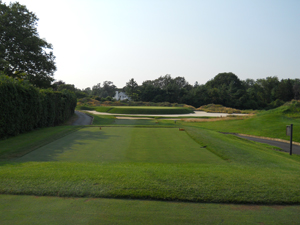 One of the Great Par-3s at Seawane
Still, there is good news for NYC golfers. There are plenty of smaller but still historic clubs that are doing quite well, thank you very much. One such place to look for great bargains and excellent golf is the Five Towns area of Nassau County/Eastern Queens.

When people think about the Five Towns courses, five clubs come to mind, with a sixth close enough to have an impact on the market as well. All have long, storied histories and excellent design pedigrees. They are also quite affordable for young upcoming families. They're good places to hang your hat as a golfer. The "Five Towns Five" are Inwood, Woodmere, Rockaway Hunting Club, Seawane and Middle Bay. Nearby, St. George's is close enough to also draw attention from the golfing populace as well. We've discussed Inwood here (http://www.cybergolf.com/writerscorner) and Woodmere here (http://www.cybergolf.com/golf_news/dont_say_shoulda_woulda_coulda_go_play_woodmere). Now let's take a brief look at Seawane.

Founded in 1927 and designed by Devereux Emmet (the master architect who gave us the immortal classic Garden City Golf Club), Seawane underwent a renovation in stages over 2001-06. You've seen the story before. Over many decades mowing patterns moved fairways and changed green shapes, bunkers shrank and trees grew (or were planted) that encroached upon the playing corridors. These are the same problems every golf course will face without constant vigilance and maintenance. At Seawane, the character of the course had changed dramatically from what Emmet intended when he built it.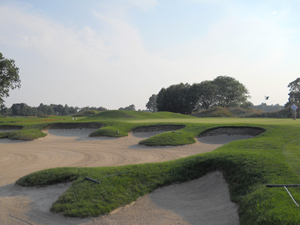 A Riveting Bunker Complex at Seawane
Now, normally when a golf course architect comes in, he does a master plan, the membership approves it and off he goes. However at Seawane, four different people were responsible for a team effort. The lead architect was Stephen Kay, the designer who gave us the excellent Links of North Dakota and Architects Club and who was responsible for the absolutely brilliant restoration of the Banks Course at Forsgate Country Club in New Jersey. He's also a Rutgers University professor teaching a core curriculum in turfgrass management for golf courses, so he both talented and learned.

But at Seawane, a series of unusual circumstances led to renovation by a committee of four: Kay, Seawane greens chairman and president Michael Yuhia, course superintendent Brian Benedict and shaper Kevin Wager.

"What really resulted was 25 percent from everyone involved," said Kay. "When you have four people working together, you have to make compromises. I did a master plan and was able to stick to the important general themes in it - getting rid of 3,000 trees for instance. But while we stuck to the plan the first year or two, after that we all sat around throwing out ideas. I had a little bit of veto power and Michael had a little veto power. But everyone made good contributions."

Now ordinarily, when a greens chairman or any other member or layperson who is not well-versed in detailed intricacies of golf course architecture hovers over a project (or worse, makes decisions!) it is generally a recipe for disaster. After all, what is a horse designed by committee? A frumpy, ill-tempered, spitting, uncouth beast called a camel.

Sounds a little like that idiot hipster chick that tried to pick me up at a restaurant in Brooklyn last month. But I digress . . .

At Seawane, however, the resulting work unquestionably improved the golf course. They got the big issues right, and the little things that need to be corrected can be fixed easily. Some of the work is in progress as we go to press.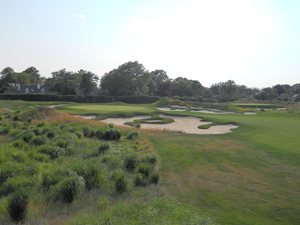 The Devereux Emmet-Designed Seawane
The Good News

Seawane has an excellent out-and-back routing, great sandy soil, a wonderfully charming setting on an arm of Woodmere Bay and 18 strong golf holes. The course also has outstanding greens with excellent interior contours making every putt one where you have to carefully choose your line and speed. They also cut down 95 percent of the trees that did not border the property, opening up beautiful views across vast expanses of the property. The tree removal also improved the turf and allowed the winds off the bay to let the course play more like the links it was intended by Emmet to be. Bravo for Seawane! It's a fun and impressive little golf course and great place to hang your hat as a player, whether as a single or with a family.

"Michael was a terrific help in that, the driving force in accomplishing one of the most important goals the course needed to address," said Kay admiringly.

Indeed, Yuhia's vision was pivotal in many ways. According to Kay, it was Yuhia who correctly predicted that the economy might experience a downturn and that the Five Towns clubs would struggle to attract members.
"Michael believed Seawane needed to make itself different from all the other clubs in the area and to push the course to the next level," explained Kay. "He had taken a trip to Whistling Straits and he knew about Sand Hills. He felt that since the course was originally a links-style course anyway, why not accentuate that? Why not make it like other truly great links courses."

Indeed, such designs were coming in vogue at the time, so under Yuhia's guidance and with Kay and Benedict's expertise, some fairways were lined with natural looking berms and mounding using sand acquired from nearby locations. Kay then moved some greens on holes along the waterway closer to the edge of the inlet, greatly increasing the excitement when playing those holes.

"Four is a great example, it's a terrific short par-4" says Kay excitedly. It's driveable, but we took the green and brought it closer to the water. We also deepened the centerline bunker, so that you have to really hit a strong drive to carry it. You don't want to be in that bunker."

Nevertheless, the hole is also great because it gives players options. "You can play short of the bunker with a 6-iron and still make birdie, or you can go left. There's a lot of ways to play that hole, and that's why it's so good. And with the many different winds the course sees, it plays differently every time, not just every day."

Superintendent Brian Benedict agrees. "Four is one of my favorite holes - four and 14. At four, you can hit any club off the tee and still have a chance at a birdie, but there's also enough trouble that you can easily make bogey or worse.
That's the key with short holes. As golf architect Jim Engh once said, the shorter the hole, the sexier you can make it. When an architect gives you options - different ways to play a hole - he can say more in 310 yards than a penal architect can say in 490.

The par-3 14th, Benedict believes, has the best green complex on the course. "It's a multi-tiered green with collection areas and run-offs so you have all sorts of shot options around the green," such as putt, bump-and-run or pitch-and-check. Again, there are a lot of ways to play the shot. The player gets to choose, but he must choose wisely, then execute properly.

Kay nods his approval about the 14th, but he also likes Nos. 8 and 9, a par-3 and par-5 combination with some of the best architecture on the course.

"Eight is a classic 'Short' hole, a par-3 that was designed by Emmet, but has the look of what Macdonald, Raynor, and Banks would have designed with the green encircled by a sandy waste bunker set well below the level of the green," Kay notes energetically. Nine has a great Emmet cross-bunker bisecting the fairway. You can lay up short or try to carry it, but you need to hit a perfect drive to carry it. Kay can quote you chapter and verse on that: his drive that day was just less than perfect, and he played his second from under the bunker lip. Amazingly, he recovered well from a lie that looked like the deck of a sinking ship and saved par.

Again, Benedict agrees - great minds think alike. "I like the set of diagonal cross-bunkers you have to carry off the tee. It's 240 on the left and 270 on the right. It's a terrific risk-reward hole. If you hit a great drive and carry the bunker, you have a good chance to get home in two on a par-5."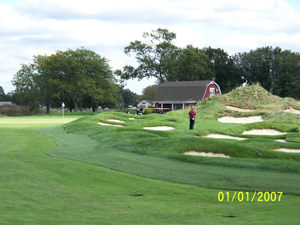 The 9th Green at Seawane
What Needs to be Worked on Next

The ninth is also an example of what is the problem at Seawane - the overall bunkering scheme. Several different styles of bunker were constructed at different holes and the result comes off as a somewhat confused mélange - the varied styles just don't fit well together. For example, while Yuhia's love of Whistling Straits is laudable (the Straits Course is outstanding and unique), his attempt to recreate that style of bunker complex on one hole only, near the ninth green, looks woefully out of place. The heaving sea of oval-ish bunkers doesn't blend what you see during the rest of the round and it looks unnatural

"We call it the minefield," states Brian Benedict.

While some people may like it because it's "different" and recalls the flavor of another excellent course, this author feels that isn't enough of a trade-off to sacrifice having an overall bunkering scheme that looks natural and fits with the rest of the course.

Worse still, two holes later, there is another head-scratcher of a bunker that needs to be bulldozed into oblivion immediately - a ghastly Bob Cupp-esque Rorschach inkblot bunker with four fake noses that looks more like a piece from a jigsaw puzzle than a golf course hazard. Four circular nodes intrude upon the green rudely like black sheep relatives that come into the house without wiping their feet, then eat all your food, drink all your booze, smoke all your cigars, kick the dog, insult the wife, then leave without so much as a "thank you." At a course that prides itself on its natural surroundings and classic pedigree, that bunker looks more fake than Lindsay Lohan's latest face lift. The folks at Seawane may jokingly call it the "Four Capes," but in this author's opinion the "Four Capes" should get brought over to the "Minefield" and blown to Kingdom Come.
When you pick a bunkering style, you stick with it so the course looks like a seamless whole. Moreover, Seawane has a sterling pedigree; it's a Devereux Emmet golf course. The bunkering should look like Devereux Emmet did it, not Pete Dye, not Bob Cupp and for goodness sakes certainly not both in the span of three holes. Emmet's legacy is a heritage the course should proudly promote and preserve.

The second issue that must be addressed is the thick penal rough that frames the fairways. On many holes missing the fairway by only a few yards may result in a lost ball or an unplayable lie. Back in the '90s, both rough and difficulty were in vogue. Happily, architects like Kay, Tom Doak, Gil Hanse, Coore and Crenshaw and others have built enough great courses without such a penal hazard that the golf world has begun to not only rethink this theory, but swing the pendulum away from it. Missing a fairway by a few yards and fruitlessly hunting for a ball, then carding triple-bogey is a serious buzz kill and greatly increases the time it takes to play the game.

"They seeded with fescues and I think they went too far," admits Kay. "There was far much over growth."

"I'm really into playability," continues Kay. "I understand that you want a course to be challenging for better golfers, but I want it tougher to break 75, but easy to break 100. There's so much un-mowed grass, it must be difficult for some golfers to break 100."

The course realized this as well and has begun to thin out the rough. One side of a fairway at a time the grasses, which started as fescues, but now are mixed with much thicker, heavier strains are being cut shorter and seeded more sparsely. Soon it will be much easier to find your ball and play it out, yet the colorful texture and appearance of the grasses won't change, so Sewane will still retain its dryad loveliness off the fairways.
Overall

Still, Seawane is an excellent golf course. The restoration plan has been largely successful, a tough job when you have four people making decisions by committee. Sure there are a few things that still need smoothing, but that's what happens when you have four different people cooking the broth - it can turn a strange color. Yet still, it's rich in flavor and Seawane indeed is a course that has character you can savor deeply. With a reasonable initiation fee, just into five digits, both families and talented golfers should give Seawane a long look when deciding which club to join.

Yuhia is dedicated to stewarding into the 21st century. The talented and intelligent Benedict is on-site every day, guarding the course with the dedication of a Beefeater. And the clever and resourceful Kay is a wise advisor who can teach them how to improve the golf course at every turn by paying homage to the architectural tenets of the Golden Age and protecting and promoting their important, rare and wonderful Emmet heritage.

"Working with Stephen was great, really easy. He's always open to having a conversation. And the work he did here with placement and positioning of bunkers, where they would be in relation to today's technology in clubs and balls, was terrific," declared Benedict.

Then he sat back and smiled proudly. "What I love the most about this place is that we have a lot of unique holes here. There are holes and views unlike anything at any other golf course," he finished, and he's right.

With the funky waterway holes at three and four, a terrific stretch at six-10 with wonderful cross-hazards on the par-5 seventh and ninth, and brilliant small greens with fierce contours like six and 10, a great par-4 along the water at 13 and a long par-5 at 15 over heaving terrain peppered with pot bunkers, there's a lot for an ardent golfer to love. It may be just minutes from New York City, but it's a world apart when it comes to great golf.
Since launching his first golf writing website in 2004, http://jayflemma.thegolfspace.com, Jay Flemma 's comparative analysis of golf designs and knowledge of golf course architecture and golf travel have garnered wide industry respect. In researching his book on America's great public golf courses (and whether they're worth the money), Jay, an associate editor of Cybergolf, has played over 420 nationally ranked public golf courses in 40 different states, and covered seven U.S. Opens and six PGA Championships, along with one trip to the Masters. A four-time award-winning sportswriter, Jay was called the best sports poet alive by both Sports Illustrated and NBC Sports writers and broadcasters. Jay has played about 3 million yards of golf - or close to 2,000 miles. His pieces on travel and architecture appear in Golf Observer (www.golfobserver.com), Cybergolf, PGA.com, Golf Magazine and other print magazines. When not researching golf courses for design, value and excitement, Jay is an entertainment, copyright, Internet and trademark lawyer and an Entertainment and Internet Law professor in Manhattan. His clients have been nominated for Grammy and Emmy awards, won a Sundance Film Festival Best Director award, performed on stage and screen, and designed pop art for museums and collectors. Jay lives in Forest Hills, N.Y., and is fiercely loyal to his alma maters, Deerfield Academy in Massachusetts and Trinity College in Connecticut.