Course Review: The Creek Club at Reynolds Plantation
By: Jay Flemma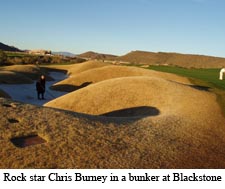 People always ask me what the first rule is in evaluating a golf course. The answer is somewhat altruistic: judge a course on its value to the game of golf, not on what it cost to attain. The owners of Reynolds Plantation may have known this as they planned the fifth course at their idyllic Georgia resort; they simply told the architect, "Give us something different." They already had courses by Jack Nicklaus, Tom Fazio, Rees Jones, and Bob Cupp. They weren't pipe dreaming of hosting a PGA Tour event. They weren't interested in bragging rights from magazine rankings. They wanted a unique course. They wisely selected Jim Engh.
People are slowly coming to understand the nuances of Engh's designs. After winning three "best new course" awards in a row, people still thought it was because his courses were pretty. "He gets all the sites," said one of his friends, a golf architect himself. "But Jim has a flavor all his own which is a really bold and creative interpretation of the design features he saw in Ireland and Scotland," the architect continued. "That's the real reason why his courses are so good. Sure, you'd have to trip over yourself to blow it on one of those sites, but Jim creates designs that are unique. No one looks like him and it's growing on people. Plus he always comes in on time and under budget."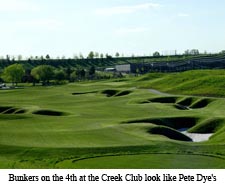 For his part, Engh was thrilled with the freedom and used the vast expanse of the plot to refine some of his older ideas and experiment with new ones. He's always loved his one-of-a-kind "muscle bunkers" (where the sand is flanked by mounded sidewalls), large greens with distinct tiers, and player-friendly sidewalls that kick errant shots back into play making the course easier for amateurs and providing many different ways to get close to a hole. But with an easy-going, open-minded client, Jim could take some chances and create a design that stands out not only at the facility, but in the entire country.
How successful was Engh? I had the following conversation with one local PGA professional from a nearby course. He has years of experience playing all the layouts at Reynolds:
"What course has the best architecture?"

"Creek Club."

"OK, what's second?"

"Creek Club."

"Well, which has the best greens?"

"Creek Club."

"Second best?"

"Creek Club."

"What other course should I play besides Creek Club?"

"Creek Club."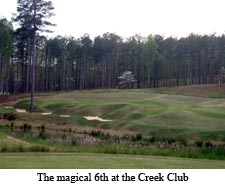 I got the picture and so did the members. At first, they were concerned with the different look - the center-line hazards with imposing sidewalls rising out of the ground dramatically - assuming by implication that because it looked puzzling, it would be too hard. But once they played it, they fell in love with it. Many members have posted the best scores of their lives at the Creek Club including two women, one who never before broke 80 and shot 78 and another who never broke par and shot 1-under.

Though the 6-1 drubbing his North Dakota Fighting Sioux suffered at the hands of Boston College during the 2008 NCAA Frozen Four hockey tournament was still fresh in his mind and watching the team from his alma mater squashed like floppy grapes in a Sonoma County winery couldn't quench the fire in Engh's heart for great golf course architecture. He brightened instantly when we began to discuss how much his work at the Creek Club - the fifth and only fully private course at the Reynolds Plantation Resort.

"They told me right at the get-go, 'build us something completely different,' " explained Engh. So just like a master sushi chef whose patron says "Omakase" ("Surprise me"), Engh obliged. "I tried to take conventional expectations of golf course design and pull their nose a little bit," he says, meaning it in an endearing way, not as an iconoclast. "I just like showing people things they've either never seen before, or that they might have seen before, but just not quite the way I reproduced it."

The Architect's Progress

Just like Pete Dye before him, and many other architects of this generation, Engh has taken many pilgrimages to the U.K. and Ireland to study the great design features of fabled links in an effort to recreate the same strategies in the U.S. "I try to have the course and its hazards be as natural a reflection of the land as possible, but I also want to have a course to have a personality of its own. Take the bunkers at St. Andrews in Scotland, they are naturally occurring hazards in their purist form. I try to make the course be as true to its surrounds as possible, but I also want the hazards to have my own personal touch. Now one thing I'm really glad you noticed was that I made a subtle change in my bunkering style."

I noticed an evolution of Engh's bunkering at Blackstone Country Club in Peoria, Ariz., but did not consider it a permanent departure until he repeated the design at Creek Club. In Engh's earlier work - Fossil Trace and Redlands Mesa, for example - his muscle bunkers were actually sinkholes. The floor of the bunker was below the level of the fairway or green by about three or four feet. The muscled sidewalls were within the confines of the bunker.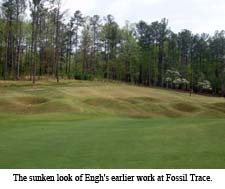 A few people mentioned to Engh that they had difficulty getting in and out of the bunkers. Most of these players were older. "My wife and I had a problem getting in and out of the bunkers," said one expert golfer and course reviewer. "We mentioned this to Jim when we met him. We love his courses, but thought he could make them even more playable if people could get in and out of the bunkers more easily."

Lo! and behold! - Engh actually listened to them. Starting at Blackstone and continuing at Creek Club, Jim made the floor of the bunkers level with the fairway, then he built the enormous sidewalls towering over the fairway level. "The people spoke and I listened. I could make an equally challenging hazard, yet one that you could walk in and out of in a straight line without having to climb," Engh said.

If the lesson here is lost on you, let me break it down like a fraction: the people spoke and the architect listened. "Wow!" gushed my friend. "That's so great that he listened to us. What a super guy."

Rock guitarist Chris Burney from gold record-award winning band Bowling for Soup agrees. "Those bunkers I saw at Blackstone were unique. I've never seen anything like it. It's bold, yet it looked like those quirky, but charming dunes in Ireland. Blackstone is my favorite course ever because it took a lot of courage to make something that looks different, but plays like a course abroad."

Fan approval aside, I have to respectfully dissent. I like the new look, but I like the old look better. More importantly, I think the new bunkers are actually harder to clamber through, over and around. Where before, you simply took a few steps down, then back up, I find that I rarely if ever enter and exit the new style bunkers from the level areas. The bunkers are so enormous, that my ball is frequently in the middle or near a sidewall. As a result, I think players do more trudging in, through, and around the bunker than ever before. Jim may have outsmarted himself here; I think the new style is definitely a tougher walk. The simpler answer to my friend's dilemma was to merely add some stairs to the sinkhole style bunkers: problem solved.
Additionally, gigantic mounds in the center line of play limits airspace. Instead of having to clear a few feet of bunker lip, now you have to clear a significantly higher lip. However, I don't find the added difficulty a negative. To me, no bunker is unfair no matter where it is placed or how deep it is. I simply note that generally more airspace helps the average player, but hey, we're not supposed to build courses to cater to the worst player in the world, just build them to give them a fighting chance to get around such a fearsome hazard. Engh has done that. If you are scared of the new bunkers, don't hit the ball in it. If you do, find it and hit it out. As Old Tom Morris said, "Bunkers are not places of pleasure; they are for punishment and repentance."

Moreover, we're counting the number of angels that dance on the head of a pin. If both rock stars and the Southern Gentlemen and Ladies of Reynolds like them, Engh's evolution has broad appeal. Both styles are equally functional and esthetically pleasing. Purely as a suggestion, I would hope Engh might consider employing both styles, depending on the terrain of his sites and the clientele. Older clientele that might tire easily and sites that call for a little hurly-burly bunkering can have the new style of muscle bunker. At other sites, simply use the old style with stairs. That way, Engh has two different stage props in his arsenal - both equally effective as hazards and pleasing to the eye, depending on the beholder.
Coming next time on Cybergolf: We review individual holes and: "Is it The Creek Club or the Greek Club?" Mythological references leap to mind traversing the 18 holes.

The Creek Club
1100 Creek Club Drive
Greensboro, GA 30642
706/467-1681
www.reynoldsplantation.com

Design: Six stars (all ratings out of seven)
Natural Setting: FiveŻ - six stars
Conditioning: Six stars
Value: N/A Private. Memebrships are $65,000 for the all courses at Reynolds except Creek Club, $90,000 for all five course including Creek Overall: Six stars


Since launching his first golf writing website in 2004, http://www.jayflemma.thegolfspace.com, Jay Flemma's comparative analysis of golf designs and knowledge of golf course architecture and golf travel have garnered wide industry respect. In researching his book on America's great public golf courses (and whether they're worth the money), Jay, an associate editor of Cybergolf, has played over 220 nationally ranked public golf courses in 37 different states. Jay has played about 1,649,000 yards of golf - or roughly 938 miles. His pieces on travel and architecture appear in Golf Observer (www.golfobserver.com), Cybergolf and other print magazines. When not researching golf courses for design, value and excitement, Jay is an entertainment, copyright, Internet and trademark lawyer and an Entertainment and Internet Law professor in Manhattan. His clients have been nominated for Grammy and Emmy awards, won a Sundance Film Festival Best Director award, performed on stage and screen, and designed pop art for museums and collectors. Jay lives in Forest Hills, N.Y., and is fiercely loyal to his alma maters, Deerfield Academy in Massachusetts and Trinity College in Connecticut.