Course with Colorful History Makes Room for Inmates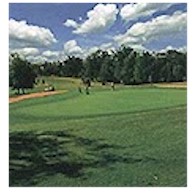 When Milwaukee real-estate agent John Webber purchased an 87-acre parcel outside of Waukesha, Wisconsin in 1911, he didn't realize how long his legacy would last. At first containing only a mud bath and a "health spa," the Grand View Health Resort opened a nine-hole golf course in 1915, designed by Webber himself. In 1916, Webber enlisted the services of his son, John Jr., to manage the suddenly popular destination.

The resort soon developed a reputation as a gambling mecca for Chicagoans during the Depression. It was later converted into a college in the 1950s and '60s after Webber Jr. retired from the resort business and sold the property. In 1972, the land exchanged hands again when Waukesha County purchased it, turning the original building into administrative offices and assuming management of the golf course, which remained a constant throughout the years.
John Webber's Moor Downs Golf Course is still standing, retaining its 86-year position as a popular haunt for local golfers. The facility offers the usual: cart rentals, golf instruction programs, a pro shop, and a snack bar. It costs just $12 to play nine holes on weekdays or weekends. Yet, after all these years, things are about to change.
The county jail is moving onto the property, part of a $60-million expansion project that will encroach upon Moor Down's greens. The county has designated the fifth hole for "justice needs," but the hole will be reconfigured so the course can remain viable.
Although some county supervisors believe the changes will begin a "slippery slope" toward turning the course over to future development, it is safe for now, assure Waukesha county officials. "Nobody is more committed to keeping a golf course than my department," said Waukesha Parks and Land Use Director Dale Shaver. It is not known whether the course will remain open during renovations, which are expected to begin late this year.