Courses at Treetops Show Rick Smith's Design Prowess
By: Steve Habel
There's a lot to like about the Treetops Resort, a happy confluence of five golf courses and a top-notch resort just outside - but still part of - the "Gaylord Golf Mecca" in Michigan's Southern Peninsula.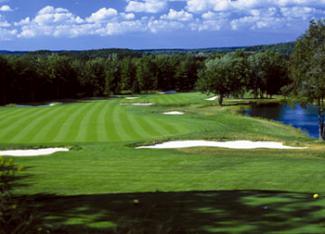 Treetops' Signature Course
The 81 holes of golf designed by Robert Trent Jones, Tom Fazio and Rick Smith on 4,000 acres are enough to make the most hardened golfer salivate. Playing the distinctly different courses and focusing on the task at hand is a challenge, one that's been testing golfers since the resort opened in 1987. Treetops Resort is the only golf resort in Michigan boasting three courses rated with 4½ stars by Golf Digest.

During a recent trip to Gaylord, I stayed at the resort and played the three courses (two and a half if you want to get technical about it) designed by Smith - Signature, Tradition and Threetops, the outstanding nine-hole, par-3 course that hosted the made-for-TV "Par 3 Shootout" from 1999 to 2007.

As a renowned golf instructor, Smith has assisted such luminaries as four-time major winner Phil Mickelson, two-time U.S. Open champion Lee Janzen, Rocco Mediate and Matt Kuchar. As a golf course architect, Smith (also one of the Treetops' owners) hit the nail on the head with his designs here.

Treetops is located about five miles east of Gaylord and 10 minutes from I-75, which bisects Michigan north to south. Treetops North, located about five miles north east of the original Jones-designed Masterpiece course and the resort, houses four of the destination's five courses.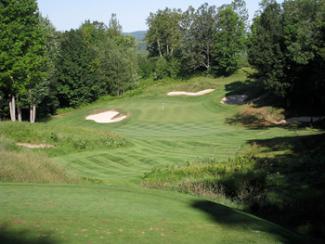 2nd Hole at Signature Boasts Two-Level Green
Nothing but Good Stuff at Signature

The Signature Course stands up to any public layout anywhere, and - like all the venues at Treetops - is an example of inspired routing through hardwoods, over hills and across valleys. The layout combines the northern Michigan landscape with the unique features of Irish links courses.

Though opened in 1993 and Smith's first 18-hole design, Signature shows the prowess of an established veteran. Smith tromped over and around the property for months, seeking the right combination of holes among the dozen or so routings he unearthed. The end product unfolds into a high upland area and features huge, wildly undulating greens and wide, forgiving fairways. Numerous ponds, wetlands and wooded areas lend the track considerable flair.

Playing at a par of 70 and just 6,653 yards from its back set of five tees, Signature sports a hearty rating of 72.6 and a slope of 136 from the tips. But the course is not overly punitive when approached from the correct set of starting blocks and has been rated a top-50 course for women.
There are plenty of target bunkers to help guide players navigate the course. And, despite its elevation changes, the landing areas at Signature provide mostly level lies. Signature's putting surfaces are large enough for the average golfer to find with relative ease, but the undulations demand dead-on accuracy with the approach to get within scoring range. Most bunkers are surrounded by deep fescue, a feature that lends a pleasant Scottish links look but can add numbers on the scorecard.

The course offers 18 solid holes, and there's not a weak or dull one in the bunch. That said, several help give the track its name. Examples include: The 467-yard par-4 third has an elevated tee, a wide fairway, nine fairway bunkers (only four a concern for most golfers) and a raised green protected by more sand and that slopes front to back. The entire hole is displayed from the tee, with the right side guarded by a pond and the left bordered by thick stands of hardwoods and pines that seem to extend for miles.

The yin to No. 3's yang on the front nine is the 421-yard and uphill, par-4 fifth, which narrows on the approach. The 190-yard, par-3 eighth heads slightly downhill to a rolling putting surface on the opposite side of a considerable bunker complex short and left.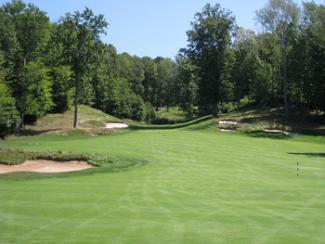 The Approach to No. 15 at Signature Course
The 175-yard, par-3 11th is played though a spruce- and pine-lined corridor and over an environmentally protected area rife with ferns. Gnarly bunkers surround the green, which slopes left to right. Trouble abounds here, so be careful not to go past the pin or, worse, over the putting surface.

No. 15, a 485-yard par-5, may be the best hole at Signature. After reaching a wide landing area defined by bunkers, the approach is up a steep hill to a deep, narrow blind green. Steep embankments on either side block any approach other than straight down the middle, but they also help funnel shots in the right direction.

No. 16 is a 368-yard par-4 that heads uphill after your tee shot, with a characteristically - for here - narrow approach lined by bunkers along the left.

The 363-yard par-4 18th hole tempts you with a mounded fairway guarded by three bunkers, before calling for an approach that must evade traps, fescue and hills to a heightened green requiring at least one more club than you think.

Perhaps the most impressive aspect of Smith's work at Signature is that it takes a backseat to neither Jones's nor Fazio's courses at Treetops. Smith clearly incorporated lessons learned during his many years of playing and coaching, and the result is a fine assimilation of traditional architectural features and playability.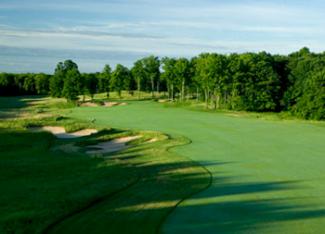 The 14th Hole at Tradition
Tradition Much More than a Great Walking Course

When opened in September 1997, Tradition was billed as being designed by Smith for players who like to pack their bags, so much so that it was not built with cart paths. The most player-friendly layout at Treetops offers gentler topography in comparison to the elevation changes found on the three other courses and closely spaced greens and tees. Smith's tribute to some of the game's great traditions involves wooden pins and pennant flags.

The links-style layout utilizes high ridges and hilltops, providing some slopes but it's still very walkable. The par-70 track stretches 6,357 yards from the tips, where it carries the lowest rating (70.3) and slope (130) of the four 18-hole courses at Treetops. But Tradition's subtleties, whether the small putting surfaces or the gentle rises to the tilted greens, provide their fair share of frustrations.
Tradition's greens are far less undulating than the other layouts, and there are wide landing areas and no forced carries. From the fairways, Smith fashioned plenty of options to at least part of each putting green, which instills confidence and, at times, a little bit of recklessness.

Hole Nos. 1-9 nine wrap back around to the starter house, allowing for nine-hole outings. There is a lot of high risk, high reward at Tradition, with several drivable par-4s that give golfers the option of reaching the green in one mighty - and accurate - whack.

Wildlife is abundant on Tradition, which traverses valleys and ravines, but with topography wrought with native and unmaintained areas adorned by native wildflowers. The fairways and greens are defined by high cuts of rough.

The 435-yard par-4 fifth highlights the outward nine, moving downhill and to the left along a generous fairway before heading uphill to a long and narrow putting surface. Club selection is the determining factor at the tricky, 179-yard par-3 sixth as you must factor in the wind and pin placement.

Take plenty of club as well on the 167-yard, par-3 ninth, which plays uphill and into the prevailing wind, with trees right. There is room both short and long if you don't correctly gauge the distance.
The16th at Treetops' Tradition Course
The four-hole stretch that begins with the 537-yard 10th hole should be considered the meat of Tradition. No. 10 is a dazzling par-5 that is reachable in two for long hitters. Trees are far removed on both sides, but bunkers guard the green short-left and long-right. The 11th, at 491 yards, is the longest par-4 here and heads into the prevailing wind. Most golfers will need to pitch or do a bump-and-run to the green on their third, making for a tough par and/or an acceptable bogey.

No. 12 is a long (190 yards) and tight par-3, with bunkers all around and deep heather right of the putting surface slopes back to front; stay below the hole here. You can take a poke at the green on the 319-yard par-4 13th, but beware as the hole narrows on the downhill approach.

The closer is a 540-yard par-5 with a set of fairway bunkers all along the left side. The right flank is wide open, and the safe play is to lay up on the approach as an intimidating bunker complex guards the right side of the green. Trees and an environmental area enter play beyond the narrow and undulating green.

Carts are allowed at Tradition; in fact, nine out of 10 players opt to ride. But the real nuances of Smith's work can be enjoyed more on foot, so get with the spirit: shun the cart and hoof it.

Tradition is Smith's homage to golf's origins and the least dramatic course on the property. Yet it's also Treetops' most accessible and least expensive track. If you count in the fun factor, Tradition is grand, exactly what Smith had in mind when he sat down to the drawing board.
Staying at Treetops is Fun Too

Treetops features 238 guest rooms, including standard and deluxe hotel rooms, as well as two- and three-bedroom condominiums. Nearly every unit takes advantage of the resort's wonderful setting and offers sweeping vistas of the nearby ski hills, golf courses, forests and wetlands.

The property's condominiums and townhouses, located at Treetops North, overlook Fazio's Premier course. Townhouses are located on Tradition's No. 4 fairway.

Treetops, which operates as a ski resort in the winter months, also offers chalets as lodging. Six free-standing buildings are situated in a semicircle on a hill overlooking their own putting green. There are also three restaurants on site and a spa to help players work out the kinks with a massage.

For more information, visit www.treetops.com.
Steve Habel is one of Cybergolf's national correspondents, contributing news stories, features, equipment and book reviews and personality profiles from his base in Central Texas. He is also the managing editor for Texas CEO Magazine and works as a contributing editor for Horns Illustrated magazine, a publication focusing on University of Texas sports. He also writes a blog (www.shotoverthegreen.blogspot.com), which features news on golf and the Longhorns, and another (www.checkinginandplayingthrough.blogspot.com) on his many travels, which took him across the nation and to 105 different golf course in 2009. Habel is a member of the Golf Writers Association of America and the Texas Golf Writers Association.