Courses That Could Host Tour Events
The PGA Tour's schedule is filled with some of golf's most incredible venues. While they may not be on this year's slate, a select few daily-fee and resort courses offer a Tour-quality experience. Below are six layouts that could put even the most accomplished pros to the test.
The 14th Hole at Old American
Old American Golf Club (The Colony, Texas)

One of Texas' newest golf courses is a throwback to the "Golden Age" of golf course architecture (1911-1937). Old American Golf Club is the work of designer Tripp Davis and PGA Tour veteran Justin Leonard. The pair played a handful of America's classic Golden Age venues prior to starting the design process for Old American. The result is a 7,174-yard course with contours, hazard styles, native grasses and green shapes reminiscent of Shinnecock Hills, National Golf Links, Prairie Dunes and Crystal Downs.

Tour players have tangled with Old American regularly since it opened in 2010. That group includes K.J. Choi, Y.E. Yang, Rod Pampling, Nathan Green, John Senden, Steven Bowditch, Paul Stankowski and, of course, Leonard.

More Information: 972/370-4653, www.theoldamericangolfclub.com.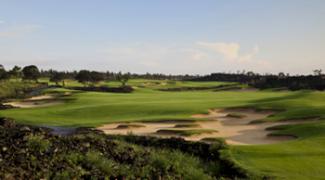 Mission Hills Hainan (Photo by Ryan Farrow)
Mission Hills Hainan - Lava Fields Course (Haikou, China)

One of 10 courses at Mission Hills' exotic new resort on China's tropical Hainan Island, Lava Fields has earned acclaim since opening last year. Designed by American Brian Curley of Schmidt-Curley Design (www.schmidt-curley.com), it was named Golf Magazine's "Best New International" course and debuted at No. 93 in Golf World's rankings of the top-100 layouts in the world.

With irregular turf lines, rugged bunkering and sand seamlessly transitioning into natural lava rock surrounds, the par-72, 7,475-yard layout boasts perhaps the best hole among the 180 at Mission Hills Hainan - the 575-yard, par-5 18th. As the Tour continues to discuss bringing a full-field event to China, Lava Fields is sure to garner strong consideration.

More Information: www.missionhillschina.com.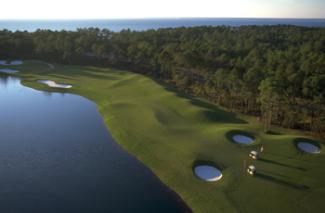 Burnt Pine
Burnt Pine Golf Club (Destin, Fla.)

Burnt Pine Golf Club at Sandestin Golf and Beach Resort is a Rees Jones-designed course that's earned the reputation as one of Florida's most challenging. From its 7,001-yard back tees, the course plays to a stout Slope and rating of 144 and 74.7, respectively. Burnt Pine is more than just length; set along the Choctawhatchee Bay, water is omnipresent, with the combination of forced carries and robust bay winds making club selection crucial.

More Information: 850/267-6500, www.burntpinegolfclub.com.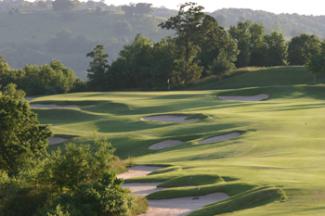 Branson Creek
Branson Creek (Branson, Mo.)

Having hosted two Nationwide Tour Pro-Ams, Branson Creek is no stranger to professional golf. The Tom Fazio design is one of the Midwest's most demanding thanks to sloping fairways that oscillate with the Ozarks' rolling terrain. The combination of side-hill lies and water hazards place a premium on accuracy off the tee, particularly from the 7,036 tips. Branson Creek promptly greets golfers with a meaty 578-yard par-5, followed by the No. 1 handicap hole, a devilish, 471-yard uphill par-4 that doglegs hard to the left.

More information: 888/772-9990, www.bransoncreekgolf.com.
Pound Ridge
Pound Ridge Golf Club (Pound Ridge, N.Y.)

The only Pete Dye-design in the Empire State, Pound Ridge is about an hour north of Manhattan in Westchester County. The course plays 7,165 yards from the back tees and leads golfers through numerous hazards and rock formations, mandating power and precision.

Nowhere is Dye's influence more noticeable than the par-5 13th hole, named "Pete's Rock" for the massive bolder the famed architect positioned just off the fairway. Pete's Rock has plenty of company at Pound Ridge, where 14,000 feet of stone wall can send errant shots caroming into wetlands and woods lining the course.

More Information: 914/764-5771, www.poundridgegolf.com.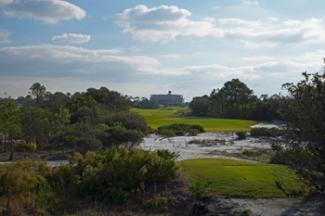 Kiva Dunes
Kiva Dunes (Gulf Shores, Ala.)

Long considered one of the Southeast's best tests, Kiva Dunes is a links-style layout that hugs the Gulf Coast. The Jerry Pate design stretches 7,092 yards from the tips, and while its fairways are inviting the ubiquitous Gulf Coast winds give the course some serious teeth. Voted the top course in Alabama by Golfweek and one of America's Top-75 Golf Resorts by Golf Digest, Kiva Dunes is the host site of this year's Alabama State Amateur in June.

More information: (251) 540-7100, www.golf.gulfshores.com.