Courses that Rock - How Quarries Shaped American Golf Course Design
By: Shane Sharp
Boulders, bedrock, crags, crust, reef and rubble - the extent to which rocks have shaped U.S. history is immeasurable. Mount Rushmore, the Grand Canyon, Plymouth Rock - the list of uniquely American rock formations is endless.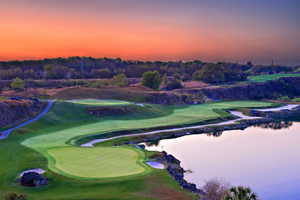 No. 15 at Black Diamond Ranch
In a country so defined by shelves, slabs and slags, it's no wonder some of the U.S.'s most prominent golf course architects have turned to rock to carve out (literally) a distinctly American niche in course design. Names like Fazio and Foster have transformed quarries from sea to shining sea into fairways, greens and rough that offer some of the most dramatic settings for golf in the world.

These recovering mines and gravel pits pose a great challenge from a design standpoint. After all, designing and building a grass golf course in a gravely gulch may seem like madness. But, when the dust settles, the courses often emerge as gems in America's jewelry box of golf. Among those, there are a select few shining brighter than the rest.
The Quarry Course (Black Diamond), Lecanto, Fla. (Tom Fazio 1987)

Fazio's (dare we say) Central Florida gem was the course that began the quarry course movement in earnest. The Quarry Course at Black Diamond is forged through the jagged walls and shimmering lakes of two retired limestone quarries. Original owner Stan Olsen picked up the property for pocket change, and charged Fazio with pulling off what was then one of the most unimaginable feats in golf course design and engineering. Legendary golf writer Dan Jenkins called the quintet of quarry holes (13-17) "the five best consecutive holes in the world." Black Diamond is private (very), but it is never too late to befriend a member, or even purchase a membership at this 45-hole country club. www.blackdiamondranch.com
The Quarry Golf Club, San Antonio, Texas (Keith Foster 1993)

The name leaves little doubt as to where this Hill Country gem is situated. But only the back nine of this Keith Foster design plays through the "hard" stuff. One-hundred-foot-high rock walls line the fairways on the ride in, remnants of a retired rock quarry that supplied the Alamo City with most of its concrete. The 384-yard par-4 17th - dubbed "Reload" for the act it most inspires - requires a heart-pounding tee shot over a deep ravine. www.quarrygolf.com
The Golf Club at Oak Quarry, Riverside, Calif. (Brian Curley/Lee Schmidt/Gil Morgan 2000)

Oak Quarry is a hidden gem - literally. The 7,000-yard stunner in the foothills of SoCal's Jurupa Mountains is shoehorned into the marble and limestone remains of the Jensen quarry. The fit was so tight that lead designer Brian Curley initially estimated the site could reasonably accommodate one hole - the par-3 14th. www.oakquarry.com
Bay Harbor Golf Club Quarry Nine, Bay Harbor, Mich. (Arthur Hills 1997)

The Quarry/Links nine combo at Bay Harbor is considered one of the preeminent coastal golf experiences in the U.S. Hills's Quarry Nine wields the largest "wow" factor, with five holes (Nos. 5 through 9) tumbling through the rugged environs of an old shale quarry. Highlights include a green set against a 50-foot-high quarry wall (the par-5 fifth), and a tee shot over a 60-foot-wide gorge (par-4 seventh). www.bayharborgolf.com
Iron Horse Golf Club, Ashland, Neb. (Gene Bates 2001)

With a 40-acre manmade lake and towering 120-foot walls, Iron Horse is all quarry all the time. Bates is quick to point out, though, that a majority of the 6,500-yard circuit is set comfortably on the quarry's "overburden," or excavated material. The par-4 ninth and 18th holes, with sweeping views of the lake and the Platte River Valley, are the most poignant reminders of the property's rocky past. www.golfironhorse.com
Quarry at Giants Ridge, Biwabik, Minn. (Jeff Brauer 2003)

Texas-based architect Jeff Brauer's follow-up to the critically acclaimed Legend at Giants Ridge could be a show-stealer. The starkly beautiful course, which makes its way in and around a former sand quarry, displays some of the boldest bunkering this side of Pine Valley. The 7,000-yard blend of north woods, lakes and abandoned mining land is a tip of the cap to the region's industrial roots. www.giantsridge.com/golf/quarry
Rock Hollow Golf Club, Peru Ind. (Tim Liddy, 1994)

Pete Dye protégé Tim Liddy laid out this impressive hunk of Hoosier golf heaven in a 300-acre former strip mine. The property houses a unique collection of old growth forest, cattail-rimmed marshes and subtle quarry remains. Rock Hollow was the brainchild of manufacturing mogul Terry W. Smith - father of Chris Smith, the 2002 Buick Classic champ. www.rockhollowgolf.com