Cowboy Golf – The Alisal Guest Ranch and Resort
By: George Fuller
Shhhhh . . . if you read this, you can't tell anyone . . . You won't want to give away the secret once you've been here yourself.
Tucked away in the golden, rolling hills of Central California's Santa Ynez Valley is one of the quiet, hidden gems of golf, Alisal Guest Ranch and Resort.
It's difficult to say that it's totally undiscovered, because there are times of the year when it's impossible to book a room it's so popular. But as a golf retreat, Alisal doesn't have the same name recognition of many of its peers.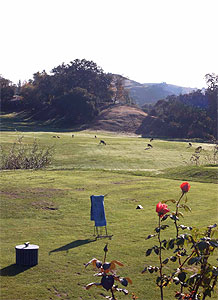 In fact, the families who've been coming to this relaxing valley 35 miles north of Santa Barbara for generations come for the renowned equestrian experience, the lack of pretension, the absence of telephones and televisions in the 73 spacious guest units, the cowboy decor and the home-on-the-range cuisine. Most of all, though, they come to escape the daily grind in a setting that typifies the very best California has to offer.

Set on a 10,000-acre working cattle ranch just outside the quaint Dutch town of Solvang, Alisal Guest Ranch is a special delight to kids and families who like to saddle up horses and ride cattle trails, participate in one of the weekly rodeos (summer), take advantage of the seven tennis courts, frolic by the pool or head out onto one of the two golf courses. The resort is also a ball for small groups events such as the Cowgirl Bootcamp, a regular hoedown at which women of all ages come together, pull on their blue jeans and cowboy boots and learn the ways of a cattle ranch, whoop it up and have the time of their lives.

Meanwhile, golfers – not always a much tamer crew than cowgirls –head out on the Ranch Course or River Course, pull on their spikes and gloves and play some hardball. (The whooping it up normally comes later.)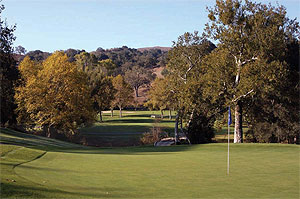 The Ranch Course came first. It was designed by Billy Bell and opened in 1955. This layout – reserved for resort guests and members – sports tight fairways lined with mature oak, eucalyptus and sycamore trees. It winds along the floor of Alisal Canyon, rising and falling with the rolling terrain. The greens are often slightly elevated from the fairways and guarded by sand, but are large enough to be receptive. Several holes require negotiation over or around a barranca that snakes through the course. Precision, rather than length, is the key on this 6,551-yard design.
Deer and other wildlife are abundant throughout. Tip: Hamburgers at the Ranch Course grill room are a local rave.
A mile or two away, The River Course is open to the public, and for between $45-$55, it is one of the best bargains in the state. Opened in 1992, the River layout is more wide open than the Ranch Course, so golfers won't find as much trouble using their drivers off the tee.

The Santa Ynez River comes into play on a few holes and makes No. 7 particularly troubling. A 438-yard par-4, a lake awaits those who go long and left off the tee, so one's tendency is to club down. This is smart off the box, but leaves a longer approach to a narrow green, where the neck is tightened by the lake encroaching in front of the putting surface. A bunker lurks behind the green – from it you'll have a delicate shot back toward the water – on this No. 1 handicap hole.

No. 17 is guarded on three sides by water. But here you are on a par-3 of only 123 yards, so if you're in the water it's your own damn fault! Designed by Stephen Halsey, the River Course at Alisal is well worth the short hop, skip and jump from Highway 101 for a loop, even if you are not staying at the resort.

Both of these scenic and serene courses are kept in excellent condition, and both are very well run.

Venturing off the Ranch grounds, one finds gift shops and shopping aplenty in charming little Solvang, several wineries that welcome winetasting guests, and exploration of the quiet backroads of this part of California where life is still slow and makes sense.

Alisal – a Chumash Indian word meaning "grove of sycamores" – has been owned and operated by the Jackson family of Santa Barbara since 1946. The property was one of four original land grants given to conquistador Raimundo Carrillo in the late 1700s. It still today retains much of the unspoiled character and wide open space it had back then.

"People come back here year after year after year," says general manager David Lautensack, who seems to have become good friends with many of the regular guests. "Many of today's guests came here as kids. Now they are bringing their own kids. Many book their following year's reservations before they leave."

That's a good idea, since the resort is almost fully booked from May to September. If you do decide to stay here though, remember, Shhhhh . . .

For more information or reservations call 800/4-ALISAL or visit www.alisal.com.



Photographer and writer George Fuller has been covering golf and adventure travel for more than 15 years. His assignments have taken him throughout the United States, Asia, Polynesia, Europe and Mexico.

As an author, he has eight books to his credit, the two most recent being "California Golf – The Complete Guide" (11th edition, 2004, Avalon Travel Publishing) and "Discover Hawaii's Best Golf" (second edition December 2001, Island Heritage Publishing). Others include "Hawaii: Adventures In Nature," (October 1999, John Muir Publishing).

A former editor of "LINKS – The Best of Golf," he has contributed stories to many newspapers and magazines, including TIME, San Francisco Chronicle, Coastal Living, GOLF Magazine, Travel & Leisure Golf and others. Based in Marina Del Rey, Calif., George is a monthly travel correspondent for the PGA Tour (pgatour.com), and a Contributing Editor to The Golfer. We're very happy George is part of the Cybergolf team.