Crafting a Golf Course in Michigan's Upper Peninsula - Part 1
By: Paul Albanese
Editor's Note: This is the first installment in a journal written by Paul Albanese, a principal in the golf course architectural firm of Albanese & Lutzke based in Plymouth, Mich. Over several articles, Paul will relate what was involved in selecting the holes at and ultimate design of Sweetgrass Golf Club in Harris, Mich. Now under construction, the course next to the Island Resort & Casino is slated to open in summer 2008. Here's Paul's description of what considerations were involved before the layout went to final design.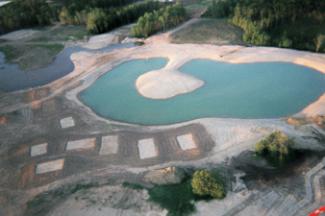 Building a championship course at the Island Resort & Casino is an amazing opportunity to introduce something special to Michigan's Upper Peninsula. Located about an hour south of Marquette, Mich., and two hours north of Green Bay, Wis., the resort is home to Las Vegas-style gaming, fine dining and national touring musicians. The Hannahville Indian Community - a band of the Potawatomi Nation - was interested in adding a first-class golf course to the resort and brought me in to implement their vision.
Like with any project, I met with the client to determine the goals and objectives. In the case of Sweetgrass, we discussed the idea of utilizing their tribal heritage and culture as a way to inform and influence the design, especially regarding the forms of the course. From bunkers designed with Native American influence to areas reminiscent of long-forgotten fortress ruins, we incorporated tribal legend and inspiration on every hole at Sweetgrass.
When I first walked the property, a number of things crossed my mind. First, this is a great site for a golf course. There were a lot of wide-open spaces and an incredible diversity of landscapes - wooded, rolling, open, lowlands and meadows. It's very impressive. One of the biggest concerns, however, was the many areas that would be difficult to allow surface drain. I knew we needed to move some dirt to make it function - but, we also did not want to create a place that looked, well . . . created.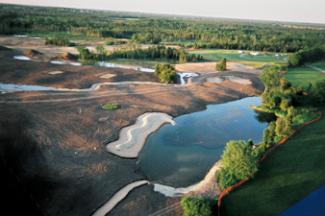 The next step was to complete an inventory and analysis of the site. This included walking the site many times before we started the design process. One thing that is imperative to good design is getting out on the site as often as possible, even before the actual design starts.
We then created drawings and sketches to help determine site character, opportunities and site constraints. Understanding the site is critical for making the future of the design sustainable, which was a major component to the philosophy behind this design. Doing simple things like using native plant materials to minimize the need for herbicides and pesticides is just one way to minimize the energy and expense of maintaining a golf course.
A growing problem of continued development is fragmentation of landscape. The small remaining islands of natural landscape are typically surrounded by a fabric of development that diminishes their ability to support a variety of plant communities and habitats. Through our planting scheme at Sweetgrass, we strove to keep the habitat interconnected throughout the site - allowing insects, birds and animals corridors through which they could maintain their natural movements, which will also create a more sustainable design.
Even areas lacking a visible trace of the original nature were redesigned to support some component of the natural landscape to provide critical connections to adjacent habitats. With this project, we re-established Sweetgrass - a sacred plant used in Indian peace and healing rituals - on the site. We also utilized a lot of the existing features for the golf course versus creating them. One such example is the use of trees on the 11th hole that protects the green. Instead of knocking them down and creating a bunker, we used what were there.

In addition to being sensitive to areas that are currently in place and unspoiled, we looked for ways to reuse areas which have already been disturbed - another cornerstone in sustainable design. By utilizing water from the resort and casino and reusing the former site of sewage lagoons to create a bio-diverse water system, we've addressed major concerns of any course and surrounding community: securing water for irrigation and effectively restoring a once-unusable piece of the property.

Sustainability isn't just an environmental issue. In addition to recycling water and utilizing grasses that don't need a great deal of chemicals and water, we also took advantage of local labor. Hiring members of the Native American tribe to build the course was a major upside for them and the community, and is another sustainable development concept.

One of the last steps in our initial walk-through of the course was to delineate all areas of the site that had special environmental sensitivity - bird and animal habitat, wetland areas, etc. We also sought to understand the hydrology of the site - how water flows, groundwater depth and drainage patterns.

Once back at the office, our primary charge was to create a schematic land-use plan. The first step was to determine the relationship between the golf course and clubhouse, or in this case, the casino. It was determined that to create the best synergy between the casino and the golf course we would have the starting and ending point near the casino, and part of it would serve as the clubhouse.
We then created multiple routing plans for different options for the golf course. At Sweetgrass, we probably went through 20 to 25 different ideas. We then narrowed it down to approximately three different concepts, which we walked through in the field.

We strive to create a routing that will have a lot of diversity: different angles of play, uphill, downhill, dogleg left, and dogleg right. We also look to maximize good views, minimize bad views and provide a variety of yardages - long/short par-3s, par-4s and par-5s.

Once back in the field, we determined the best routing plan and had it staked. This process is much easier today using GPS technology. We walked the course as it was staked, made the necessary adjustments and tweaked a tee or green location one way or another based on the opportunities and constraints gleaned from our earlier work.

We don't subscribe to a singular formula in the routing other than trying to make the course walkable whenever possible and trying to minimize long, forced carries for the sake of playability and sustainability.

This preliminary work is a precursor to developing and implementing the master plan, which I will discuss in my next journal entry.
About the Architect

Paul Albanese is a principal of Albanese & Lutzke, a member of the American Society of Golf Course Architects and Director of Golf Course Architecture at the Edinburgh College of Art in Scotland. He has worked previously on such notable projects as Timberstone in Iron Mountain, Mich., Mill Creek in Rochester, N.Y., Moose Ridge in South Lyon, Mich., Holiday Valley Resort in Ellicottville, N.Y, Tam-O-Shanter Country Club in West Bloomfield, Mich., and Traditions Golf Club in Edmond, Okla. For more information about Albanese & Lutzke, call 734/667-5150 or visit www.golf-designs.com.