Crafting Erosion Solutions with Gabion Baskets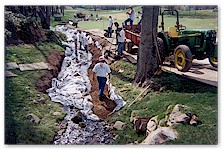 Gabion Baskets are the most effective erosion-control tools you've never heard of. While common in certain construction sectors, Gabions had never been used on golf courses until Course Crafters, Inc. introduced them during the mid-1990s, leaving a trail of sturdy, immovable creek banks and happy superintendents behind them.
"The concept behind the Gabion Baskets is remarkably simple and effective," explains Course Crafters President Bob Pinson. "Basically, they are heavy-duty wire baskets which are laid into an eroding stream bank, then filled with suitable stone. You can shape these baskets to the contours of any creek or pond edge. Once that's been accomplished, you wrap them in Trevira liner or any other reinforced fabric; install sand bags on top of the liner; cover with a thin layer of top soil or river sand to fill in the cracks; then sod and mow.
"We're one of the few golf course construction firms that offer this service. I can tell you it's a lot of hand work, but you only have to do it one time – unless you blow it up with dynamite. Otherwise, those banks aren't going anywhere."
Course Crafters has installed Gabion Baskets at some of the most prestigious clubs in golf, but nowhere more extensively than at The Farm Golf Club, a 1989 Tom Fazio design in Rocky Face, Ga.
"Fazio did a great job routing this course through natural creeks and streams, but because they're natural, they're also subject to erosion," explains Tim Kennelly, superintendent at The Farm from 1994-2002. "A lot of this erosion was right in play. Trees were threatening to fall into creeks; we were losing parts of fairways. And each time there was a wash out, we'd get more silt in the creeks.
"We went to Bob [Pinson] and said 'This is the problem. What solutions do you have?' So Bob tells me about the Gabion Baskets, then shows me these pictures of a certain course in Georgia where they have a tournament each April. Course Crafters had already installed the Gabions there, in addition to several other courses. So we had Course Crafters come in and shore up the edge of our 5th green, which was close to washing away in the next good storm. It worked fantastic, and I give all the credit to Bob and his staff. It was their idea."
The first Gabion Baskets were installed at The Farm in 2000. Over the next two years, Kennelly and his staff watched as Course Crafters laid them into erosion-sensitive spots on the 5th, 9th, and 17th holes. Pinson's crews installed Gabions along the edge of 14 tee where, with any further erosion, an enormous oak would have eventually fallen into a creek. "We had budgeted to do the green at 16, but the owner and I liked the results so much, we did the whole creek, which runs the entire length of the hole," recalls Kennelly, who left The Farm in April 2002 to take the head superintendent's position at Baltimore Country Club in Timonium, Md.
[Kennelly was replaced in Rocky Face by his former assistant, Mike Smith, who is currently overseeing an 18-hole greens renovation project at The Farm. Course Crafters is handling this work, too: nine putting surfaces this year, nine more in 2004.]
Kennelly and Pinson both hasten to point out that Gabion Baskets are not a cheap fix. But they are something very close to a permanent fix – what Kennelly calls "a long-term solution to protect your investment. I like the method so much, I'd like to do it up here in Baltimore where we have animals under the banks of ponds causing a lot of erosion."
While Course Crafters has recently installed Gabions at Highlands (N.C.) Country Club, that "certain course in Georgia where they have a tournament each April," and St. Ives CC in Duluth, Ga., among others, the practice has not exactly caught on like wildfire. "One reason is that not many contractors offer this sort of service; it's highly skilled work and we're one of the few who do it – if not the only one," Pinson says. "It can be expensive. But repairing chronic erosion problems is probably more expensive and environmentally dicey. It's just good common sense to fix it one time. If it's windy on your course, or the water level fluctuates up and down during heavy rains, or if storm water routinely rushes through your golf course, this process will solve the problem."

Pinson and his crews were intimately involved with erosion issues at The Farm because Course Crafters has been working at the club on various projects since 1992. This sort of long-term relationship is typical for Course Crafters.

"I was at The Farm eight years and we did work with Course Crafters for five of those years," Kennelly says. "When we had the crew come back each winter, it was the same foreman with the same staff. That says a lot about Bob taking care of his employees. They also knew our expectations and exceeded them, every time. The quality of their work is so good. What I like most of all is, they work all winter and do it without tearing up the darned golf course. They have such respect for the property, which is rare."

Based in the Atlanta suburb of Gainesville, Course Crafters is one of the nation's leading course construction firms, and the contractor of choice when it comes to renovation or restoration. The firm has recently worked on both sides of Rae's Creek – handling course/tournament renovations each year since 1993, then executing Brian Silva's restoration of the neighboring, Donald Ross-designed Augusta Country Club in 2001.

Course Crafters is currently performing renovation work at another Tom Fazio design, The Virginian in Bristol, Va., in addition to Silva's renovation project at The Country Club of Salisbury (N.C.). The firm recently broke ground on its second New England project: a renovation of Tumble Brook GC – a Willie Park Jr. original in Bloomington, Conn. – with architect Mark McCumber.

For more information on Course Crafters, contact Bob Pinson at 888-503-0992.