Creating Strategic Tee Shots - Avoid Forced Carry & Lay-Up
As already seen, strategery (sorry, but ever since that Saturday Night Live skit lampooning George W. Bush's ability to mangle language, I have trouble calling it anything else) starts with the tee shot.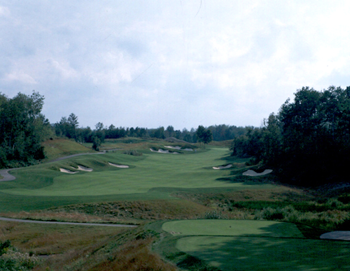 While not even particularly narrow, I used bunkers
on both sides of the short par-5 14th hole at the Quarry of
Giantís Ridge to require both length and accuracy to
hit the green in two shots.
In general, I believe that every tee shot needs to have good basic strategy. Now, I have nothing against one long hole - or even one per nine - merely being a test of accuracy, by virtue of narrow, tree-lined fairways with hazards on both sides of the landing zone.

I just don't think it should be reproduced 14 times a round, like Robert Trent Jones and Dick Wilson did in the 1950s while trying to out-compete each other in building tough courses.

Two other factors greatly reduce strategy - forced carries and forced lay-ups - so I generally avoid both. Actually, forced carries have little to do with strategy and everything to do with playability by average players. Except for small ponds and creeks less than 100 yards in front of the tee, they can end a hole as it begins for many golfers.

The general rule of thumb is that hazards be placed no more than half the expected tee-shot distance from any one tee, as in 60 yards from the red, 90 yards from the white, 110 yards from the blue, and perhaps 130 yards from the gold. Optional carries are a great strategic tool, and will be discussed separately.
Forced lay-ups are very unpopular. I often survey golfers when giving speeches, and the highest number of lay-up shots I ever found acceptable was four . . . and that was me.

Averaging the other responses, I came up with about 13.99 as the preferred number of tee shots where they can hit a full driver if they choose.

Optional lay-ups, where golfers are in control of the decision, are acceptable. It's the difference between moms telling a toddler "No!" versus giving him the options she prefers. Child psychology works on golfers as well as kids!
Jeffrey D. Brauer began his career as an apprentice in the Chicago area in 1977. His first project was Kemper Lakes, which shortly after hosted the 1989 PGA Championship. He formed GolfScapes in Arlington, Texas, in 1984. In the last 29 years he has designed and consulted on a wide spectrum of projects, ranging from partial renovations to international resorts. His recent work includes teaming with the design team of Pascuzzo and Pate on a remodel of the world-famous La Costa Resort & Spa in California, and renovations at Superior National Golf Course in Lutsen, Minn., and Mesquite Municipal Golf Course in Mesquite, Texas.

He has been a member of the American Society of Golf Course Architects since 1981, serving as President during its 50th Anniversary year in 1995-96. Jeff still studies the classic works - both old and new, and has played more than 75 of the best courses in the world.

Jeff gives many presentations and is a regular architecture columnist for many publications and websites, including Golf Course Industry and Cybergolf.com. He has also been a strong advocate for the "Tee it Forward" campaign and strives to make his courses fit the description of "fun to play every day."

Jeff's work has been spotlighted in most of the world's major golf magazines. Golf World ranked him as one of the top-20 golf course architects and Golf Inc. ranked him as the world's fourth-best value in golf architecture in 2010. Jeff's portfolio and reputation keep him at the forefront of desired designers for new courses, reconstruction and renovation projects. For more about Jeff, visit http://www.jeffreydbrauer.com/sites/courses/layout.asp?id=859&page=48451.