Creating Strategic Tee Shots - Fairway Width
Most architects agree that you need wider fairways to create strategic tee shots. Many older courses, after decades of tree plantings too close to fairways and gradual narrowing - whether to save maintenance costs or "toughen up" the course, have nearly eliminated strategic choices on tee shots in favor of an accuracy test.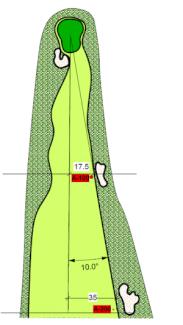 They mimic the U.S. Open with 25- to 30-yard fairways designed to make the best players in the world miss as much as they hit fairways.

So, how wide does a fairway need to be for strategy? Some clues come from the "real" world, like the American professional tours, where guidelines call for fairways to be 25 to 30 yards wide in the expected landing area on par-4 and par-5 holes.

PGA Tour players often use 10 percent of the shot distance as a gauge of expected accuracy (or 30 yards on a 300-yard tee shot). Obviously, both players and tour officials adjust width expectations for things like cross-slope and wind.

The USGA Slope System is based on empirical field data, and suggests 66 percent of scratch players hit fairways 32 yards wide at 250 yards, and handicap golfers require 40-yard-wide fairways at 200 yards (13 and 20 percent of tee shot distance, respectively, showing average accuracy rising proportionally with handicaps). This jives with my experience on all counts.
If your fairways are 32 yards wide, only accurate (and confident!) scratch players will be targeting specific portions of the fairway with their tee shots. Most golfers will be playing tee shots only to hit anywhere in the fairway.

Of course, we don't need fairways 64 yards wide! As fairways widen, a higher percentage of golfers will aim to one side or the other. I estimate it takes 25-50 percent more width to introduce a left-side/right-side strategy for most players, or 40 to 48 yards.

Hole length and green angle also affect how wide a strategic fairway must be. In general, the longer the hole the wider the fairway should be, and a green angled 10 degrees to the line of play requires a wider fairway to provide an opening than one angled at 5 degrees left or right.
Presume a 370- and 470-yard hole, where the strategy is to place the tee shot just inside the right rough for the best angle. For simplicity, presume a 270-yard tee shot, leaving approach shots of 100 and 200 yards, respectively. As shown, for a green angled 10 degrees to the edge of the fairway, the longer approach shot needs proportionally more width from centerline to the edge to fully open up the approach shot, taking the hazard more out of play.

In actual designs, there is usually a combination of less angle to the green and wider fairways on longer holes. Besides the angles shown, in general, golfers expect a little more fairway room on long holes to compensate for the need to hit drives a little harder and farther.
[Editor's Note: Jeff Brauer recently wrote a feature story for Golf Course Industry magazine; the article was later extensively quoted in a piece by Bloomberg Businessweek reporter Christina Larson. Check out Jeff's complete story at http://www.golfcourseindustry.com/gci0414-golf-in-china.aspx.]
Jeffrey D. Brauer began his career as an apprentice in the Chicago area in 1977. His first project was Kemper Lakes, which shortly after hosted the 1989 PGA Championship. He formed GolfScapes in Arlington, Texas, in 1984. In the last 29 years he has designed and consulted on a wide spectrum of projects, ranging from partial renovations to international resorts. His recent work includes teaming with the design team of Pascuzzo and Pate on a remodel of the world-famous La Costa Resort & Spa in California, and renovations at Superior National Golf Course in Lutsen, Minn., and Mesquite Municipal Golf Course in Mesquite, Texas.

He has been a member of the American Society of Golf Course Architects since 1981, serving as President during its 50th Anniversary year in 1995-96. Jeff still studies the classic works - both old and new, and has played more than 75 of the best courses in the world.

Jeff gives many presentations and is a regular architecture columnist for many publications and websites, including Golf Course Industry and Cybergolf.com. He has also been a strong advocate for the "Tee it Forward" campaign and strives to make his courses fit the description of "fun to play every day."

Jeff's work has been spotlighted in most of the world's major golf magazines. Golf World ranked him as one of the top-20 golf course architects and Golf Inc. ranked him as the world's fourth-best value in golf architecture in 2010. Jeff's portfolio and reputation keep him at the forefront of desired designers for new courses, reconstruction and renovation projects. For more about Jeff, visit http://www.jeffreydbrauer.com/sites/courses/layout.asp?id=859&page=48451.