Crossing Scotland, Day 10 - East Lothian
By: Blaine Newnham
Our final hours in Scotland would be among the best, fretting not about being unable to play North Berwick as planned, but doing our own little tour of the area 45 minutes east of the Edinburgh airport.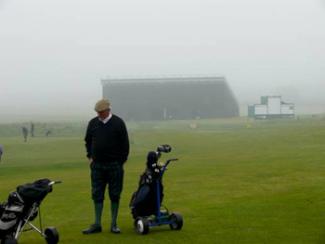 Misty Morning at Muirfield
Just when I was sure that any return golf trip to Scotland would be north, to the great courses of St. Andrews and beyond - to Aberdeen and Inverness and particularly Royal Dornoch, we reached what is now called the "Coast Golf Road," 28 miles along the craggy Firth of Forth where, believe or not, there are 12 quality links courses.

In all, there are 22 courses, or nearly one per mile, in the area. The stretch includes an Open Championship venue, Muirfield, and a historic gem, North Berwick, home of the Redan hole and perhaps the most copied course in the world.

It is an impressive mixture of classic qualifying venues for the Open - Gullane, North Berwick and Dunbar - to newer courses like Tom Doak's Renaissance Club, the two courses at Archerfield Links and Craigielaw. There are also the lesser-known but outstanding places, the Glen Club or East Course at North Berwick, and Luffness, which recently held a Scottish Senior Open.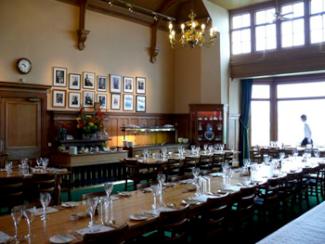 Inside Muirfield's Clubhouse
They range in price from nearly $300 a round at Muirfield to $35 at Winterfield in Dunbar. Many are private clubs, but as is customary in Scotland, they are welcoming of visitors.

With North Berwick unavailable, we started our own little search along the coast and came upon Muirfield, at one time regarded the best course in the world, a straightforward links course with many demands but few surprises.

We thought we'd see how preparations for the Open Championship in July were going. Bleachers already surrounded the finishing holes; it was definitely a sight, although it was soon obvious that we had overstepped our bounds. We were, in fact, out-of-bounds.
Someone in our group asked about a pro shop where he could look for Open merchandise. "We don't have a pro shop," a stern-looking lady told us. Golf apparel bearing the Muirfield logo could be purchased as a golf shop in the nearby village of Gullane, she said.

A gentleman looked at our group and said, "You can't be playing here today?" The question needed no answer. As people began to surround us, another asked simply, "Did we have an appointment?"

When you arrange a round at Muirfield - officially the Honourable Company of Edinburgh Golfers - the green fees include lunch in the clubhouse. The members approaching the clubhouse from the parking lot for a Sunday tournament wore jackets and ties, and so would any non-members venturing to have lunch there.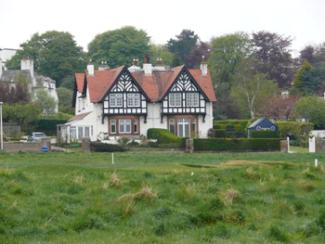 The Village of Gullane and First Hole of Its Golf Club
You expected Ted Ray to tee off with a pipe in his mouth, or Harry Vardon to split the first fairway. It is the land of tweed jackets and cashmere sweaters. We were without a coat and portfolio.

The day got better as we teed off at Gullane No. 1, a great old links whose first tee is located in the middle of the village. The course quickly crested a hill and, from the seventh tee, you could see 20 miles of coastline in either direction. You could see, in fact, the bleachers awaiting thousands for the Open at Muirfield.

After the round we caught a quick lunch in the "Back Bar'" of the clubhouse, and since it was the end of the trip and a thick fog had lifted, we played another 18 holes, finishing in the gloaming - about 8 p.m. - and feeling entirely at home even without our coats.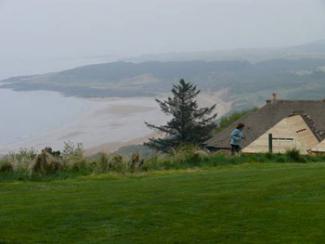 The View from 7th Tee at Gullane No. 1
temperature never reached 60 degrees.

We walked every hole, three of us using push carts - "trolleys" in Scotland - and one packing. Everyone, including me at age 71, held up well and would have played on if it weren't time to go home.

Links golf is so much fun. We are lucky on the West Coast of the U.S. to have the real deal in Bandon Dunes and Chambers Bay.
We'd waited eight hours to play the Old Course at St. Andrews. We'd see the new links courses at Trump International and Castle Stuart, while playing some great old ones, like Nairn and Cruden Bay. We visited a splendid everyman's course, Montrose, where 1,000 people in a village of 12,000 are members.

And then we were at Royal Dornoch, where golfers go to die - the game's cathedral. We were surprised that it was no more than a three-hour drive up to Dornoch - 8 degrees south of the Arctic Circle - and, in fact, to any of the places we would go. We drove our own small van with a few missed turns but no real problems.

Scotland versus Ireland? The Irish have more spectacular places - Ballybunion, Lahinch, Tralee, Carne, Old Head, Royal County Down.

But beyond the trophy courses, and in terms of a real love and involvement in golf, Scotland has more. More courses - 550, more everyday players, more history, more hidden gems, just more of the game as a way of life.

Clearly, this is the home of golf.
Blaine Newnham has covered golf for 50 years. He still cherishes the memory of following Ben Hogan for 18 holes during the first round of the 1966 U.S. Open at the Olympic Club in San Francisco. He worked then for the Oakland Tribune, where he covered the Oakland Raiders during the first three seasons of head coach John Madden. Blaine moved on to Eugene, Ore., in 1971 as sports editor and columnist, covering the 1972 Olympic Games in Munich. He covered five Olympics all together - Mexico City, Munich, Los Angeles, Seoul, and Athens - before retiring in early 2005 from the Seattle Times. He covered his first Masters in 1987 when Larry Mize chipped in to beat Greg Norman, and his last in 2005 when Tiger Woods chip dramatically teetered on the lip at No. 16 and rolled in. He saw Woods' four straight major wins in 2000 and 2001, and Payne Stewart's par putt to win the U.S. Open at Pinehurst. In 2005, Blaine received the Northwest Golf Media Association's Distinguished Service Award. He and his wife, Joanna, live in Indianola, Wash., where the Dungeness crabs outnumber the people.