Crossing Scotland, Day 1 - Getting There
By: Blaine Newnham
The first day of any trip to Europe, even if it's a 12-day celebration of the game of golf, is always a long one.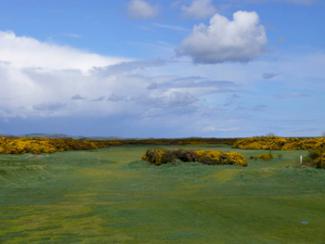 The Links at Montrose
Our foursome rendezvoused in Newark, N.J., where weather compelled us to miss a connecting flight to Edinburgh, Scotland. So we were re-routed to Heathrow in London and then on to Edinburgh, putting us six hours behind schedule and unable to make our tee time at Crail, designed in the 1890s by none other than Old Tom Morris.

This was a trip to visit as many funky courses as famous ones. We will drive right past Carnoustie, heading instead to Cruden Bay. We would rather try Montrose - where they've been playing golf for 450 years - than Muirfield, and give up about anything to finally make it to the Highlands for Royal Dornoch.

There was one thing we wouldn't give up and that was any chance to play the Old Course at St. Andrews. The story of waiting to sign up as a single at dawn is for another day, like tomorrow.
There was so much to think about in planning the trip - little things, like how many golf balls to bring, like how to make the golf bag as light as possible, like how to prepare for the weather.

The answer? Like always, when traveling less is better. You might find as many balls as you lose, leave most of the wedges at home (you'll be putting from off the green) and make sure you have a rain suit and bucket hat.

We flew United Air Lines, which has the direct flight from Newark to Edinburgh. For international flights, United doesn't charge for the first checked bag but hits you $100 for a second.
We all checked a golf bag with a few extra winter-wear clothes stuffed into it, and took everything else aboard in a carry-on that met the airlines size requirements.

This was my fifth trip to Europe to play golf, having been three times to Ireland and once to Wales. I have covered two British Opens in Scotland - at Turnberry and St. Andrews - and played a couple of Scottish courses. But I wanted to get to Aberdeen for a look at the venerable Cruden Bay as well as the new Trump Course. Then it would be up in the Highlands and Royal Dornoch. We would finish at North Berwick, in some ways the most celebrated course of them all.
We'd drive a rent-a-car on the wrong side of the road. We'd transport our own clubs each day around the course. We'd play the ball the way we found it.

I wanted to find out how Scotland stacked up to Ireland, and how a 71-year-old like myself would handle that much golf - 12 rounds in 10 days.

We'll see.
Blaine Newnham has covered golf for 50 years. He still cherishes the memory of following Ben Hogan for 18 holes during the first round of the 1966 U.S. Open at the Olympic Club in San Francisco. He worked then for the Oakland Tribune, where he covered the Oakland Raiders during the first three seasons of head coach John Madden. Blaine moved on to Eugene, Ore., in 1971 as sports editor and columnist, covering the 1972 Olympic Games in Munich. He covered five Olympics all together - Mexico City, Munich, Los Angeles, Seoul, and Athens - before retiring in early 2005 from the Seattle Times. He covered his first Masters in 1987 when Larry Mize chipped in to beat Greg Norman, and his last in 2005 when Tiger Woods chip dramatically teetered on the lip at No. 16 and rolled in. He saw Woods' four straight major wins in 2000 and 2001, and Payne Stewart's par putt to win the U.S. Open at Pinehurst. In 2005, Blaine received the Northwest Golf Media Association's Distinguished Service Award. He and his wife, Joanna, live in Indianola, Wash., where the Dungeness crabs outnumber the people.