Crossing Scotland, Day 4 - The Donald
By: Blaine Newnham
Donald Trump, in typical bombastic fashion, has proclaimed his new Trump International Golf Links Scotland the "World's Greatest Golf Course."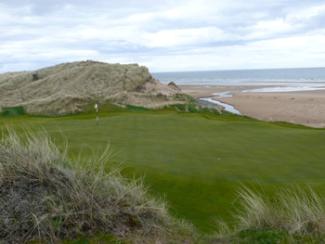 No. 3 at Trump International Golf Links
At the entrance to the course - just up the coast from Aberdeen - is a standing green-and-gold clock not to be confused with those given by Rolex to U.S. national championship venues. Trump has made his own clock, just as he made his own coat of arms - "Never Give Up" in Latin.

Prior to construction of his new course, Trump immediately went at odds with his Scottish ancestors. Trump's mother, you see, was born in Scotland, and he had looked for years for property in the dunes to build a golf course. After considerable wrangling with environmentalists, Trump opened the International last summer.

The International Golf Links is American in that it is financed by an American - estimates say Trump spent $150 million buying the land and building the course. It also has a spectacular practice area (compare that to Royal County Down's in Northern Ireland, which has two moldy nets for warming up).

There are pictures in the temporary clubhouse of Trump with the late pop star Michael Jackson, as well as Trump's picture on the cover of Time magazine. Though an obvious tribute to Trump, the structure is first-class.
Even the price for a round mirrors the mega-rich boss - $315 for golf plus a caddie fee. The Old Course at St. Andrews is $242 a round. But this is not an American course, unless you want to compare it with the links at Bandon Dunes and Chambers Bay.

My playing partners - both from the Pacific Northwest - thought Trump's course to be more spectacular, even better, than either Bandon Dunes or Pacific Dunes. I didn't.

Although the dunes are taller here than they are at Bandon, except for a couple of holes they simply don't enter play. The dunes are towering spectators to a course that basically has very little of the links quirkiness that I've come to know and love when playing 100-year-old UK courses.

After a hard winter and an even worse spring, the course is not yet ready to be judged fairly. It is not up to links speed. When I was here in mid-May 2013, the greens were sticky, the fairways over-seeded and healing.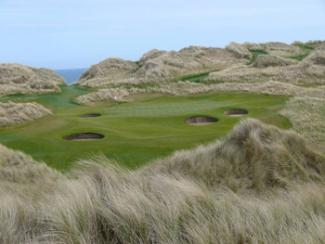 The Par-3 16th
But make no mistake that the design by celebrated British architect Martin Hawtree matches the surroundings even if it doesn't take advantage of them. Trump wanted the best course his money could buy and to one day be validated for spending it by hosting a future British Open or Ryder Cup.

In that vein, the course is very difficult, especially in a strong wind. The 18th hole is 585 yards from the white tees into the wind with nine bunkers surrounding the green. I'm still trying to get there. The fairways aren't particularly wide - unlike Bandon Dunes or Chambers Bay, and the beach grass growing on the dunes quickly gobbles up balls.

It's obvious that the design wants to meet the approval of top players and touring professionals. There simply aren't the bumpy fairways, or hidden bunkers or blind shots you'd expect from links golf, but the pros don't want.

My sense is that Trump didn't build it for what Mike Keiser, Bandon's owner, calls the "retail golfer," the 15-handicapper who loves the game and has the time and money to enjoy it. Trump is looking beyond that.
And the course is nearly as big as his ego. It covers 600 acres of what have been called the "Great Dunes of Scotland." Though there are no power carts or cart paths here, there are fairly long walks between holes that seem to be typical of modern golf course architecture.

My sense is there are too many forced carries and elevated greens for this to be a real links course, the way Chambers Bay is. There aren't as many interesting shots to play, which is the essence of links golf. You know, hit it here to get it there using your imagination.

But, my, it is beautiful. One par-3 is right on the beach, another over the corner of a dune with the North Sea in view. The holes I like best are that par-3 over a dune - No. 6, and the par-5 10th through a valley of dunes. But there is nothing as involved with the dunes as the sixth and 10th holes at Chambers Bay.

You don't see the exposed sand as you do at Bandon Dunes, where you also have expansive ocean views. Trump's course is very green, even down to the paths leading from one hole to the next.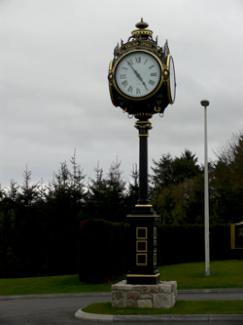 Trump's Clock Tower
In a way, it reminds you more of courses in Arizona or the areas around Las Vegas: stark sandy hills contrasted with lush turf. It may prove to be a championship site, however. Clearly, the course is long enough (7,400 yards) and difficult enough to earn one.

But first, the golf establishment will have to get over Trump. Now he's trying to build a second course on the site as well as trying to halt the development of the huge propellers of a proposed wind farm offshore.

He's seeking to proceed with plans for a hotel, homes and other resort amenities. But those elements remain on hold pending a decision by the Scottish government on the wind farm off the North Sea coast. If Trump gets his way with the full development - including a planned 450-bed hotel, 500 homes and 950 apartments, he will have invested upwards of $1.2 billion at the 1,400-acre "Menie Estate" on Aberdeenshire's northeast coast

Down the road a bit we stopped to have dinner at the Cock and Bull pub. Trump had eaten there during construction of his course. One of the waiters, when asked about Trump, acknowledged that the American once tipped him with a $100 bill. A couple of Scottish golfers raved to me about the course, and the pending impact of it on the economy. "Terrific, fantastic," they said.

Many others are disturbed that he charges $315 a round when the course is in such poor shape. That will change, but will the attitudes?

Maybe the world is ready for Donald Trump's invasion of golf's sacred kingdom. He's made a beautiful step forward, but perhaps has left those of us who don't have the money to afford it or the talent to play it somewhere out there in the dunes.
Blaine Newnham has covered golf for 50 years. He still cherishes the memory of following Ben Hogan for 18 holes during the first round of the 1966 U.S. Open at the Olympic Club in San Francisco. He worked then for the Oakland Tribune, where he covered the Oakland Raiders during the first three seasons of head coach John Madden. Blaine moved on to Eugene, Ore., in 1971 as sports editor and columnist, covering the 1972 Olympic Games in Munich. He covered five Olympics all together - Mexico City, Munich, Los Angeles, Seoul, and Athens - before retiring in early 2005 from the Seattle Times. He covered his first Masters in 1987 when Larry Mize chipped in to beat Greg Norman, and his last in 2005 when Tiger Woods chip dramatically teetered on the lip at No. 16 and rolled in. He saw Woods' four straight major wins in 2000 and 2001, and Payne Stewart's par putt to win the U.S. Open at Pinehurst. In 2005, Blaine received the Northwest Golf Media Association's Distinguished Service Award. He and his wife, Joanna, live in Indianola, Wash., where the Dungeness crabs outnumber the people.