Crossing Scotland, Day 6 - Royal Dornoch
By: Blaine Newnham
Our trip across Scotland has reached its zenith at Royal Dornoch. I hear this is the place where golfers go to die.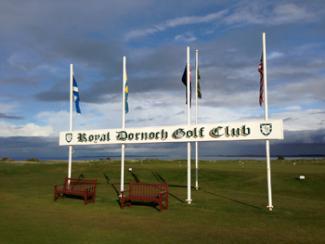 Royal Dornoch
Physically, we were now within 8 degrees of the Arctic Circle - north of Moscow as the locals like to say. And romantically, we are at the spiritual home of the game. I don't know if Michael Murphy wrote "Golf in the Kingdom" with this place as a backdrop, but he should have.

If I were to pick one course to play the rest of my days, it might as well be the tranquil and treacherous Royal Dornoch Golf Club. This is the best course not to hold a British Open, too short and too far away. And yet, in the ranking of golf courses in the U.K., Dornoch is No. 3 behind only Royal County Down in Northern Ireland and Murfield in Scotland, placing ahead of the Old Course, Turnberry, Ballybunion and even Trump International.

"Best in the world," is what they say if you ask. But there is a minimum of talk and boasting here, simply a reverence for the game in a setting that is serene and subtle.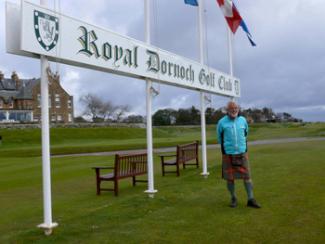 Roderick, Royal Dornoch's Starter
I realized there is nothing really new in golf architecture that designers are doing with new links courses like Bandon Dunes which had already done by Old Tom Morris in the late 1880s, and polished by Donald Ross, who as a young man was the Dornoch's first professional and first greenskeeper.

Ross, of course, went on to design hundreds of course in the U.S., including Pinehurst No. 2.

Dornoch doesn't threaten you off the tee, the longest of its par-3s is 167 yards, and yet you'd better be prepared to play the ball here to get it there, to use the firmness of the course rather than complaining about it.

There is nothing pretentious about the place. Guests are welcomed by Roderick, the starter, who wears a kilt even on a cold and breezy morning. He reminds us that Tom Watson once said the second hole has the most difficult second shot in golf.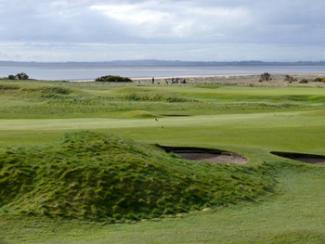 Looking Across Royal Dornoch
I expected it to be a wicked par -4 and, instead, got a table-top, 167-yard par-3. Playing downwind, it took a 150-yard shot to the front of the green. I did that, but the ball veered suddenly off the green and down a steep bank. A similar fate befell a shot hit left or long.

As I putted straight back up the 10-foot-high bank on my second shot I understood what Watson was talking about. It was also Watson who said the three rounds he played in 24 hours here were "the most fun I've ever had playing golf." I often wondered where golfers went to die.

We met two different groups of members who weren't from around here; one was from Vancouver, Canada, and the other from San Francisco. In each case they came over to play for a month in May and returned for another month in September. They rent cottages in the village, play 36 holes a day in the gathering daylight of May and the falling daylight of September.
You need a special appreciation for the game, to deal with the distance - 500 miles north of London - and the cool, breezy weather. To become members they had to join the lesser Struie Course for two years, but then were eligible to play the championship course for about $700 a year. A single round in the summer is $150.

There are 1,800 members at Royal Dornoch, 1,500 of them from outside Scotland. Besides having access to Royal Dornoch they can play the nearby courses of Brora, Golspie and Tain for $15 a round, plus get reciprocals at other "Royal" courses around the world, including Royal Colwood in Victoria, B.C.

Brora is a course tended by sheep and where they protect the greens with short electric fences. Tain is in the town where they distill Glenmorangie single-malt whiskey and where the first hole is played over a road and a fence.

Everything in Scotland is "lovely," according to those who live here, but Royal Dornoch really is. About to send us off, Roderick told us his favorite story as the starter.

"The Canadian, Mike Weir, was playing here and hit his tee shot into the hotel," said Roderick. "He wanted a mulligan; I told him he was playing three. He hit the next tee shot on the green (a 331-yard hole), made the putt and gave me a digital gesture."
Blaine Newnham has covered golf for 50 years. He still cherishes the memory of following Ben Hogan for 18 holes during the first round of the 1966 U.S. Open at the Olympic Club in San Francisco. He worked then for the Oakland Tribune, where he covered the Oakland Raiders during the first three seasons of head coach John Madden. Blaine moved on to Eugene, Ore., in 1971 as sports editor and columnist, covering the 1972 Olympic Games in Munich. He covered five Olympics all together - Mexico City, Munich, Los Angeles, Seoul, and Athens - before retiring in early 2005 from the Seattle Times. He covered his first Masters in 1987 when Larry Mize chipped in to beat Greg Norman, and his last in 2005 when Tiger Woods chip dramatically teetered on the lip at No. 16 and rolled in. He saw Woods' four straight major wins in 2000 and 2001, and Payne Stewart's par putt to win the U.S. Open at Pinehurst. In 2005, Blaine received the Northwest Golf Media Association's Distinguished Service Award. He and his wife, Joanna, live in Indianola, Wash., where the Dungeness crabs outnumber the people.