Crossings at Magnolia Grove will Challenge LPGA Players
By: Steve Habel
There was always a lot to like about the Crossings course at Magnolia Grove Golf Course in Mobile, Ala., so much so that the track was good enough to draw the LPGA for an event there since 1999. But the course that the top women players in the world will attack this week is - thanks to more than $5 million in renovations and a year to grow into its own - a completely new challenge, one that the professionals believe is a more dynamic test while actually becoming less punitive for the average golfer.
With the changes, the Crossings is much more player-friendly now, according to Paul Martino, Magnolia Grove's longtime director of golf. "The renovations were a full-scale plastic surgery from top to bottom," he said. "We've taken what our customers have suggested and made it a reality while still maintaining the integrity of the course."

The property at the Robert Trent Jones Golf Trail at Magnolia Grove includes creeks, marshland and lakes, with each of the 54 holes carved from a thick forest of hardwood and pine. The Crossings is one of two championship layouts at Magnolia Grove. The other full-sized track is called the Falls (which is currently undergoing renovations and should be ready for play this fall). Both courses were named by Golf Digest's Places to Play as two of the nation's "Great Value" courses and were listed in America's Top-50 Affordable Courses.

The facility also contains a tough-as-nails 3,140-yard, par-54 short course, with holes varying in length from 215 to 110 yards.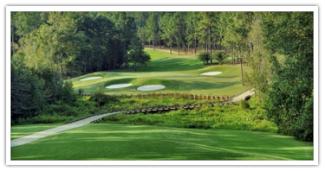 No. 8 at The Crossings
Before the renovations many players found the Crossings to be confining and overly difficult thanks to numerous forced carries, an overabundance of trees and putting surfaces where slopes and the need to hit shots to specific areas limited playability and puttability. All 18 green complexes were not only redesigned and softened, but their grass was replaced with mini-Verde to better accommodate high levels of play and varying weather conditions. "There is still a bit of movement on the putting surfaces and they are no pushover," Martino said.

A great deal of the renovations focused on the back nine, including the introduction of crushed oyster shell waste bunkers and the implementation of several new water features. Many bunkers were moved, eliminated or redone, and all holes received extensive tree removal - as many as 5,000 were taken out.

A new practice area at Magnolia Grove GC includes a three-tiered tee, a larger chipping green and a sand bunker.

The Crossings course carries a par of 72 and plays 7,212 yards from its back set of four tees. From the tips, the course sports a rating of 74.7 and a slope of 143. The 144 ladies in the Bell Micro LPGA Classic will tee it up from 6,532 yards.
Rewarding the Shotmaker

The Crossings, which gets its name by the railroad tracks through the site, is a shotmaker's layout and occupies hilly terrain with several pulpit greens elevated well above fairway levels.

The changes on the course are immediate from the first hole, as a far more generous landing area allows a little leeway off the tee on the 422-yard par-4 opener. The Crossings starts to show its teeth on the 430-yard par-4 fifth, where a drive hit too far will find a downhill lie for a tough approach over a pond to a green bunkered front-left.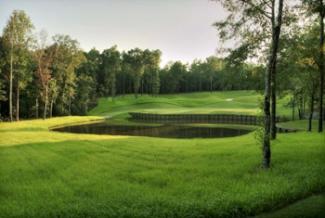 14th Hole at The Crossings
No. 7 is a 412-yard two-shotter that moves left to right and ends at a demanding green with deep bunkers on both sides. On the 219-yard par-3 eighth you must carry low-lying wetlands to a putting surface with sand on three flanks.

On No. 10 choose to cut the corner a little on this dogleg-left 417-yard par 4, allowing for a short-iron to one of the Crossings' trickier greens. The 559-yard 13th is rated as the toughest par-5 by handicap and has been renovated to where the putting surface was moved back, the trees on both sides thinned out, and more movement added to the fairway.

The final five holes are where the changes are most evident. On the 195-yard par-3 14th, the green has been moved down the hill much nearer to the water hazard that has been changed from a marshy area to a pond. The baha grass beyond the green is not in play, and you cross a covered bridge to reach the putting surface.
The 423-yard par-4 15th has a waste bunker down the left that needs to be avoided. The bunker is surrounded by deep and thick baha grass that makes a lie there virtually unplayable, if you can find your ball. The approach is over water to a deep-but-narrow green that slopes front to back. You drive your golf cart through the waste bunker of crushed oyster shells on the 596-yard par-5 16th, which plays as a slight dogleg-left and is definitely a three-shot hole.

The 226-yard par-3 17th contains a daunting ravine, but the renovations softened its large green and made it more receptive to a long-iron or hybrid tee shot. The course ends with the vastly different 18th, featuring a new lake at the foot of the front tee. Play your tee shot up the slope on this 450-yard par-4 tester, and you'll still face a long approach to a putting surface that is flatter and more open.

The Robert Trent Jones Golf Trail is a collection of 468 holes of championship golf on 11 sites throughout Alabama. Magnolia Grove GC was one of the very first RTJ Trail sites and golf has been played at facility since 1992.

For more information, visit www.rtjgolf.com.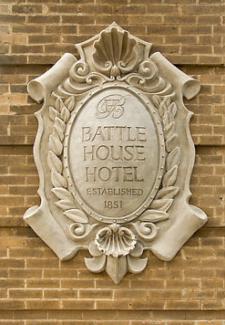 Battle House Crest
Fun to be Had off the Course in Mobile

There are plenty of fine times to be had in Mobile and the immediate area, beginning with a stay at The Battle House Renaissance Mobile Hotel and Spa in the heart of downtown. The Battle House captures classic Southern charm as it steps back to a simpler time when elegance reigned supreme and service was sublime.

Built in 1852, the grand hotel was the backdrop for Mobile's social scene for more than a century. Among its most illustrious guests were Ulysses S. Grant, Woodrow Wilson and Babe Ruth. As downtown Mobile declined through the 1970s, the hotel was closed. With the downtown's recent renaissance, the hotel underwent a $200 million renovation and reopened to much fanfare in May 2007.

For dining out, stop by A Spot of Tea for a sumptuous breakfast, Felix's Fish Camp Restaurant (set near the Battleship Alabama park site) or Wintzell's Oyster House (check out all the signs and feast on a variety of oysters and shrimp plates) for lunch or dinner, and Callahan's Irish Social Club for great drinks, music, fellowship and one of the world's messiest cheeseburgers.
Steve Habel is one of Cybergolf's national correspondents, contributing news stories, features, equipment and book reviews and personality profiles from his base in Central Texas. He is also the managing editor for Texas CEO Magazine and works as a contributing editor for Horns Illustrated magazine, a publication focusing on University of Texas sports. He also writes a blog (www.shotoverthegreen.blogspot.com), which features news on golf and the Longhorns, and another (www.checkinginandplayingthrough.blogspot.com) on his many travels, which took him across the nation and to 105 different golf course in 2009. Habel is a member of the Golf Writers Association of America and the Texas Golf Writers Association.