Cybergolf Christmas Gift Guide
By: Joel Zuckerman
There are only a handful of shopping days left before Christmas, and your gift list is likely a "work in progress." Well, that's the downside of whiling away your time on the golf course when you should be out trampling folks at the mall or outlet stores, like everybody else.

Not to worry. I have carefully examined an esoteric sampling of the latest golf goods and gadgets, and hand-selected a laundry list of a dozen different products that any links-lover would be thrilled to find under the tree.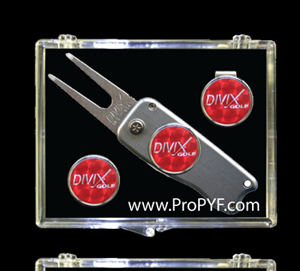 Divix Red Markers
Divix Repair Tool

I am something of a connoisseur in terms of divot-repair tools, having used or at least experimented with dozens of different brands and styles over the years. Divix is the best, bar none. In commemoration of the company's 10th anniversary, Divix commissioned David Todd Exclusive Designs to create a showpiece quality design based on their original 1998 1st Production Run Switchblade Divot Repair Tool. It's made in the USA and comes with a lifetime guarantee. Beyond that, this exquisitely-crafted anodized aluminum tool featuring a stainless steel fork, is lightweight, eye-pleasing and nothing less than a spring-action mechanical marvel. (www.divixgolf.com)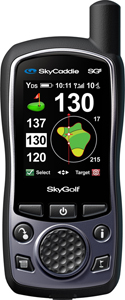 Sky Caddie SG5
SkyCaddie's IntelliGreen Pro

Of all the distance-measuring gadgets that have become en vogue in the last decade or so, Sky Caddie is at the forefront. This high-tech version displays distances to major tiers, contours, false fronts and mounds from your angle of approach to the green. Now golfers can plan their approach shots with the same critical information used by PGA Tour players. Failing to take this information into consideration can lead to three-putting and other wasted strokes, yet no other rangefinder can provide this critical information. Lasers can't measure to these areas on the green and GPS products that rely on satellite imagery can't see, much less map, these key details. (www.skygolf.com)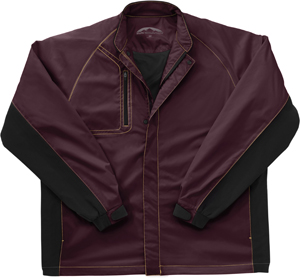 Sun Mountain Monsoon Jacket
Sun Mountain's Monsoon Jacket & Pants

Golf's finest outerwear company now offers guaranteed waterproof protection in comfortable, lined, microfiber jackets and pants. The Monsoon Jacket is constructed with a windproof and waterproof microfiber shell with taped seams and TeflonŽ coating and taffeta lining for comfort. The Monsoon Pants are fully lined, coated microfiber offering surefire protection from wind and rain. These are absolutely essential garments on any golf trip to the UK, Bandon Dunes, the Monterey Peninsula, or anywhere else where raindrops are likely to fall. (www.sunmountain.com)
Scratch 8620 Wedge
Scratch Wedges

This upstart company is making great strides in the ultra-competitive world of wedges. They have been helped along in no small part by their recent affiliation with up-and-coming PGA Tour star, Ryan Moore, who in lieu of a standard endorsement deal is rumored to have taken an equity position in the company. Scratch offers the only wedge-fitting system in the industry, determined by the golfer's angle of attack and divot tendencies. Every component of the Scratch wedge can be customized to the customer's needs. Golfers can choose from three head shapes, 18 sole grinds, eight finishes, lofts from 46 to 64 degrees, and unlimited stamping options. So if you order one and still leave your next bunker shot in the sand, you'll know the fault is your own. (www.scratchgolf.com)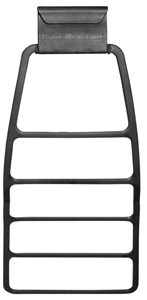 Train Reaction Device
Club Glove's Train Reaction Device

Club Glove has long been known for their roomy, sturdy travel bags, preferred by the vast majority of players on the PGA Tour. A universal luggage stabilizer, the Train Reaction Device allows golf-loving globetrotters to connect and roll two pieces of wheeled luggage in virtually any size and combination with half the effort. Linking bags in seconds, this patent-pending invention creates a stable and balanced four-wheel unit that is incredibly easy to move. The Train Reaction Device is ideal for maneuvering anywhere luggage goes. By using the smaller bag to leverage the larger, or connecting two of the same size, the device produces a "weightless" effect allowing users to transport their gear with a single hand, leaving the other free for either coffee, a cold one, a cell phone or child. But not all at once! (www.trainreaction.com)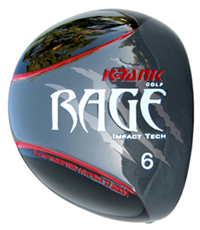 Krank Rage Driver
Krank Drivers

They aren't quite a mainstream product, but have something of a cult following among those in the know. Here are two pertinent facts about Krank Drivers. The first is that the company founder, Lance Reader, once hit a drive 526 yards in competition. The second thing is that his company's El Diablo Driver finished 1st, 2nd 3rd, 4th, 6th and 7th in the Grand Champion Division at the 2008 Remax World Long Drive Championships. It's likely that few if any readers of this gift guide are capable of 500-plus-yard drives, or even 400-plus-yard drives. But could a Krank lead you to a 300-plus-yard drive? Might be worth looking into. (www.krankgolf.com)
Native Eyewear

From where I'm sitting, sunglasses are as essential to a round of golf as tees, gloves, balls and clubs. Too much sun in the eyes leads to potential vision problems later, including eyestrain and eventually cataracts. Native Eyewear offers a stylish, lightweight line of very tech-savvy shades that provide total UV protection, come with quick-changing interchangeable lenses, and a great warrantee. (www.nativeyewear.com)

Quagmire Clothing

It's a funny and memorable name for a funky, fun line of clothing. Based in Toronto, Quagmire combines elements from sport and street fashion to offer vibrant, colorful looks for both sexes. Bright and pastel hues, cut-and-sew detailing, high-tech materials and unique logo and pocket placement are among the elements that give these duds a fun, irreverent attitude. Personally, I'm partial to their pants, which are equally appropriate on the fairway, or as I head to the runway (airport, not catwalk!). They are static-free and wrinkle-proof, not to mention breathable, durable, fast-drying and soft. (www.quagmiregolf.com)

Hammy Putter

This is a unique putter with a new concept. The idea is to open the stance dramatically by turning the left foot out, so you are more or less facing the target. Using a split grip, with the right hand lower on the putter grip, and the left hand basically just along for the ride, you use the right hand to propel the ball towards the target, in essence, "rolling" the ball towards the hole. It takes a bit of getting used to, but ultimately it's a very effective and extremely natural-feeling putting style. (www.hammyputter.com)

Go Fox Accessories

This Italian company is offering a stylish and colorful line of shirts, caps, balls, gloves, golf bags, even towels. All products come in beautiful art tins (think of a kid's lunchbox without the handle) and are a real visual treat. With brimming bowls on virtually every private pro shop counter in the world, it's very easy to take golf tees for granted. But I will tell you that Go Fox's collection of golf tees is 10 times more beautiful than any peg you've stuck in the ground previously. Breaking one would be almost as disheartening as slicing your tee shot out-of-bounds. (www.gofoxusa.com)

Tin Cup

Speaking of tees, there is always some sort of improved tee on the market, or glove, divot repair tool, "magic pendant," ball marker, fake-driver-that-doubles-as-urinal, and other harebrained products. Once in awhile though, a new gadget is worth one's time and attention. Tin Cup is a clever name, and a brilliant concept. Cover your golf ball with this half-circle stencil, color in the design of your choice, and voila! You have a "custom-imprinted" golf ball at a sliver of the price of custom-imprinted golf balls. If you don't like any of the whimsical designs offered in stock, they'll create one for you to your own specs. In short, it's a perfect golf gadget - inexpensive, useful and innovative. (www.tin-cup.com)

Etonic Shoes

My friends call me the Imelda Marcos of golf, and for good reason. If I added a stroke to the scorecard for every pair of golf shoes in my collection, I would be somewhere around par - at least for nine holes, anyway! One cannot go wrong among all the major brands, but Etonic is better than most. Their Dri-Tech line for 2010 is designed for the player who prefers unparalleled comfort, casual inspired styling combined with performance-enhancing technology. They feature waterproof leather uppers, a waterproof membrane and compression Molded EVA Midsole for lightweight comfort and cushioning, among many other high-tech bells and whistles. (www.etonic.com)
Joel Zuckerman, called "One of the Southeast's most respected and sought-after golf writers" by Golfer's Guide Magazine, is an award-winning travel writer based in Savannah, Ga., and Park City, Utah. He has written five books, including the epic "Pete Dye Golf Courses" in 2008. Joel's course reviews, player profiles, essays and features have appeared in more that 100 publications internationally, including Sports Illustrated, Golf, Continental Magazine, Travel & Leisure Golf, Sky Magazine, Golf Connoisseur, Golfweek, Estates West, Millionaire and Golf International. For more of Joel, visit www.vagabondgolfer.com.