Cybergolf Contributor Honored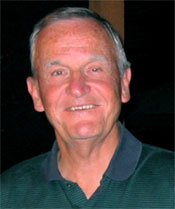 A regular contributor to Cybergolf, Blaine Newnham, is the 2005 recipient of the Northwest Golf Media Association's Distinguished Service Award. Newnham will be honored at a banquet on Thursday, October 13th, at Rainier Golf & Country Club in Seattle during the 6th Annual NWGMA Golf Tournament. The award is given annually by the Northwest Golf Media Association to a member of the media who has made significant contributions to the game of golf in the Pacific Northwest.

Newnham started as a sportswriter for the Oakland Tribune, covering the Raiders from 1965-71. He was then the Sports Editor for the Eugene Register-Guard until 1982, before moving to Seattle to become the Times' Associate Editor and Sports Columnist from 1983-2005. Blaine covered five Olympic Games, from Mexico City in 1968 to Athens in 2004. He covered the 1966 U.S. Open, following Ben Hogan around the Olympic Club in San Francisco.

Newnham covered his first Masters in 1987, when Larry Mize won it in a playoff with an unlikely chip shot. He covered the four majors of the "Tiger Slam," when Woods won his four consecutive championships. In 2002, Newnham wrote a book called "Golf Basics" for Barnes and Noble. He has made two pilgrimages to Ireland to play golf, and has had two holes-in-one, one of which came during the Golf Writers Association of America tournament in 2001.
Newnham still writes a weekly column for the Seattle Times, and is a contributing writer for several of the region's golf publications. (To read some of Blaine's work, visit Cybergolf's Writers Corner.)
Past recipients of the Distinguished Service Award include Doug McArthur, Dale Johnson, Margaret Maves, Bruce King, and Bob Robinson. The Northwest Golf Media Association was founded by Jeff Shelley and Bob Spiwak in 1995 as a regional response to the Golf Writers Association of America.