Cybergolf Writer to be Featured Speaker at McDonough Scholarship Foundation Awards Dinner
By: Jay Flemma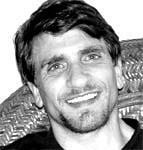 Jay Flemma
Cybergolf's Jay Flemma will be the keynote speaker at the yearly meeting and scholarship awards dinner for the McDonough Scholarship Foundation. The event will be held Thursday, April 23, at the stately Manchester Country Club, a Donald Ross design in Bedford, N.H.
Since its inception over 50 years ago, the McDonough Scholarship Foundation has donated over $1.4 million to student-golfers who demonstrate the promise of academic success and civic duty to get a chance to attend college.
Jay's talk, entitled "How to Read a Golf Course," will discuss great architects and their design concepts. It will also be the kickoff event on his spring and summer tour of readings and lectures.
Jay says of speaking at the event: "Thank you to the McDonough Scholarship Foundation for graciously extending the invitation for me to speak to them on golf design at their yearly meeting and scholarship awards dinner. The real story here, though, is the great work of the McDonough Foundation."
The foundation has provided scholarships to young students who are employees of New Hampshire golf courses. Since its inception in 1955, as the foundation's credo states, its primary purpose is to insure that "financial concern alone should not deny anyone the opportunity for higher education."
For the academic year 2007-08, it awarded $117,600 to 109 men and women representing 45 different New Hampshire golf courses. The students attend 73 different colleges and universities, both state and private. An equivalent amount is expected to be generated for 2009.
For more information about the McDonough Scholarship Foundation, visit www.mcdonough.memfirst.net, or write to them at 16 Salmon Street, Manchester, NH 03104.