Cybergolf Writers' Top-5 Courses of the Year
Five of our writers have each chosen the top-five courses they've played in 2011. The quintet of scribes includes veteran golf-travel writers Jay Flemma, Blaine Newnham, Joel Zuckerman, Tony Dear and Steve Habel.
Their selections range from classic links in the UK to Golden Age jewels on the East Coast to one of the Tarheel State's best to a pair of brand-new offerings in the Pacific Northwest, two of only 15 18-hole equivalents - public or private - to open this year in the U.S.

Let's take a look at our experts' picks.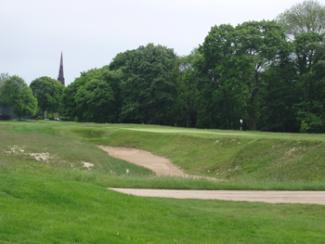 The Par-3 2nd at Garden City is
Guarded by its Deepest Bunker
Jay Flemma's Top-5 Courses

Garden City Golf Club, Garden City, N.Y. - Designed by Devereux Emmet in 1899 and toughened a few years later by Walter Travis, a Garden City round is to step back in time to 100 years ago, a glorious and sublime experience. Out-and-back routing, vast windswept expanses, fiendish bunkers and brilliant greens complexes are complemented by a membership that puts stewardship and service to golf before self. "What they do for golf" is so much greater than "who they are." They've done it that way for over a century. Truly remarkable.

Favorite Holes: The "Inner Loop" (that's Nos. 1-3, 17, 18), 4, 10 and 15

Winged Foot (West), Mamaroneck, N.Y. - I saw both Congressional and Atlanta Athletic Club last year, and Winged Foot West is better than both of them combined. Have you noticed that the 15-18 stretch at Atlanta Athletic Club had more water hazards than Winged Foot (West), Oakland Hills (South), Olympic Club and Oakmont all together? Perhaps no fact speaks more eloquently as to their golf course architecture. The greens at Winged Foot have fantastic interior contours, the course cascades up, down and around hilly terrain, and the history is nearly unparalleled. A one-putt par on 18 sure made lunch taste good.

Favorite Holes: Nos. 9, 11, 15 and 18

Sleepy Hollow Country Club, Sleepy Hollow, N.Y. - A recent winner in the "Best Restoration" category, this marvelous club is part of an important architectural lineage involving design greats C.B. Macdonald, Seth Raynor and Charles Banks. Gil Hanse and George Bahto created three new holes in the flavor of this Bloodline (including a great double-plateau green at 12), and restored the splendor of the others, including a gorgeous skyline green at five, the "Principal's Nose" bunker as six, the reverse Redan at seven, the Alps hole at 15, and the wondrous Hudson River backdrop to the entire course through an extensive tree-removal plan. It's as great a masterpiece as Washington Irving's literary legend.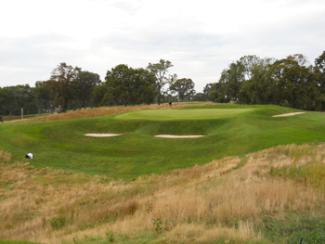 The 17th at St. George's
St. George's Golf and Country Club, Stony Brook, N.Y. - The surprise of the year is a most welcome one. I "discovered" this gem by accident and by word of mouth. Except for Garden City Golf Club, St. George's is probably the greatest Devereux Emmet course still in existence (remember: neither Congressional nor Eisenhower Park has barely any of Emmet's work left). This course is another old-school, Golden Age masterpiece. The par-5s are the showstoppers, the par-3s are precious jewels, and the shorter, sexier par-4s have as much sex appeal as their brawnier brothers.

Favorite Holes: It's tough to pick - it's like giving a starving man a menu! Nos. 3 with its thrilling downhill approach; 4 with its surrounded green along with 6, 10, 12, 13, 16 and 17.

PGA Golf Club (Dye Course), Port St. Lucie, Fla. - Surprise! I had to get a public course in the list and it beat out Bethpage Black, Tallgrass, Leatherstocking and Connecticut National for the honor. This old favorite never fails to enchant me. It has more variety than Bethpage Black and far better weather. Yes, Bethpage is tougher and has held two U.S. Opens, but harder is not necessarily better and, frequently, not as much fun either. Having lived 20 minutes from the Black and played it so often, I can attest that banging your head against that wall can get tiring after a while. Sure the Black is a stronger course, but is it really all that fun? After so many plays, it can get weary. The Dye Course is more relaxing and interesting. Outstanding, fast and firm conditions allow you to play the ground game to these intricately devious, lightning-fast greens.

Favorite Holes: Nos. 1, 2, 14, 15, 18 and all the par-5s,

Jay's Honorable Mentions

Public: Tallgrass Golf Club (N.Y.), Awarii Dunes (Neb.) Connecticut National and Leatherstocking Golf Club (N.Y.)

Private: Forsgate C.C. (N.J.), Delray Dunes CC (Fla.)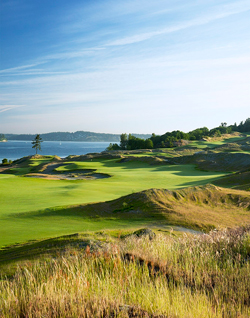 Chambers Bay (photo
by Aiden Bradley)
Blaine Newnham's Top-5 Courses

Ardglass, Northern Ireland - Surely I played better courses on a 10-day trip to Ireland last May - Royal County Down, Royal Portrush, Baltray and Portmarnock - but there was nothing quite like teeing off over the Irish Sea on the first hole at Ardglass with a 14th century wall smack behind you. Just up the coast beyond Royal County Down, Ardglass has more than just the world's oldest clubhouse. It has great opening holes - the second is a par-3 over a cliff with little if any bailout area - and now the addition of new holes along the water in the middle of the round. Friendly - the club president bought us a Guinness after the round - affordable, scenic beyond words, just had a great time there.

Pacific Dunes, Bandon, Ore. - There aren't many courses that keep you up the night before, imagining the soaring heights your round might take - or equally rousing disasters like dropping a ball onto the Pacific Ocean that crowds the 11th green or hitting your tee shot to the right on the first hole. Pacific Dunes is one of those courses. We all welcome the tumbling greens and wide spaces of Old Macdonald, and Bandon Dunes remains my favorite of the four courses to play at this resort. But Pacific Dunes might be the most thrilling course in world.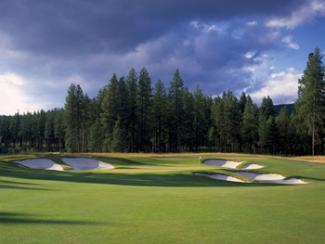 The Par-4 Third at Rope Rider
Chambers Bay, University Place, Wash. - I like Chambers Bay more every time I play it, and winter is the best time, with lower green fees, firm and dry conditions, and fewer players. How often can you play a U.S. Open course? I think I've played just three others - Pebble Beach, the Olympic Club and Merion, and yet Chambers Bay - where in 2010 the average score during qualifying for the U.S. Amateur was 80 - doesn't intimidate you the way Bethpage Black does. It is remarkably accessible, with almost no forced carries and extremely wide fairways. The course gets better with age and your knowledge of how to play the slopes around the greens. There are also the Open-inspired improvements, which include a new green on No. 4 and soon-to-be-new greens on Nos. 1, 7 and 13. The fescue is filling out, the greens are rolling better, and the views have always been sensational.

European Club, Brittas Bay, Ireland - This course - perhaps the best relatively new links course in Ireland - is one man's dream. And if the man is there, make a point to say hello. We had apple tarts and tea with Pat Ruddy, a former sportswriter turned golf architect and course owner. His course is an amazing collection of holes - there are actually 20 of them - through the dunes south of Dublin. There are wood-planked surrounds on the bunkers, gorse leaning into the fairways, views of the Irish Sea, blind shots; what an experience.

Rope Rider, Roslyn, Wash. - The third course at Suncadia in the Cascade Mountains east of Seattle is a delight, where designers (Jim Hardy and Peter Jacobsen) actually built a course that is easier for most, faster for everyone, and loads of fun. This is a course that plays 30 minutes quicker than the adjacent Prospector course, a rigorous test designed by Arnold Palmer. Why? The bunkers aren't as deep, neither is the rough. There are few if any forced carries. There is an ability to bounce the ball into almost every green. There are forward tees, so forward they're for kids. There are loops of six and 12 holes if you don't have all day for a round. Golf doesn't have to break your spirit to be fun. This is fun.

Blaine's Honorable Mentions - Royal County Down (Northern Ireland), Island Club (Ireland), Old Macdonald (Bandon, Ore.) and Salish Cliffs (Shelton, Wash.).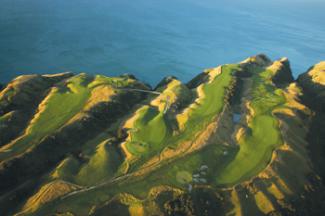 Looking Down on the Spectacular Cape Kidnappers
Joel Zuckerman's Top-5 Courses

Cape Kidnappers, New Zealand - No. 1 with a bullet is undoubtedly Cape Kidnappers, near Napier, New Zealand. Just the snaking, climbing, circuitous drive to the clubhouse from the access road is more exciting than the 500 previous golf courses I've played. This Tom Doak design is a thrill ride from start to finish, with a wonderfully walker-friendly layout and numerous holes perched on the cliff's precipice - 500 feet below are the sea-foam green waters of Hawke's Bay. It's one of the greatest courses I've ever seen.

Royal Porthcawl, Wales - I only experienced one true links course on my inaugural visit to Wales, but it was a doozy. Royal Porthcawl was as hard as a snare drum, balls bouncing forever, matching the long-range views of the steel-gray Atlantic. We were ensconced at nearby Celtic Manor Resort, which offers 54 holes of championship golf, including the Twenty Ten Course, site of last year's Ryder Cup. But Porthcawl is the type of elemental golf that makes real links-loving Yanks hop aboard transatlantic flights.

Royal Birkdale, Southport, England - Speaking of great links, we were "spoiled for choice" as they say in the UK on a late-spring visit to Manchester and Southport in northwest England. Both Royal Lytham and St. Anne's as well as Royal Liverpool are must-plays, but my vote will go to Royal Birkdale, which differs from the others in that it features curious, winding foot-paths that bend up and around, only revealing the magnificence of the sea upon reaching the next tee box.
Quail Hollow Club, Charlotte, N.C. - This is the best course I've seen in Charlotte, which is saying something. It's also the best course I've seen in North Carolina, which is saying more, and one of the best I've seen in the South, which says it most of all. Quail Hollow is a traditional, tree-lined layout that is one of the most eagerly anticipated stops on the PGA Tour each spring. And if the world's best (not to mention the jaded and indulged) are clamoring to play here, you can only imagine the attraction the place has for the rest of us.

Kinloch Golf Club, Richmond, Va. - Finally I will tap Kinloch near Richmond, which is an utterly fantastic Lester George design, one of the finest courses in the Commonwealth. Even the 39-degree temperature and damp drizzle did little to dissuade us from thinking this is one of the best clubs in the Mid-Atlantic, with incredible conditioning and customer service. How good? My caddie forgot to put my umbrella back in my bag at round's end. When I called the pro shop to ask them to send it down to Savannah, they sent it immediately via UPS, along with a brand-new Kinloch-logo umbrella, which I guess was their way of saying mea culpa for a very minor oversight.
Tony Dear's Top-5 Courses

Salish Cliffs, Shelton, Wash. - Gene Bates continues to prove he's an architect with tremendous talent. Cleverly routed on a wooded hillside adjacent to the Little Creek Casino Resort in Shelton, a small town southwest of Seattle, Salish Cliffs has more very good holes than just plain old good ones. The danger with courses that play through so many trees is that the holes, while pretty, all tend to end up looking the same. The challenge then becomes a little monotonous and the fun disappears sooner rather than later. Not so here. Bates has created enough variety to maintain interest and demand attentiveness all the way home. Salish Cliffs is a memorable round, provided you avoid the fescue rough that makes the grass at alongside British Open fairways look positively threadlike.

Wolfdancer, Bastrop, Texas - Whenever I play an Arthur Hills course I invariably come away thinking his portfolio has never received the respect and attention it deserves. Sometimes fairly quirky, Hills's courses are always entertaining and keep you thinking, never allowing you to shut off mentally and engage auto-pilot. Wolfdancer is located in a lovely spot just to the east of Hill Country on the banks of the Colorado River (the other one). It's a very good course that's best enjoyed a second time around because on your first trip, it's probable you'll ponder your best line off the tee or into the green and invariably get it wrong.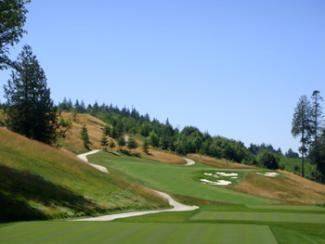 The 2nd Hole at Salish Cliffs
La Costa Champions Course, Carlsbad, Calif. - I must confess, whenever the PGA Tour's Tournament of Champions or WGC Match Play event was staged at La Costa, I remember thinking the old Dick Wilson North Course looked a little bland on TV. Apart from that par-3 over water where Tiger stuck a mid-iron to a few inches to beat Tom Lehman in a playoff for the 1997 ToC, I couldn't recall any of the holes.

Without having played it before November, I couldn't really comment on the course's challenge but if it really was as plain as I thought it looked, then Damian Pascuzzo, Jeff Brauer and Steve Pate have performed a masterful renovation because it's now most definitely worthy of all the extravagant marketing hyperbole ("Synonymous with the top echelon of golf," etc., etc.). Pascuzzo and Co. covered the place in sand to improve drainage, cleared a lot of trees, eliminated 30 acres of irrigated turf, removed some bunkers and rebuilt others. The turf was changed - the fairways are now 419 Bermuda and the greens bentgrass - and four of the holes totally redesigned. The result is a marvelous course that I played in torrential rain but still enjoyed immensely.

Harding Course at Griffith Park, Los Angeles. - There's something very special about great old municipals that provide enjoyable golf to tens of thousands of people every year for a really low price. There are precisely two 18-hole George C. Thomas-designed courses on the planet that you can play for $30, and this is one of them. The other - Wilson at Griffith Park - is right next door (technically, it's the same door). So much has happened to the Captain's original down through the years, not all of it good. But as each hole passes, you can tell the artist who laid Harding out knew a thing or two about good design.

Rope Rider - The third course at Suncadia Resort in central Washington wasn't part of my original five, but then I saw it listed as Golf Magazine's best new course of the year. So I had a rethink. Fact is, if you play any course as incompetently as I played Rope Rider it's likely you'll view it unfavorably.

Seems I fell into the trap of thinking that, because it had been laid out in three six-hole loops and that youth tees are on every hole, it might be a great option for beginners, kids and casual resort guests looking for an amusing way to pass an hour, but not necessarily committed golfers. On reflection, I get why Golf rates it so highly. There are actually several very fine holes. And rather than some nondescript meadow the resort built to add to its list of amenities, Rope Rider is actually first-rate.

Steve Habel's Top 5 Courses

Having teed it up on 151 golf courses this year through December 17, it is difficult to determine my top-5 or even how to set the criteria for judging those that were best. I like golf, and I like playing golf so spending day after day on the links is my definition of nirvana. So I decided to list here a quintet of courses where I had the most fun, separated into categories rather than just listed as a whole. These five courses meant the most to me in 2011 or they were a surprise (aren't those always the most treasured?). But when reading this please remember that, for me, just about any day on the course is a cherished memory.

Best Short Course - Monarch Dunes' Challenge Course, Nipomo, Calif. - Designed by Damian Pascuzzo and Steve Pate, this 12-hole, par-3 course on the central California coast is a treat, filled with holes measuring from 82 to 242 yards with loads of undulation, water, dunes and fescue. I played the course with the architects and five other golf journalists in an eightsome in an hour and 40 minutes. This is a great concept and an even better example of the concept done correctly.

Best Surprise Course - Kokopelli Golf Club, Apple Valley, Utah - This Bruce Summerhays-design sits about 30 miles east of St. George and wows with spectacular views of Zion, Gooseberry Mesa and some of southern Utah's most incredible sandstone formations. The course, opened in 2010, has five holes routed up, down and across a mountain and others that play across lava fields and gorges. It knocked my socks off.

Best Municipal Course - Conquistador Golf Course, Cortez, Colo. - Something needs to be said about city-owned golf courses that have the right formula and put it into practice day in and day out. That's what the golfer gets at this Press Maxwell-designed jewel. You can view La Plata Peak, Mesa Verde and Sleeping Ute Mountain from virtually everywhere on the course as long as you're not in the Ponderosa pine and piņon trees that line the fairways. The track was in flawless condition and a blast to play.

Best Overall Course (Domestic Category) - TimberStone at Pine Mountain, Iron Mountain, Mich. - This Jerry Matthews-designed track in the western Upper Peninsula of Michigan has a little bit of everything, including the rare 5-star rating from Golf Digest. Isolated, serene and tough (but not severely so), TimberStone is sprawled out across 105 playable acres on Pine Mountain, with elevated tees and greens and a routing that brings golf and nature together. Tall pines line most of the holes, and a stunning finish (the 215-yard downhill par-3 No. 17 and the tumbling, 625-yard par-5 18th) will send you straight back to the clubhouse to immediately book your next round. Just freaking amazing.

Best Overall Course (Foreign Category) - Ballybunion's Old Course, County Kerry, Ireland - I took my inaugural trip to Ireland this summer, and the first course I played was the incomparable Old Course at Ballybunion, which opened 1893. The first six holes are nothing to write home about, but the final 12 may be the finest and most challenging I've ever played. These are the holes that are on the bluff overlooking the Irish Sea, and the routing is through huge dunes covered with native grasses that sway constantly in the wind. Walking down the fairway at the 509-yard, par-5 16th through a canyon walled by dunes - which were created over the eons from the winds off the sea - I felt like I was as close to the maker as I could be, and that's a good thing.