Cybergolfer Tackles Arroyo Trabuco
By: Rick Corcoran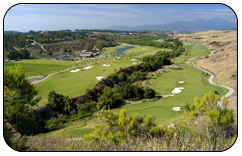 Editor's Note: Cybergolf account manager, Rick Corcoran, recently had the opportunity to play a new public course in Southern California. Here's his report on Arroyo Trabuco Golf Course, which opened in early July of this year.

A new golf course has opened near Mission Viejo, Calif., that promises to fill a void in this part of Orange County. According to its backers, Rancho Mission Viejo LLC, Arroyo Trabuco Golf Course will offer "affordable" green fees in the $55-85 range. A real deal in these parts.
Located south of Saddleback College, Arroyo Trabuco is the county's 39th public facility. The course was co-designed by architect Casey O'Callaghan and PGA Tour veteran, Tom Lehman. Stretching 7,038 yards from the tips, it has four other sets of tees that allow the course to be played from 6,600 to 5,174 yards.
First conceived in 1998 as a 36-hole facility, the project at the east end of Avery Parkway was subsequently downsized to 27 holes, then, finally, 18. "It's one of the best pieces of land I have ever worked with," O'Callaghan said to reporter John Reger of the Orange County Register. "I have spent so much time there. It is definitely a labor of love for me."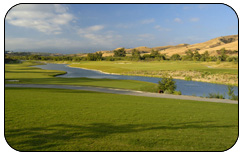 O'Callaghan is pleased to have worked with Lehman, who has a design company in Arizona and was heavily involved at Arroyo Trabuco despite a busy schedule. "He has brought a lot of thought and strategy to the golf course," said O'Callaghan. "A lot of people put their name on a golf course and are not that involved. Tom was out here once a month."

Winding between native vegetation and scrub brush, the 240-acre layout involves two lakes and a creek. Approximately 500,000 yards of dirt were moved by the builder, Ranger Golf, in shaping the fairways, greens and tees. Oak trees that were once in the middle of fairways were relocated to the edges of some holes.
Arroyo Trabuco is one of a handful of courses in Southern California with no homes alongside it. It skirts Trabuco Creek and the Ladera Open Space Reserve, lending the place a park-like setting. The course features state-of-the-art water quality systems and storm-water runoff controls. As part of the development's entitlements, over 200 acres of open space were dedicated to Orange County for an extension of O'Neill Regional Park.
The course is unique in that the ninth green is far from the clubhouse. "We wanted to get returning nines," said O'Callaghan, but the site "just didn't lend itself to that."
O'Callaghan, a Costa Mesa-based architect whose previous Southern California design credits include Hidden Valley in Norco, is satisfied with his and Lehman's product. "I think we have built several holes that people are going to remember," he told Reger. "You want (golfers) to remember the hole. You want them to think about it, how to play it."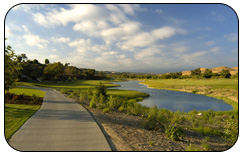 From many tees the fairways look very wide and inviting to let the big dog hunt. But there are ample bunkers to get in the way of some of those booming drives. Hole No. 6 is a noteworthy risk-reward play for daredevils. The 295-yard (from the tips) par-4 runs uphill to a two-tiered green. Low-handicappers might take a chance at going for it with a driver, but there is a nice little piece of horror alongside the green's left edge. Hitting a 5- or a 7-iron off the tee might be your best chance at birdie or par.

The Hybrid Bermuda fairways are lush, with good lies easily found. There's some mounding here and there to give players an uphill launching pad for second shots. Trees are almost nonexistent on the course, and the water that comes into play won't change too many shot selections. Elevated tees on some of the holes shorten them up to give you more irons into the greens.

The bentgrass putting surfaces are good-sized and roll very true. Subtle slopes require players to take a little more time reading the greens. But missed putts won't result from the greens; you'll have to look in the mirror for that culprit.

Overall, Arroyo Trabuco feels like a Northern California course, what with all the rolling hills around the course. Players certainly don't get the sense that the layout is set in one of the most populated places in Southern California. "Reality" can be seen off in the distance from some holes, but there's no contiguous airport, busy street or rush-hour freeway to interrupt the peace and quiet.

Though not associated with this daily-fee facility, Mission Viejo officials are excited about the town's newest recreational outlet. "I think it will be beneficial to the city," said Kelly Doyle, director of recreation and community services. "I could see us working with them down the road."

The course is operated by Donovan Golf, a management firm run by four Donovan brothers. Of the atmosphere they hope to set at Arroyo Trabuco, Matt Donovan said, "We want a 'Cheers'-type place," referring to the bar in the late NBC sitcom. "We want people to come here and hang out, even if they aren't playing golf."

Besides a large driving range-practice facility, the course is augmented by a 5,000-square-foot clubhouse with a restaurant, pro shop, banquet area and outdoor barbeque area. "We think there's a niche for a friendly atmosphere-type facility," said Donovan. "There is no place like that around here now."

Hopefully, any new courses to be built in the area will take their cue from what has been created here. For more information or a tee time at Arroyo Trabuco, call 949/364-1881 or visit www.arroyotrabuco.com.