Cybergolf's Joel Zuckerman Releases New Book
[Editor's Note: Cybergolf writer Joel Zuckerman has just released his latest book. "Pro's Pros - Extraordinary Club Professionals Making Golf Great!" covers the finest and most well-regarded club and course professionals in America. (Cybergolf has already run several installments; to read them, visit our Writer's Corner section and find Joel's articles.) The book, Joel's seventh, costs $29.95 and is available online at the link below. Here's an overview - in Joel's own words - of his "Pro's Pros."]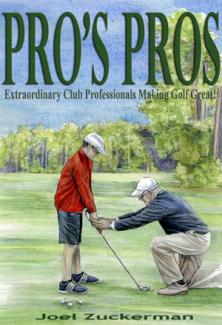 Joel Zuckerman's Latest Book - 'The Pro's Pros'
Say the words "PGA professional" to the average sports fan, even the casual golfer, and they will quickly envision Tiger Woods, Phil Mickelson, Freddie Couples, Ernie Els, Bubba Watson or Rory McIlroy. But there are professional golfers and then there are golf professionals, and to borrow an expression long favored in the United Kingdom, these entities are as different as chalk and cheese.

The great game of golf does not exist because of the exploits and derring-do of high-flying, highly compensated Tour players who travel the world on private aircraft, wielding their clubs like rapiers in pursuit of oversized cardboard checks, gleaming silver or polished crystal trophies, and annual compensation of seven figures and beyond.

No, the true heart of the game, the fabric of golf, is stitched by the club professional. It is the club pro who gives lessons, run clinics, arranges tournaments and club competitions, interacts with members, patrons and guests, and generally does whatever possible to ensure that golfers who come into their orbit have a positive and enriching experience.
It is for this reason I have written a unique new book, the only golf book ever written to shine the much-deserved spotlight on the beating heart of golf: the club professional.

It's no secret that the last two decades have been a rocky time for the game of golf. A moribund economy, uncertain job market, lack of leisure time and myriad other potential distractions have conspired to make golf less of a priority than it might have been for generations past.

Participation has stagnated, rounds are down and golf course closures continue to outpace new course construction. Just as troubling is the fact that younger generations - persons currently in their mid-20s to mid-40s - are playing far less golf than those in the same age bracket did 20 and 30 years ago. The future of golf isn't necessarily bleak, but it's somewhat uncertain.
Into the fray step the 27,000 men and women who make up the membership of the PGA of America. It is their job to grow golf, teach the game and help enrich the lives of those who choose to play. It is these golf professionals who can spark the flame in newcomers or bring back to the game someone who long ago relegated their clubs to a dark basement corner. The PGA professional helps unlock the sheer joy of golf. In so doing, he or she contributes mightily to a multi-billion-dollar enterprise that employs many tens of thousands and is an important part in the lives of millions of Americans.

If every PGA professional worth his or her salt was given their due within the pages of my new book, it would make the "Encyclopedia Britannica" look as insubstantial as a dime-store paperback. Suffice it to say that thousands deserve recognition, but space and economic constraints limit the number included to 30. The profile subjects aren't meant to be one-in-a-thousand in comparison to their peers.

An entirely different set of 30 pros, or totally different 30 after that, could have been featured. While decades of tenure, a trophy case bursting with industry awards and an affiliation with marquee resorts or blue-ribbon private clubs describes many if not most of those featured here, some traits are endemic to all: an abiding work ethic; sound business sense; respect of their peers; admiration and affection from their members and customers; a winning personality; an even-keeled disposition; and a great love of and for the game.
Some of the pros featured include:

• Mike Harmon, aka "The Old Pro," of Secession Club in Beaufort, S.C., who has been on duty at this caddie-only, national club since five years before the golf course was even built in 1991.
• Bob Ford, AKA the "Ace of Clubs," who does double duty at both Oakmont outside Pittsburgh, and Seminole, near Palm Beach, spending six months in each locale.
• Jim Langley, late of the magical Cypress Point Club on the Monterey Peninsula. He persevered for nearly 35 years despite a tragic accident that cost him the use of his right arm only a decade into his tenure.
• Bill Safrin of the quirkily anachronistic Myopia Hunt Club north of Boston, who never even saw the club he took over until the day he rolled down their rough-hewn driveway in 1980.
• Suzy Whaley was an obscure teaching pro and mother of two little girls when she qualified for and played in the PGA Tour's Greater Hartford Open in 2003, striking a resounding blow for dreamers and underdogs everywhere.
• Gary Hobgood, a jack-of-all-trades at a modest daily-fee course in Wilson, N.C., called Happy Valley. Gary cuts fairways at dawn, collects green fees at 9 a.m., cooks burgers at noon, and does whatever's necessary to keep his streamlined operation running smoothly.
• Tod Hecht was almost killed by a massive stroke at age 47. But the membership at The Lakes outside of Columbus, Ohio, rallied around their fallen pro. The hundreds of thousands of dollars they raised among themselves was a key component in his rehabilitation, and he has fought his way back from the brink of death.
• Dana Rader runs an eponymous golf school in Charlotte, N.C., that sees more than 15,000 students a year. This entrepreneurial whiz has shattered any and all glass ceilings.
• Mark Brenneman was a Wall Street investment banker and a sailboat-dwelling art salesman before rising quickly through the golf business. After a successful stint at the Pebble Beach Company, he's been ensconced as the pro at mysterious and exclusive Shadow Creek Club in Las Vegas for more than a decade.
You can call them the best of the best, the top of the pyramid or the crème de la crème, and you wouldn't be wrong. But the best description of all might simply be, "The Pro's Pros."

For more information or to order this one-of-a-kind book visit, www.prosprosbook.com.