Cybergolf's Sage Speaks His Mind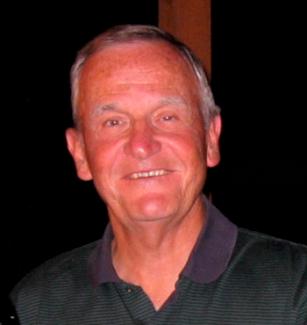 Blaine Newnham
Blaine Newnham has covered golf as a sports reporter and columnist for over 50 years. He's also been a friend and colleague of mine for over 20 of those years. His professional gigs included working for the Oakland Tribune during which he followed Ben Hogan during the 1966 U.S. Open at the Olympic Club in San Francisco.
Blaine then moved on to Eugene, Ore., where he was the sports editor and columnist. While with the Register Guard in America's track and field capital, he wrote about the late, great Steve Prefontaine, the birth of Nike footwear, and covered the ill-fated 1972 Munich Olympic Games, one of five Olympics he attended and chronicled.
He later moved up the West Coast to work for the Seattle Times, where he was the sports columnist for over two decades before retiring a couple of years ago. In addition to U.S. Opens, he's covered the Masters and was on hand to witness Larry Mize's improbable chip that beat Greg Norman in 1987. He was also at Augusta National 18 years later to see Tiger Woods' amazing chip shot on No. 16. He covered Tiger's four straight major wins in 2000 and 2001 and observed Payne Stewart's birdie putt that won the U.S. Open at Pinehurst.

I've played golf with Blaine, now 67, many times and found him to be charming and a joy to share a golf - and post-golf - round with. As a long-time columnist, he certainly has opinions, many of which I tend to agree with. Blaine is now a frequent contributor to Cybergolf, and we're all better off that he continues to write and express his love and cogent observations of the game. Here's a Q&A I recently had with Blaine and am happy to share with you.

Q. You're fairly opinionated about pace of play. What recommendations do you have so people can play 18 holes in four hours or less?

Blaine: Let me tell you about a recent round in Sweden, on a chilly fall day, on a very difficult course. Four of us enjoyed the day, each other, the golf, and a 10-minute break for pastry and coffee at the turn and still got done in fewer than four hours. I loved it. We all walked, we chatted in two languages, we putted everything, I mean everything.

How? Because we walked smartly and thought smartly. We were ready when it was our turn on the tee and around the greens. It's golf, not a parade or a runway review. We all moved quickly to our balls, sizing up every shot as we approached it. We were ready when it was our turn, sometimes if it wasn't.

There were no single digit players in the group. The three guys were past 60, the woman who joined us were in her 40s. We played the right tees, we weren't obsessive about lining up putts from every angle, there were no drama queens in the group - we just played golf. If you need practice swings, do them when others are hitting. Let's face it. No one really cares what you shoot except you. They just care how long it takes you.

Q. Though fairly obvious, please tell me your thoughts on the benefits of walking vs. riding in a power cart?
Blaine: The funny, if not tragic, thing is that walking seems inversely proportional to your age. Old guys walk, young guys ride. It is now the accepted culture of golf in places like Palm Springs and Florida to use a cart. Courses are often designed to be played with a cart. Green fees sometimes include a cart even if you don't want one.

I hate it.

People spend the morning at the gym working out and the afternoon riding a cart. Walking is wonderful. If you can't carry, then use one of the new three-wheeled push carts. Walking is warmer, often easier on your back than a cart and it allows you more time to get ready to hit your next shot. It promotes friendship and lowers the cost of a round by nearly a third. Who is it that doesn't need the exercise? Or doesn't need to save the money?

Riding in a cart when you must keep it on a cart path is painful. It means not having the right club even though you carry three of them across the fairway. It means losing track of the other players and the design and flow of the hole. For me, it's meant losing clubs when I toss aside those I don't need.

One study on the subject concluded that those who walk 36 holes a week burn about 2,900 calories a week. According to an Associated Press article, "Studies have shown that those who burn 2,500 calories a week improve their overall health by lowering their risk of heart disease, diabetes and cancer."
Q. Why do you believe it's important that people play the correct tees?

Blaine: It gives me a chance to play the golf course as it was designed and to play within myself. I've played the "white" tees in a group of scratch players hitting from the championship tees. You know what, our drives are in the same area. I have to worry about the fairway bunkers just like they do. I've got a reasonable shot to the green, just like they do. Ironically, while golf courses are too short for pros, they are too long for most of us. Sure, equipment has improved, but so have irrigation systems. We don't get the roll we used to.

Is it fair to move up a set of tees? Absolutely. If a course is rated 70.2 from the blue tees and only 68.2 from the whites, then by moving up you lose two strokes in your match. The USGA allows the use or right tees, even encourages it.

In Europe they often make visiting players use what they call "the society tees." It speeds up play, increases enjoyment and saves the course for the members.

Don't be bullied into playing tees that make your round four hours of hitting 4-woods into the greens. Don't play the tips just because Tiger does. Have fun.
Q. Of all the courses you've played over the past 50 years, what are your favorites and why?

Blaine: Talk about lucky. As a sports writer I was able to play Merion and Cypress Point in the '60s. I played Pebble Beach when it cost $10. I won the lottery to play Augusta the day after the 1987 Masters. I took a trip to Ireland in 1992 and played Ballybunion, Royal Portrush, Royal County Down, Lahinch, Portmarnock and Waterville before any of them cost more than $35 a round.

I played all the courses at Bandon Dunes before they opened. I adore the views and vision of Chambers Bay.

Just this fall I went to Wales where I played for six days, including the 2010 course at Celtic Manor, host of next year's Ryder Cup. Fell in love instead with Royal Porthcawl, a grand old links course.
I think Merion is the best course I ever played. Probably because Hogan hit the 1-iron there and Bobby Jones finished up the Grand Slam there. I'm a sucker for that kind of stuff.

My favorite courses are different from the best courses, however: Tokatee in Oregon, Carne in Ireland, Crail in Scotland, Salmon Arm in British Columbia, Royal Oaks in Washington, even Pacific Grove in California - courses that charm instead of claim you, courses that are memorable from the first to the 19th hole, courses that are as affordable as they are memorable.

Q. What are some of your most memorable moments playing golf?

Blaine: A hole-in-one at the Dunes in Myrtle Beach during the golf writer's tournament. Making the high-school golf team in 1958. Forty years later, winning $2 off Don Bies, a great player from Seattle, at Seattle Golf Club. Playing Kingsbarns in Scotland the week it opened with Herb Kohler, the toilet czar who built Whistling Straits. Winning the member-guest at my club on Bainbridge Island [Wash.] with my dear friend, Lowell Hickey. Playing Bandon Dunes the first time when there was no clubhouse, no nothing. After a round at Pacific Dunes, having a few beers with Tom Doak, the architect, and Mike Keiser, the owner. Being surprised by a couple dozen friends at a retirement party at Tokatee. They knew what would please me.
Q. Including the major championships, what were some of the biggest golf events you covered and why were they so important to you?

Blaine: I was fortunate to see the best of Tiger Woods, to witness his winning the four consecutive majors in 2000 and 2001, at places like Pebble Beach, St. Andrews, Valhalla and Augusta. There may not ever have been anyone better than Woods at Pebble and St. Andrews. For him to go four rounds and avoid 448 bunkers at St. Andrews is unimaginable.

As I've written many times, I followed Ben Hogan for a round at the 1966 U.S. Open at the Olympic Club in San Francisco. He was in his 50s, quivered over putts but, from tee to green, yet hit it better than anyone I've ever seen. As far as I'm concerned, he is still the best ball-striker ever.

I'll have to admit that I was quite taken with Annika Sorenstam's courage and poise in playing at Colonial with the men in 2003. I felt privileged to be there.
Q. What are your feelings about the current state of golf?

Blaine: I buy into the notion that it takes too long to play, it costs too much and it is too difficult. We can address things like slow play. The business of golf is going to have to change if the sport is to thrive. Courses don't need to be as long and difficult. It costs more to build and maintain them. We need more easy, $35 courses that aren't "championship."

Q. Is there anything in your long and illustrious career as a sports columnist that you would like to go back and do differently?

Blaine: No, I had a terrific time. Writing about golf in semi-retirement is perfect. I play more if not better, and have a chance to enjoy a day out even if I don't play well. One of my daughters called it a perfect kind of life. As I told her, it is perfect, except that inevitable caveat that I'm definitely on the back nine.
Q. Is there a particular personal anecdote that best crystallizes your love of golf?

Blaine: You know, after a visit to Bandon Dunes, a friend, Neal White, and I played the Bally Bandon Sheep Ranch, the secret getaway for Bandon owner Mike Keiser and his partner, Phil Friedmann. We each wrote a check for $100 and walked through the gates. Even though the course is open to the public we were the only ones there.

There are 12 greens sitting up on a bluff overlooking the ocean. There is no route. You just play wherever you want. We set it up so the winner of a given hole would get to pick the next one. We played for hours and hours. We didn't know yardage, there wasn't a par or a cumulative score. There was sunshine and a 20 mile-per-hour wind. It was just hitting shots until you couldn't hit anymore. I loved it.