Cypress Bend: A Little Piece of Heaven on the Texas-Louisiana Border
By: Steve Habel
There is no easy way to get to the Cypress Bend Resort on the westernmost middle edge of Louisiana. But it is that remoteness - and isolation - that makes this resort and its challenging golf course worth the trouble in getting there.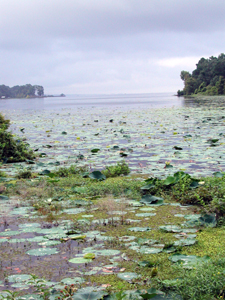 Located in the town of Many beside the huge Toledo Bend Reservoir, an 87-mile-long man-made lake that separates Texas from the Pelican State, Cypress Bend is an outdoorsman's dream. With the reservoir and its innumerous coves and inlets right outside the resort's back porch - Toledo Bend sports more than 1,200 miles of shoreline - there is a lot to like about the nearly 11-year-old golf course and the resort that postdates it by a couple of years.
"The course at Cypress Bend doesn't feet like it is in Louisiana - in fact you can really fool yourself into thinking you are in the Georgia mountains," said Eric Kaspar, the executive director of Louisiana's 13-course Audubon Golf Trail, of which Cypress Bend is a charter member. "With its hardwood forests, hills and the lake, you feel like you've really gotten away."
Through a joint venture of Louisiana and Texas, the Sabine River was dammed in 1968 and the Toledo Bend Reservoir filled beginning in 1969. It quickly became recognized as a top fishing lake, but small lodges and tiny local hotels were the only places visitors could stay.
The Louisiana Sabine River Authority used money from electricity generation to improve roads for many years, and then conducted an economic study that determined a top-class hotel was needed on the lake. To make the hotel attractive to private investors, the SRA built Cypress Bend Golf Course. Money for the course, which opened on September 23, 1996, came from the SRA and the state. The SRA then sought bids for hotel operation, and Houston-based American Liberty Hospitality, Inc. was awarded the contract.
ALH built the resort's 70-room hotel with private funds while the SRA built the adjacent conference center with state funds, making it a unique private-public co-op. The hotel opened in March 1998, and the conference center debuted a year later. In the following years, the resort constructed 25 golf suites, upping the room count to 95.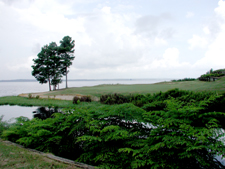 Our favorite things about the course are the same as many weekenders who visit Cypress Bend - the isolation and the fact this track is not like many in Louisiana. The 18-hole course, designed by Dave Bennett, features 10 holes along the water and six with shots across hidden coves and inlets. Every shot brings the forests into play, and undulating Bermuda grass greens and dramatic elevation changes add to its playability and beauty. Added to the 6,707-yard challenge are serpentine shorelines and gusting winds which occasionally sweep across the open water. The sunset over No. 17 - the course's signature hole - is particularly stunning.
Cypress Bend plays to a par of 72 and carries a course rating of 72.8 and a slope of 134. Count on some beautiful vistas as you move through the nearly unbroken landscape of hardwood and pine forest. Along all the 18 holes are landscaped gardens: crepe myrtles standing knee-deep in dramatic purple agapanthus, casual black-eyed Susans and fluffy monkey grass. On the edge of the woods are carpets of hydrangeas and azaleas. The shallow water that laps at the course's edges is loaded with lilies, a blissful blanket of soft blooms. Beyond that, the lake stretched like a glistening sheet for miles, and - looking north and south - there's no land in sight.
There's fauna as well: box turtles crossing fairways; hawks spiraling into view just as you fly your drive into the sky; early morning bunnies on greens; and spindly egrets swooping into the ponds around the course. We even saw a trio of the largest red-headed woodpeckers I can never remember.

"From the No. 2 green, I once saw four groups of golfers perfectly aligned looking at No. 2 fairway, to the green on No. 8, to the 10th's fairway, and to the fairway at No. 12," said Kaspar, who opened the course as its first head professional. "From the third tee, you can see the different levels of pine tree farming from Boise Cascade. Louisiana produces the second largest amount of timber in the United States, after Oregon, and there is plenty of it on display here."

And if you have tired of golfing - or someone in our party has a taste for something else, you can trade in your sticks for a fishing pole. The resort offers guided fishing trips on the lake. "I've actually had to ask fishermen to move their boats because they were in the flight paths of the holes," Kaspar said.

Other services and amenities at Cypress Bend include: a full-service spa and salon, an indoor/outdoor swimming pool, a business center next to the 11,000-square-foot conference center, a great restaurant and a social club with a free pool table. All the rooms are equipped with free wireless access and cable television.

Ron Gwin, Cypress Bend's general manager, said the majority of the future business for the resort will come from the group meetings market segment. "We continue to grow this segment each year," Gwin said. "Planned development includes additional golf suite units and development of land tracts for single-family housing."

The real draw of Cypress Bend is the ability to leave the city life behind, said Ken Rams, Cypress Bend's head golf professional. "You can bring the family up, and they all would have something to do," Rams said. "If your wife comes with you and she doesn't play golf she can go to the salon to get her hair done. She can get a manicure or even a pedicure. She can go to the spa. She can even just sit by the pool and be lazy all day long. We have plenty of wives that ride along with their husbands and watch them play," Rams added. "The scenery is so beautiful, and the wildlife is out of this world. Golfers have witnessed an eagle catching a fish right next to the 14th green."

As for the course, it's a bit quirky, but the more you play it the more you like it. Cypress Bend has two par-5s that are less than 491 yards, and neither is reasonably reachable in two because they are nearly L-shaped. The No. 1 handicap hole - the 524-yard par-5 ninth - also turns hard left and a pond (guarded by a real-life alligator) splits it in half.

"You have to be creative with your shots," Kaspar said. "You have to draw when you need to and fade when you need to. And when the wind picks up, you have to be able to move your ball around."

The lake comes into play mostly on the back side, which also features a short (128-yard) par-3 and four par-4s than play 369 yards or less. In fact, the back nine plays just 3,145 yards from the tips, but it carries plenty of bite.

"Cypress Bend is not a very long course, which helps my game because I am not a long hitter by today's standards," Rams said. "It's a shotmaker's course. I would have liked to have the lake come into play a little more because now it does not come into play unless you hit a bad shot. The best tip I can give to someone that hasn't played here before is to leave the driver in the bag. We have a lot of doglegs that don't require hitting your driver."

If you are in this part of the world - or want to take a trip where you can really get away - consider the Cypress Resort. And don't forget your camera. For details or a tee time, call 877/519-1500 or visit www.cypressbend.com.
Steve Habel is an Austin, Texas-based journalist. Since 1990, he has traveled around the globe covering news, business and sports assignments for various news bureaus, newspapers, magazines and websites. He also contributes to Business District magazine in Austin as managing editor and is the Texas football beat writer and a contributing editor for Horns Illustrated, the Austin-based magazine for University of Texas sports. Habel writes a weekly golf column for The River Cities Tribune in Marble Falls, Texas, and is a member of the Texas Golf Writers' Association.