Daly Finds Success - and Acceptance - On European Tour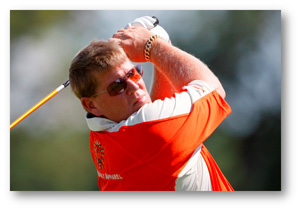 After making his "comeback" to professional golf in the Spanish Open - where he tied for 31st - in early May, John Daly is continuing to play on the European Tour. Daly, who returned to competition 40 pounds less thanks to Lap-Band stomach surgery, has been working with instructor Rick Smith to regain the form that earned him two majors earlier in his career.
The re-tooling seems to be working. Last week Daly tied for second in the BMW Italian Open in Torino after closing with a 66. This week the Arkansan will be playing in the 3 Irish Open, followed by the BMW PGA Championship in Surrey, England. After that, he's entered in the European Open, May 28-31, at the London Golf Club in Kent, England.
It will be a first appearance for Daly, who lost his exemptions to play on the PGA Tour, in the European Open. There, he will be competing against some of the game's greats, including South African Ernie Els, Spaniard Sergio Garcia, Northern Irishman Rory McIlroy and England's Lee Westwood, all of whom are currently in the top 20 in the World Rankings.
"Yesterday I committed to the European Open, and I'm really looking forward to teeing it up," Daly said recently. "I love playing in Europe because it suits my attacking style more, and it will be my fifth European Tour event in a row.
"In the past, I've always played a lot of events in a row to get some rhythm going, because that helps me to play well. It'll be good to get some consistency - the more I play, the better I feel I will do. I like the way I played in Spain [in early May]. I'm nice and fresh, and it really does feel great to be playing again."
Before starting the Spanish Open, Daly seemed sincere in getting his game back on track. "Hopefully I can win again," he said. "That would be the greatest thing. [It] does not matter where or when. It does not matter what tour it's on."
Players on the European Tour seem to be accepting Daly, who has encountered strife both on and off the course over the past several years. He was last seen in the U.S. in his motor home peddling personalized items outside the gates of Augusta National Golf Club during the Masters.
No less a prominent figure than 2010 European Ryder Cup captain Colin Montgomerie is happy Daly is on the continent. "We know why he's here, and it's great that the European Tour [has] accepted him with open arms," the Scot said.