Daly Smashes Fan's Camera in Australia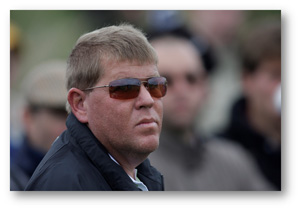 John Daly is up to his old and increasingly tiresome tricks. In his latest bout of bad behavior, the American golfer grabbed a spectator's camera and smashed it into a tree after the fan had the temerity to take a picture of "Long John" at close range. The outburst came while Daly was closing out a 6-over 78 in the opening round of the Australian Open at Royal Sydney.
The incident happened on the ninth - his final - hole. After Daly pushed his tee shot into trees, Brad Clegg attempted to take Daly's picture. "Big John" immediately snatched Clegg's camera and threw it into a tree, saying, "You want it back, I'll buy you a new one." As Daly completed the hole Clegg picked up the pieces of his smashed camera.
Daly bogeyed the par-4 ninth. That, along with three double-bogeys and three other bogeys, put him in a tie for 146th and unlikely to make the weekend cut. The first-round leaders in the 2008 Australian Open were Stephen Dartnall, Mathew Goggin and Ewan Porter at 7-under 65.
Daly later issued a statement through tournament officials trying to explain what happened. "I was looking to take a drop and the camera was six inches away from my face," it said. "If I was 10-under-par I would have felt the same. My eyes are still burning from the flash of the camera. I feel it was very rude to put a camera that close to anybody's face in any situation. The guy that had the camera had already taken a dozen shots at close range."
Clegg was later asked by reporters if he would take up Daly's offer to buy him a replacement camera. "I don't think I'll be chasing him for the money. He's a big bloke," Clegg replied. The spectator added that he was stunned by the incident and did not believe he had provoked the volatile American. "It was very unexpected. I was bold but I wasn't unreasonable," he said.
Tournament director Trevor Herden noted that Clegg breached the conditions of entry which state spectators cannot carry cameras or mobile phones. "There will be no sanctions for John from Golf Australia," Herden said.
It's likely Daly's performance in the opening round of the Australian Open will follow the same pattern of his two previous tournaments while visiting "Down Under." He missed the cuts in the Australian Masters in Melbourne two weeks ago as well as in last week's Australian PGA Championship in Queensland. Daly was paid appearance money to play in the Australian events.
The camera-smashing incident is the latest in a seemingly never-ending series of public spectacles that have trailed Daly like his ongoing string of bogeys. Most recently, in October, Daly spent a night in a North Carolina jail after police found him drunk outside a Hooter's restaurant. The Arkansas native has been reliant on his past successes - especially titles in the 1991 PGA Championship and 1995 British Open - for exemptions into tournaments both in the U.S. and abroad. He hasn't held a PGA Tour card for the past two years.