Dan Hixson Talks about Wine Valley, Ballyneal, Reversible Courses & Do-it-Yourself Golf Design
By: Jay Flemma
MC Lars is actually wrong (for once!). Post-punk laptop rap isn't the new DIY: golf course design is, at least if you're Dan Hixson chasing a childhood dream.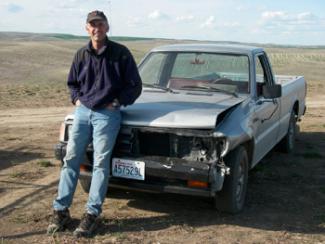 Dan Hixson & the 'Land Trout'
Talk about doing it his way. Hixson isn't formally schooled in architecture and he never apprenticed with another architect or firm, yet he's responsible for one the hippest new golf courses in the game. He also designed another layout in the shadow of mighty Bandon Dunes that is enjoying remarkable success (thank you very much!), and he's designing a fully reversible golf course at an idyllic Oregonian resort. Dude! Street cred overload!

Hixson is not chasing the dream any more, he's living it. And he's doing it in the most unique way of any golf course architect we've met. Here's my discussion with one of the game's finest up-and-coming golf course architects.

Jay Flemma: How did you decide you wanted to be a golf course architect?

Dan Hixson: I remember this specifically. In 1968, when I was seven years old, Robert Trent Jones, Sr., was doing a massive remodel at Eugene Country Club, where they reversed the golf course - the 18th green became the first tee and so forth, all the way backwards. So my dad took me out there because my grandparents were members, and dad and I followed the bulldozers around and saw the torn-up course, with dad pointing everything out. I turned to dad and said, "That's what I want to do!" Maybe I was too young to know what it meant, and even though I never had given much thought before about how they were built, I thought it was cool and I said to myself I want to be the guy who builds golf courses.

JF: So then?

DH: So I played a lot of junior golf and scholarship golf and basketball in college - two years at a junior college outside Portland and then two years at Oregon State, and then I turned pro my first summer out and played the Aussie/New Zealand tour in 1984. I played horribly, nowhere near as well as I wanted to, but I got to see all the (Alister) Mackenzie courses, like the composite at Royal Melbourne and all the rest of his top courses, plus all the other great ones in the region, and I made drawings of some of my favorite holes and design features, like at Paraparaumu.

In those days I hadn't played a lot of the great courses in the U.S., but I knew I was playing someplace special out there. They had a different view of building a course there: simpler and better maintenance, too. Our U.S. courses were trying to be too perfect maintenance-wise, but in Australia they have rugged-edged bunkers that tie into the native vegetation on the far side of the bunkers. We hadn't been doing that in the U.S. back then as much, you just didn't see that here, and I really liked what I saw there a lot. I liked the rugged look.

So over the next few years I went back and forth between mini-tours and club-pro jobs and the precursor to the Nationwide Tour. I tried Tour School in '87 and got through Stage 1, but lost a playoff for Stage 2. But all through that era, I kept notes on what was good about golf courses and design and taught myself how to be a designer, all self-taught. I made clear lines in my head as to what was good, what was bad, and what could have been had it been done differently.

JF: How did you make the jump?

DH: After my playing days, I became an assistant club pro at Columbia Edgewater Country Club and I asked my boss, Jerry Mowlds, for time off to plan my jump to being an architect. And that's when he informed me he was going to take a job at Pumpkin Ridge and I should stay on because I'd probably be head pro at Columbia Edgewater and so I stayed. So I was there for another eight or nine years (12 total), and during that time three big things happened:

1) I got divorced, so it freed me up to do what I wanted, no more golden handcuffs; 2) the tax laws changed so I could sell my house for a big profit and fund a career change; and 3) the PGA changed its rules to expand categories for golf pros so I could be both a pro and an architect.

So then I was able to chase the dream. I'm 50 years old now, but I'm still the same as when I was a kid. I'm doing what I love. My interests have really never changed: golf, fly-fishing, chasing girls, music (I have eight turntables), and biking for fun.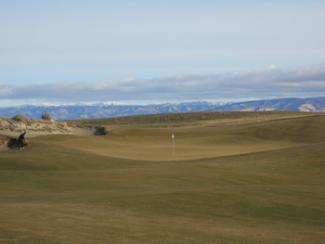 The Punchbowl 7th Green at Wine Valley
JF: Sorry to interrupt, but since you mentioned, I have to ask, what kind of music do you listen to?

DH: My favorites are old jazz like Miles Davis, Sonny Rollins and Dave Brubeck (my dad was a jazz drummer). I also like Lucinda Williams to John Prine, Van Morrison to Phoebe Snow.

JF: Okay, back to live action . . . (Laughter)

DH: So one night in October of 1998, I had a meeting scheduled with my (club) manager and it hit me . . . I decided to resign right then and there. I told him I wanted to get into design, I don't know how I was going to do it, but I was going to pursue it. I stayed four or five more months to help the course transition, and then I went off to be a designer. Happily, they were cool about it and I'm not only still a friend of the course, but I built the par-3 course and short-game area there.

So I down-scaled my life and tried to get in the business. I talked to everyone in the biz around here - John Fought, Bunny Mason, John Harbottle, all the shapers and construction guys, writers and friends of guys like Arthur Hills, Bill Robinson, Robert Muir Graves - I asked them all for advice.

It was clear quickly that I was better off going out on my own. I couldn't just go to work for someone else because I didn't know what I could do for them. But I knew the goal I wanted to achieve, and I trusted my instincts about what was a good golf hole. Now, the technical and engineering side, I figured out quickly that I could hire someone who knew that stuff or got advice and learned it myself.

JF: Sort of an analog player in a digital world?

DH: Yes, exactly! Now what I brought in that was different from others in the area was that I knew the operations end. I'd worked at a resort, at a high-end club and at smaller clubs, and that lifelong knowledge of golf gave me a different perspective. I also understood a budget. I had a strong idea on what to spend and how to save. You don't have to spend $250,000 to do a green - you can do it for $40,000-50,000.

I started with short-game areas and par-3 courses. I co-designed my first with Bunny Mason, and it came out great because we did it in-house and it was inexpensive. Suddenly, the nicer country clubs started saying, "Hey! Look what he did for less money! Maybe we should talk to him!"

JF: So what was your first big break?

DH: Well the par-3 course and short game at Columbia got me calls from good clubs. That was big. Then next was the call for Bandon Crossings. At that time, Bandon Dunes Resort had just two courses and they were just finishing up the Trails course. A longtime friend called me and said his members want to build a public course in Bandon and I rolled my eyes to myself and thought, "Okay, sure, yeah right."

JF: How tough was it building Bandon Crossings in the shadow of Bandon Dunes Golf Resort?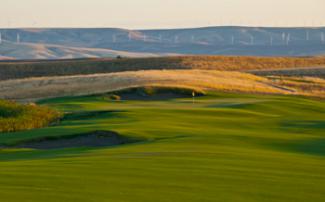 The Third Hole at Wine Valley
DH: It was definitely looming over me the whole time. But I played it a lot and knew a lot about the resort and the courses and I knew what we were going to do was going to be different. Also, I'm friends with everybody over there at the resort, and they were really supportive of us!

As for the differences between the courses, first we knew were would allow carts and that changed the complexion a lot. We knew we weren't a fescue course and we were 1¼ miles inland, so that changed the turf discussion and, therefore, changes the design. But we also wanted it walkable. I'm walker and the owner is a walker. We're committed to it. Golf is a walking game. But a lot of players take carts, and there is some separation of holes and some elevation change, so it was quite an endeavor - two to three months of work just to get a routing plan that we all approved of. Now the course has two parcels of land and there were lots of routing options.

JF: What are the two types of land?

DH: One side is open pastureland. Then a canyon divides that from a forested area. The whole site was ancient sand dunes, so we were able to use the on-site material for build and cap. The tees and greens are straight sand, for a great-draining golf course.

JF: What else is similar to what you'll see at the Bandon Dunes Resort and what else is different?

DH: The property is more like Bandon Trails than the other three, it has similar vegetation and topography. The biggest thing is we spent very little building it - it was a minimalist design. We did have to blow up a couple of hills, but for 80 to 90 percent of the work, we scraped a tee box in, built a green on what was there, and the best thing is we built a course where the owners can build and sustain a business modal and make some money. The economy is such that you have to take chances to build, and we tried to be fiscally smart so they could succeed and run a really fun and interesting golf course.

JF: Who are your favorite classic designers and classic courses?

DH: Mackenzie. I've played more of his stuff than everybody else. I've only had some good glimpses of many other guys. I really like the two local guys here in the Northwest. Chandler Egan - I'm working on three or four of his courses - and I also like A.V. Macan (Columbia Edgewater is a Macan!). The quality of their courses is so great; not as much as Mackenzie, but they still were amazing and they built so many courses. Virtually every older club in the area had their influence to some degree.

JF: How about your favorite modern designers and modern courses?

DH: Clearly Doak and Coore & Crenshaw more than anyone else, I've seen so much of their work in the region. I've never met Doak, but I've had some great sessions and talks with Coore and he's an incredible designer and wonderfully nice guy.

I love Pete Dye courses, he broke so many rules and his visuals are fascinating to look at, and I've played a lot of his courses like PGA West and the other Dyes in the Palm Springs area. He's one of a kind. His courses are a visual feast. He revolutionized the popular architect. There was Trent Jones and then Dye came along and took the hatchet out and started doing things completely differently. Dye is a master of frightening the golfer.

JF<: But that's what you want, isn't it? You want players in tournaments thinking and confused and unsure of themselves because by getting in their heads, that's how you make them make a mistake.

DH: Yes, that's why Dye's courses are remarkable in that way. Playing PGA West in a tournament is completely different than playing it for fun. I've played TPC Sawgrass, and it's exactly the same thing, it's fascinating. It's fun for a casual round but in a tournament you better be good and you better step up playing around all that water. You better be a good player then!

JF: What are the hallmarks of truly great golf architecture?

DH: I think the single most important thing is matching the course to the land and the situation. I see that screwed up so many times in remodels and new courses and all over the place. You have to come up with the right plan for the site and the people who will play it. How it's maintained, how it's going to survive economically. Too often you get people dreaming to build something grand, but they didn't get the right model for the circumstances.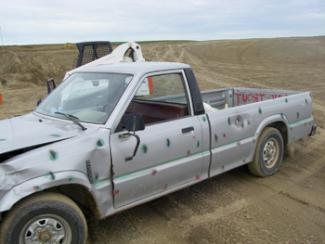 Last Call Begins for the 'Land Trout'
There's a lot going into designing a course and you have to match everything properly. Lots of courses fail because they didn't think pragmatically. Too often projects don't use logic, especially in remodels. It's like someone first did an arts and crafts home and then threw in a French Colonial or modern kitchen or some modern wing and things start to not match and the whole thing becomes a mélange.

JF: What is your definition of minimalism and explain why it's so good for golf?

DH: What most people call minimalism to me is naturalism. Wine Valley is minimalistic because we didn't move dirt, but it's also natural. To me true minimalism means a course almost moved out of the ground with 20-30 bunkers, not 80-90 and definitely not 200. You have to work harder to make it good when you don't have a big budget. You have to be more creative. You get better at problem-solving that way. If we stretch the dollar as much as possible, more people can play it and the course can maintain itself well. The problem in the '80s was that no one wanted to leave the site alone. They wanted to build what they wanted to build.

But if you leave natural grades, you save time, money, energy, and the soil is better and the course is better. Mounds for example - I don't do mounds, and I tell my jobs that. Just to build mounds because nothing is there - mounds for mounds' sake - wastes money. So for me minimalism is simple golf courses. Dan Proctor and Dave Axland built Wild Horse, and they just left the ground alone and fit the features into the land and it came out great. I learned a lot from Dan Proctor when he was with me on Wine Valley, he's another great guy. Also, Bill Coore is a great example to follow.

JF: What's the zaniest, craziest, most laughable thing you've seen or had happen to you in the course of building a golf course?

DH: (Laughs) When we built Wine Valley, I purchased a small, beat-up Mazda pickup for the job instead of a nice truck so I could ride around the site with my dog Milo, a Corgy. Go to the Bandon Crossings website and there is a Milo story on there. Anyway, I bought the pickup with a totaled front end, but it works for staking and driving around the course. We called it the "Land Trout."

So we were all hanging out at this house on the property having a few beers, and I just off-handedly said, "Before this project is over, we have to shoot this truck to put it out of its misery." Next thing I know, there's someone loading a gun and eventually the truck had 100 bullet holes in it! Then I would go away, and while I was gone, they crushed it with a bulldozer, dumped boulders on it, ran it into bulldozers, basically destroyed it, they mangled it. They went medieval on it.

So then I'd come back into town and ask, "Where's my truck?" and they'd all be smirking knowing what horror I'd find. Here I am trying to operate it, and it had smoke coming out of it, totally trashed. But it was great fun while it lasted.

JF: Let's talk about Wine Valley. Walk us through the routing process. What holes jumped out at you from the start and why?

DH: The beauty of Wine Valley is that from every square foot of that property you could make a good golf hole in any direction. However, holes 16, 17, 18 and one were right there from the beginning, and the clubhouse fit there ergonomically as well. Also 13 green was always there from the beginning - that hole was also always in the routing plan.

So fairly quickly, once we got the clubhouse site we came up with the idea for the second hole coming back to the clubhouse, which is an old-school idea from the old match-play days. That way in sudden death you play one, then two, and you're right back at the clubhouse. It was an old-school idea from the match-play era that I liked.

The other good thing about it is if you drank to much wine - which happens here! - and missed your tee time, you can catch your group on No. 3. It's also convenient if you need something else - another drink or shoes, a change of clothes, lip balm, whatever - it's convenient. Plus you get the advantage of playing downwind and then back into the wind right out of the chute.

Now again, we didn't just want to just build up and down the valleys and we didn't want repetition. We wanted to use the valleys in different ways. Now fairly late we used the wash which goes down 12, across 14 over to five, and across the fairways. That's a manmade feature that works strategically and drains the rain and snowfall. It looks natural and it works for all those holes. That brought all those holes into sharp relief. They are much better instead of just being bunker holes. That feature really tied in the west side of the project.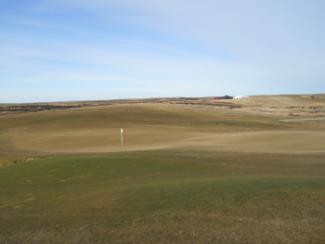 The Eighth Green at Wine Valley
JF: What are the strongest holes there and what are their inspirations?

DH: Well one of my favorites is No.1, I love it. The strategy of the right-hand bunker is the more you bite off, the more distance you can gain, but don't go too far because it wraps around. I think four and five are the holes most commonly remembered by players, and I think they are great, too.

I can only take credit for four a little: Kye Goalby, Bob Goalby's son and our lead shaper, gets much of the credit. There's a half-acre-sized bunker on the left. It was different from what we planned, but I stepped back and realized this was a lot better than what I had designed. I edited it a little, but the final product is a lot of Kye's, and I'm happy to swallow my pride and say, "Hey Kye, it's a much better hole."

JF: Where did you find the inspiration for the greens? Why such great contours?

DH: I knew they'd be big and we'd have fast, firm conditions with a lack of rain and hard, good soil. Kye was part of the crew that did the greens at Ballyneal and he's a bold shaper, and I never told him to turn down the volume. We never made one bland green and then one really crazy one, they are all crazy! Lots of movement! Kye is one of the big reasons they are so good. I recognized really quickly that Kye had a lot of talent and I said "Let him go! Let it roll!" I'll just edit him, and we'll be fine.

JF: There are a lot of Ballyneal comparisons . . .

DH: You know I haven't seen Ballyneal yet! It looks to me like it has even more elevation change than Wine Valley, but I don't know. I hear it has even more going on, but if it is similar, I think it's because of the natural landscapes there.

JF: Also the same design theories too?

DH: Yes and no. Kye and I would have conversations about what he did with Doak, and while I didn't want it to look like anyone else's course but its own place, we blended our ideas. I had the grand scheme, they did the rough-shaping and conceptual ideas, and Dan Proctor finished the details. I did a couple of hours of detail work on the greens to finish them. I did the same thing at Bandon Crossings. Dan did the same work at Sand Hills and Wild Horse. It's not so much "Ballyneal," but a course worked by the same guys. What I like to do differently, though, is put my own personality on it.

JF: Where and how?

DH: Only 50-some bunkers, (though the wash is a whole mile long!), and also in the rest of the bunkering. I didn't put in 80-100. I have fewer bunkers, and they aren't wasted strategically or visually. Those elements are my personality, and in the way they are executed as well, like five-foot walls.

JF: What inspired the punchbowl green at seven?

DH: That hole was laid out for a long time. That's the flattest valley on the property, and we knew we'd put that green where the valley ended and, again, Kye gets a ton of credit. I didn't visualize it, but then he said, "I think we could do a punchbowl," and I said go for it. And it's so much fun. Now some people think a punchbowl is easy, but the center hump changes everything! It's great seeing all the balls ending up in all kinds of crazy places.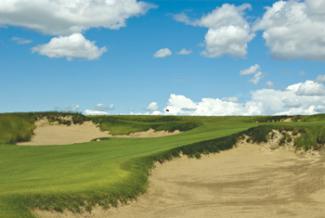 The Gorgeous Skyline Green at Wine Valley's 15th
Yes, I've seen more eagles on that hole than any hole I've ever played, but you hit that hump, and you could be so off-direction it'll mess with your mind! The pin could be in the middle of the bowl, yet you hit the hump and carom 30 feet away. Seve Ballesteros would love that hole and manage it better than anyone because he's creative. That's why he was so good at Augusta.

JF: How do we make more people aware of what constitutes great golf architecture?

DH: That's a great question! I think to a certain degree the recent trends in the 2000s show that, percentage-wise, the courses built are extremely good. There's much less "mail it in from the office" design now. I also think taking the Pete Dye concept - not his style - but the idea of pushing the envelope, is good for golf design, and I hope my next project shows that and starts a trend. I'm building a reversible golf course that you play in a different direction each day. So I like to think that might be a trend or wave that grabs people's imagination.

JF: You read my mind because my next question was, "What's next for you and your team?" Tell us more about that project.

DH: It's out in far rural Eastern Oregon; I've been working on it for two and a half years. It's called "Silvies Valley Ranch." The courses have working titles, but no official names yet. It's 36 holes, 27 greens, nine which you play twice but not on the same day. One day you play a hole from one side, the next day from the opposite direction.

They can and will change it each day. It's like when they reverse the Old Course at St. Andrews. Tom Simpson, the great architect of the 1920s, wrote about the benefits of a reversible golf course; you get 36 holes on 18 holes worth of land! It's a 130,000-acre ranch, so we aren't land-starved. We're taking our time with it, we won't open till 2015.

JF: Where do you play golf for fun? For vacation?

DH: I haven't played any vacation golf in many years, but typically I'd go to Bandon or Phoenix or Palm Springs.

JF: Well, which courses in particular?
DH: I really like Talking Stick (North). That was pretty inspiring. It was different than anything else, so nice and low-profile and natural. Clearly Coore and Crenshaw were doing things way different from everyone way back then and I like that. I like TPC Scottsdale (just to play that finishing stretch you see on TV), then in Palm Springs I really like the Pete Dye La Quinta (Mountain Course). I played that a lot in tourneys and casually. Then there's Bermuda Dunes, one of the old-school Tour courses from back in the day.

JF: Tiger, Phil, Ernie and Retief play one public hole of yours for $100,000 of their own money - which hole is it?

DH: Another great question!

JF: That's what I'm here for.

DH: Probably a long hole. I'd say No. 3 at Wine Valley. There's so many different ways to play it, but it must be windy.
Since launching his first golf writing website in 2004, http://jayflemma.thegolfspace.com, Jay Flemma 's comparative analysis of golf designs and knowledge of golf course architecture and golf travel have garnered wide industry respect. In researching his book on America's great public golf courses (and whether they're worth the money), Jay, an associate editor of Cybergolf, has played over 420 nationally ranked public golf courses in 40 different states, and covered seven U.S. Opens and six PGA Championships, along with one trip to the Masters. A four-time award-winning sportswriter, Jay was called the best sports poet alive by both Sports Illustrated and NBC Sports writers and broadcasters. Jay has played about 3 million yards of golf - or close to 2,000 miles. His pieces on travel and architecture appear in Golf Observer (www.golfobserver.com), Cybergolf, PGA.com, Golf Magazine and other print magazines. When not researching golf courses for design, value and excitement, Jay is an entertainment, copyright, Internet and trademark lawyer and an Entertainment and Internet Law professor in Manhattan. His clients have been nominated for Grammy and Emmy awards, won a Sundance Film Festival Best Director award, performed on stage and screen, and designed pop art for museums and collectors. Jay lives in Forest Hills, N.Y., and is fiercely loyal to his alma maters, Deerfield Academy in Massachusetts and Trinity College in Connecticut.