Dataw Island Club to Undergo Improvements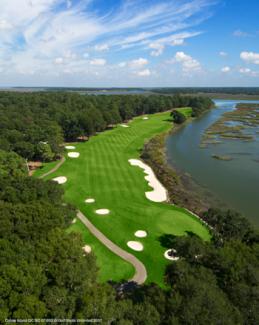 Photo by Golf Shots Unlimited
Representatives of Dataw Island Club have announced a renovation project that will involve both the Cotton Dike and Morgan River courses. Cotton Dike will be closed in March 2010 for a renovation, with a planned reopening in October 2010. Morgan River will close in March 2011, with a targeted reopening of October 2011.
The projects will concentrate on renovating 35 greens and resurfacing greens with MiniVerde grass (hole No. 2 at Cotton Dike was renovated in 2008); renovating all tee boxes with Zoysia grass; introducing an improved variety of Bermudagrass called Celebration to a total of 11 fairways from both courses; repairing of drainage and renovating of bunkers; replacing the irrigation system for both courses and installing pond erosion control measures in select ponds.
The renovation also includes the redesign and renovation of the club's practice area to feature a new short game facility. While the projects are underway, the Dataw Island grounds crew will also focus on improvements such as aerification, top-dressing and grooming of all turf grass areas.
The renovation will be handled by designer and former Augusta National superintendent Billy Fuller. During his time at Augusta National, Fuller oversaw the course's conversion from Bermudagrass to bentgrass. Fuller also spent 15 years working with Robert Cupp of Cupp Design, Inc. as a design associate and senior agronomist on more than 130 golf courses across North America and England.
"Our main priority is to improve the quality and playability of our Fazio course," said Ted Bartlett, general manager of Dataw Island. "Cotton Dike is in spectacular shape, but there is room to make an already challenging and unique course even more desirable for Dataw Island golfers and their guests."
"It is a great privilege and honor to work with Dataw Island Club through the renovation of Cotton Dike and Morgan River," said Fuller. "Our intent is to bring the course specifications and strategy to par with modern golf standards and ensure the club remains competitive with the marketplace for the next twenty to thirty years."
Designed by Fazio in 1985, Dataw's Cotton Dike course was created out of the marshes by a series of dikes used to generate more land for cotton fields during the plantation days. This course requires strategy and accuracy. Nearly half the 18 holes lie along the marsh waters of Jenkins Creek.
An Arthur Hills design, the Morgan River Course is narrower than Cotton Dike, demanding accuracy at all times. The course winds through oak trees and alongside Morgan River.
About Dataw Island

Dataw Island is located just outside of the antebellum town of Beaufort, S.C. Recognized as one of the top coastal residential communities in the Southeast, the 870-acre gated community offers residents the best in South Carolina Lowcountry living. For more information, contact Dataw Island at (866) 68-DATAW or visit www.dataw.com.