David Southworth - Back Where He Started
By: Rob Duca
David Southworth strolled through the Willowbend Country Club Grille Room in Mashpee, Mass., on a tranquil spring afternoon casually dressed in a blue blazer with an open-neck shirt and blue jeans. Well-heeled members, waitresses and bartenders all offered animated greetings and congratulations.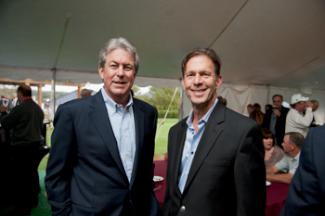 David Southworth (left) & Willowbend
Chairman Joseph Deitch
Southworth smiled amiably and listened patiently as members spun tales of the club's recent woes. He didn't even flinch when a member offered an off-color joke about the difference between a club owner and a commode. (We'll leave that to your imagination).

After seven years away, he was back to where his career took root. And he knew exactly what he needed to do, which was to refocus on what made the club successful in the past, from membership pricing policies to the restaurant menu to candles in the bathrooms. "Behind every door is an opportunity," he said.

Willowbend Country Club was Southworth's first major project. Alongside Reebok chairman Paul Fireman, he rescued the bankrupt property in 1992 and served as president and CEO for 14 years. He has owned a home there since the resort opened. But now life around the club would be different - he was returning as the owner.
Southworth, 54, purchased Willowbend earlier in May, adding it to a growing stable of golf resort communities for his Newton-based company, Southworth Development LLC., which stretches west to Arizona, north to New Hampshire, south to Virginia and across the pond to Scotland. And as he sat down for lunch just days before signing Willowbend's papers that would make it official, he labeled it "very surreal" to be back.

"Willowbend holds a special place in my heart because this was the first community I had a chance to develop," he said. "My kids were raised here, so it's obviously very special. I literally know every corner of the property."

The members appear pleased that he's back. He stopped counting the congratulatory text messages, emails and phone calls at 111. "It was very touching to see the response," he said.
It's been an onerous few years for the club, which has endured changes in ownership and a 2009 lawsuit by a former employee alleging age discrimination that resulted in a $1 million judgment. Fireman sold the club to the members in 2007 through an equity agreement, while remaining president, director and treasurer. The agreement included a provision for Fireman to retake ownership within four years if members approved. Members voted in late 2010 to transfer control back to Fireman. When Fireman mentioned this spring that he was considering slowing down, Southworth decided to test the waters.

"I called and asked if he'd consider selling to me," he said. "It started there, and one thing led to another. It was never something I had planned or was even in my wildest dreams."

Southworth's career goals were actually rather modest when he graduated from Cornell University's School of Hotel Administration. "My dream way back when was that if I could own a little inn on the beach, with maybe 20 rooms, that would be it," he said.
His career in hospitality really began as a boy, when the Arizona native worked for the Chicago Cubs as a spring training bat boy and clubhouse attendant. After graduation from Cornell he was employed with Hyatt Hotels in San Francisco and the Pompano Beach Club in Bermuda. He joined Fireman to create Willowbend Development Corporation in 1992, leaving to form Southworth Development in 2005. Since then, his company has developed more than $1 billion in golf and hospitality projects and now boasts 600 employees and a $20 million payroll.

"Who knew?" he says. "This was never part of a master plan. We just did what made sense along the way. I feel like the luckiest guy in the world."

Southworth's leadership style projects a sense of calm, patience and good nature, without a burning desire for ego-stroking publicity. While Fireman was the face of Willowbend, Southworth quietly worked behind the scenes, making sure everything ran smoothly.

The club made a name for itself in the early years through its signature celebrity golf and tennis events that included the Willowbend Children's Charity Pro-Am and the Grand Champions Over-35 Tour. With star-studded fields that featured Hall-of-Fame golfers Greg Norman, Nick Faldo, Tom Watson and Gary Player and tennis legends Bjorn Borg and Jimmy Connors, Willowbend became synonymous with star power. (Southworth has expressed interest in bringing back the Children's Charity Pro-Am).
But membership dipped 25 percent as a result of the recession and ownership issues. "There has been uncertainty here and things were out of sync. Members want a place where they can just come and relax. For 14 years we had membership and revenue growth. I'm a simple person; when things work, I try not to tinker too much. So I want to go back and reset where we were, bring back the same categories of membership, the same pricing structures, a lot of the same policies and procedures.

"It's unfortunate that there was some angst between membership and management for a while. But my view is that's all behind us now."
Rob Duca is an award-winning sports columnist who wrote for the Cape Cod Times for 25 years, covering golf, the Boston Red Sox, the Boston Celtics and the Boston Bruins. He is now managing editor of Golf & Leisure Cape Cod magazine and has written for a variety of other publications, including Sports Illustrated, the Boston Globe, Yankee magazine and Cape Cod Life.