Davis Hits the Spot at Old American & Tribute Courses
By: Steve Habel
If you long to play golf in Scotland or even to tee it up on some of America's great courses designed by legendary architects, you can do that and more by driving less than an hour from downtown Dallas.
The Tribute Golf Club, with holes patterned after the celebrated courses of Scotland and the British Open, and the brand-spanking-new Old American Golf Club, which focuses on emulating design techniques from significant American courses at the turn of the 20th Century, are the centerpieces of a 1,150-acre master-planned community in the northern Dallas suburb of The Colony, just 23 miles from DFW International Airport.

Both courses were fashioned by Tripp Davis, whose work on Old American was received significant input from 1997 British Open champion and Dallas native Justin Leonard.

Opened in 2000 to much acclaim, the Tribute has stayed atop the short list of great Dallas-area courses thanks to its variety and playability. Davis utilized that groundswell on Old American (originally conceived as the New Course; Tribute is considered the "Old Course"). Both tracks strike the proper tone of honoring their myriad influences.

"Tripp has a deep understanding of classic-golf concepts, developed during the extensive time he spent in Scotland studying many of the British Isles' most storied courses," said Jack Matthews, president of Matthews Southwest, developer of Old American and The Tribute. "Justin has the insight gained from years of playing the world's best courses at an extremely high level."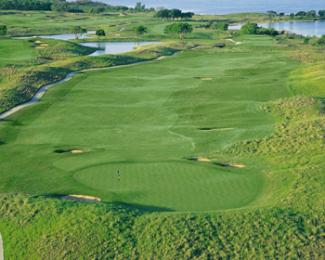 Tribute's 7th Replicates 5th Hole at Turnberry's Alisa Course
The Tribute: Born in Scotland, Built in America, Thriving in North Texas

The Tribute simulates a true links with the finest elements of traditional Scottish golf: wind-swept dunes, sea-washed grasses and challenging water hazards.

The par-72 track stretches 7,002 yards from the tips (where it's rated 73.2, with a 128 slope), with its real draw a sense of history and tradition. Each hole has a marker describing a significant historical event that occurred on a famed hole; during a round you may swear that bagpipes are being played nearby and heading in your direction on the breeze.

The course was constructed in meticulous detail to mimic famed holes on illustrious Scottish links, including the postage-stamp par-3 at Royal Troon, "Hogan's Alley" at Carnoustie, the par-4 17th ("Road Hole") and Swilcan Bridge from St. Andrews' Old Course, as well as representations from Muirfield, Royal Dornoch, Prestwick and Turnberry.

Tribute's first and 18th - like on the Old Course in St. Andrews - share the same fairway, which means there's little excuse for getting the opening tee shot into play. Don't get used to such wide-open drives, however, as by the second and third holes you're into "Carnoustie" with high grass appearing along fairways.

The fifth is modeled after Turnberry's "Postage Stamp" hole, at a mere 123 yards one of the shortest in major championship history. No Scottish tribute course would be complete without the St. Andrews' Road Hole and the "Valley of Sin" found on the Old Course's 18th.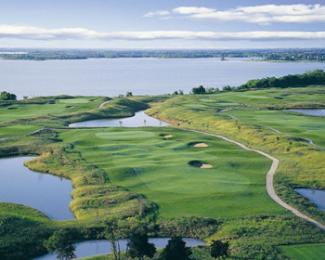 The Drivable 13th at The Tribute
As expected from a links, there are not a lot of trees on Tribute. After a while some players might crave a bit more variety, but with the wind blowing and flawless conditioning, you'd have to work hard not to have a lot of fun here.

Other attractions: the bentgrass greens are huge and smooth with plenty of undulation and slope; 95 steep-faced bunkers; creeks and natural-grass hazards.

The Tribute has garnered a number of accolades, including being ranked as the top "Daily Fee Golf Course in North Texas" by the Dallas Morning News; one of America's Top Golf Courses by Zagat in 2006 and '07; and a 78th ranking in Golf Digest's "Best Courses in the United States."

A real treat is a night's stay in one of the eight guest suites above the clubhouse overlooking the course and nearby Lake Lewisville. Each space features Old World furnishings, mini-fridges and high-def satellite TVs.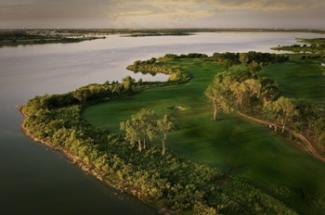 The 14th Hole at Old American
Everything New is at Old American

Davis and Leonard toured and played a handful of America's classic "Golden Age" courses prior to starting the design process for Old American Golf Club.

In Old American the duo channeled architectural masterpieces by such luminaries as A.W. Tillinghast, Donald Ross, C.B. MacDonald and Alister MacKenzie, while storied venues such as Shinnecock Hills, National Golf Links, Prairie Dunes and Crystal Downs also served as inspiration.

"Stylistically, we took cues from how these early-American designs created strategic interest via features," Davis said.

The result is a course that rewards shot-making and thoughtful game management while bringing strategy into play on every hole. Davis and Leonard were so determined in their endeavor that they manipulated view lines to look out of scale.
"When you stand on the tee, there are three or four different lines you can take," Davis said. "Shot placement is important - it's not just about hitting the ball in the fairway. You've got to think about it."

Old American's six tees range from the 5,215-yard forward set to the 7,174-yard "Leonard" blocks. On initial examination, the course feels like it has been here a while, thanks to native grasses that grab inaccurate shots and via different mowing heights around the bunkers that provide a mature, well-established look.

Even in its infancy - the course won't open in earnest until July 1st, Old American's routing has a pace that builds from the first shot to the last, and it floors players with subtlety. Following the natural topography, the layout meanders across rolling hills dotted with native grasses.

Large, flowing bunkers - policy dictates all traps are played as waste bunkers, although players are allowed to rake them when finished - look somewhat unkempt. Eight holes front Lake Lewisville, which provides a links-like setting and produces plenty of wind to make things interesting.

Davis and Leonard conceived the routing and layout with both medal and match play in mind, meaning golfers must "hold steady to par" through a number of holes while being enticed to gamble for birdies on select stretches.

Old American plays to a par 71. From the tournament tees, just up from the Leonard tees, it carries a rating of 74.5 and a 141 slope.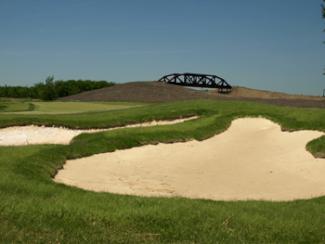 Iron Bridge at Old American GC
The first few holes can produce par or better, while Nos. 8 and 9 - a 170-yard par-3 and a 371-yard par-4, respectively - entice players to "get shots close to the hole," according to Davis.

The back nine, Davis reveals, was designed to present "par as a good score." The 10th is a long par-4 into the wind, and the par-4 11th, a 471-yard dogleg-left, borders the lake. Davis considers it a "turning point hole" in a tightly contested match. Holes 12, 13 and 14 also border Lake Lewisville.

The 15th, at 475 yards, ranks as the course's most difficult hole as it often plays into a headwind. Hugging the fairway's left side gives players a much better angle to attack back-pin locations. A layup to 70 yards on the second shot can be a prudent option if the breeze is howling in your face.

The closing holes represent one of the better finishing stretches in the area thanks to the potential for dramatic scoring swings. The 16th is a drivable par-4, the 17th a short par-3 and the closer is a par-5 that can be reached in two.

"At the 18th, we provide the most reachable par-5 on the course, but the putting surface is the most elevated with the most severe challenge around the green," Davis said. An aggressive play here can produce another short birdie putt, but a miss can result in something considerably worse.

"It is a finish where a player could enter 3-down and still have a very good chance to halve the match - a great and dramatic finish," Davis believes.

If the classic inspirations are not enough, Old American sports a unique landmark between the second and third holes - a century-plus-old rusted, metal railroad bridge that once spanned the Red River about 100 miles to the north.
Despite its newness, Old American GC has already reaped high praise. Links Magazine's "Best of Golf 2010" introduced the track as "one of the most significant courses to open in 2010."

For more details about Tribute and Old American, visit www.thetribute.com.
Steve Habel is one of Cybergolf's national correspondents, contributing news stories, features, equipment and book reviews and personality profiles from his base in Central Texas. He is also the managing editor for Texas CEO Magazine and works as a contributing editor for Horns Illustrated magazine, a publication focusing on University of Texas sports. He also writes a blog (www.shotoverthegreen.blogspot.com), which features news on golf and the Longhorns, and another (www.checkinginandplayingthrough.blogspot.com) on his many travels, which took him across the nation and to 105 different golf course in 2009. Habel is a member of the Golf Writers Association of America and the Texas Golf Writers Association.