Day 1 of U.S. Open: 'Getting to Know You'
By: Jay Flemma
From personal experience, let me tell you that any windy, forested road called "17 Mile Drive" is no place to get lost, but that's exactly what happened to the biggest names in golf, as the U.S. Open leaderboard is left to forgotten major winners from 2003, a couple foreign players who have potential, and more strangers than you'll find on a menu at an Indian restaurant. In fact, at one point mid-day you crack the age-old joke: "Where is the USA? First in War, First in Peace, and tied for 14th on the leaderboard."
Still, it's no big deal. Day 1 of a major championship is just "getting to know you" and the big names will be heard from when it counts. In the meantime, Thursday still gave us some important stats and issues to analyze with our coffee.

Shaun Micheel was one of the few Yanks who survived the invasion and his 2-under 69 tops the leaderboard with England's rising star Paul Casey and obscure Zimbabwean Brandon de Jonge, whose round included a stunning pitch-in eagle at the mighty par-5 14th, a hole all but unconquerable to the rest of the field. Micheel's round was especially remarkable since he only hit eight of 14 fairways and seven of 18 greens, but took a paltry 22 putts over greens that befuddled most everyone else.

"Is that how many I had," he asked incredulously. "Underneath the hole is where you need to play, and that's what I did."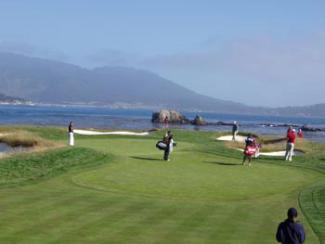 The Hardest hole at Pebble Beach is the Par-3 17th
Micheel's feat was even stranger because many players derided the bumpy condition of Pebble's poa annua greens, including the supposedly newly-contrite and respectful Tiger Woods. "It was so bouncy out there. I was explaining to Tom [USGA Tournament Chariman Tom O'Toole] down there the greens are just awful."

Happily, the USGA didn't take the insult lying down, and in their polite, first-class, dignified way, O'Toole simply replied, "We told you here the other day, we are not going to let these greens get away from us. They are not going to get over the top. And to do that, we had to do some corrective watering."

O'Toole was overly polite there. The USGA didn't do corrective watering . . . the greens never needed any correction in the first place. Wisely, they simply did preventative watering; ensuring they wouldn't have to correct a bad situation later. All the media saw it, and everyone applauded it yesterday, including the players before they teed off.
"I'm glad they did that," said Robert Allenby. "It shows they are committed to keeping it fair."

"Mike Davis is the best set-up man in the business," added Phil Mickelson.

But O'Toole wasn't finished deconstructing the surly Woods. "The greens here at Pebble Beach are poa annua, and when you have 156 players going over them twice in two days, you're going to get bumpy greens . . . but he [Mike Davis] prepared these greens to be smoother than they have ever been for a U.S. Open we have had here."

In truth, the result was a mix: they were good until late in the day, and what should Woods have expected going off pretty much last? Yes, Woods had 34 putts but Mickelson had 32 and he blamed himself.

"I just putted horrific," he moaned. "It's very frustrating for me to miss all those opportunities."

But there were also comic moments. Sean Micheel's 30-foot snake on 18 veered around like a drunk in a bumper car before hitting the hole by mistake. Micheel turned to his caddie, Steve Johnson, and the two of them laughed hysterically. "It made up for the one I missed on 17," Micheel added impishly.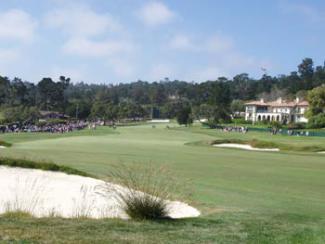 The Approach to the Tough Par-5 14th
Sergio Garcia also bemoaned the greens after a 2-over 73 left him only four shots back. "The greens are bumpy, yes, but moreso, they are hard. I went over one green where I hit it on the first foot of the green, and still went over into the rough, which is tough around the greens. They really bounce and go over the back. They are small greens already, but they also don't hold. They are the hardest greens we play on tour and at a U.S. Open."

Nevertheless, other players putted well and found themselves at the top of the leaderboard after Day 1. Co-leaders Casey and De Jonge had 23 and 28 putts, respectively. In the logjam of six players at 1-under, Canadian Mike Weir had 26 putts, Japanese teen sensation Ryo Ishikawa had 27, peacock-dressed Ian Poulter had 28 putts, and unknown Rafael Cabrera-Bello had 27. Even Sergio only had 26 putts.

No, the real explanation for the high scores and leaderboard borrowed from a World Cup group standings table is that Pebble's tiny, slopey greens and sidehill lies are just, plain tough, even in the perfect windless conditions of yesterday. Who needs 7,400 yards when you have a cunningly designed golf course? I mean really, barring the converted par-5 to a par-4 at the second hole, the hardest greens to hit in regulation are two par-3s (12 and 17) and a par-5! (14). Only 20.8% hit the 208-yard, par-3 17th, only 34.6% hit the 202 yard par-3 12th, and a measly 41% hit the 580-yard, par-5 14th in regulation. When has that ever happened at an Open, or at any Tour stop?

With a 75.29 scoring average, the numbers looked more like Spyglass Hill than Pebble Beach. For the first time since they hit the Tour, neither Woods nor Mickelson made a birdie in a professional round of golf. Some of them, like Mickelson, thought they were playing in the AT&T and tried to go out and post 65 and instead shot 75. But Pebble Beach in February is not Pebble Beach in June. This course has new strategy lines - closer to the ocean bluffs - along with tougher rough and firmer, faster conditions.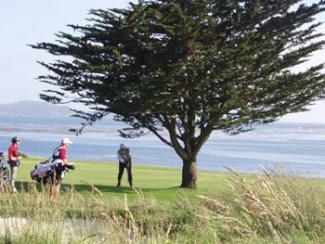 The Trees at No. 18 Stymied Rocco Mediate
Still, the greens are in the USGA's control and they are properly cutting, watering, and rolling them. The guys that went off late yesterday go off early today, so they'll get the smoother greens this time.

Besides, everyone relax, it's just a typical Day 1 of the U.S. Open: 46 guys are within four shots of the lead, we got to meet some new faces and names, Pebble Beach is not only beautiful, but challenging. So what's the problem? Go out and win the tournament if you don't want some strange player to back into it.

Just remember the lessons the course was teaching you for the rest of the week: like play short on 14 and 17, take an uphill 30 footer over a downhill 10 footer downhiller, and score early, because the birdies are almost exclusively at hole Nos. 1-7.

Day 1 is just getting to know you. What you do after that is up to you. Act accordingly if you want hoist the hardware.


Since launching his first golf writing website in 2004, http://www.jayflemma.thegolfspace.com, Jay Flemma's comparative analysis of golf designs and knowledge of golf course architecture and golf travel have garnered wide industry respect. In researching his book on America's great public golf courses (and whether they're worth the money), Jay, an associate editor of Cybergolf, has played over 220 nationally ranked public golf courses in 37 different states. Jay has played about 1,649,000 yards of golf - or roughly 938 miles. His pieces on travel and architecture appear in Golf Observer (www.golfobserver.com), Cybergolf and other print magazines. When not researching golf courses for design, value and excitement, Jay is an entertainment, copyright, Internet and trademark lawyer and an Entertainment and Internet Law professor in Manhattan. His clients have been nominated for Grammy and Emmy awards, won a Sundance Film Festival Best Director award, performed on stage and screen, and designed pop art for museums and collectors. Jay lives in Forest Hills, N.Y., and is fiercely loyal to his alma maters, Deerfield Academy in Massachusetts and Trinity College in Connecticut.