Day 2 of the Honda Classic at PGA National
By: David Wood
Tuesday is the start of the work week for PGA Tour pros as they have arrived, are checked-in and can now get down to the business of winning a golf tournament.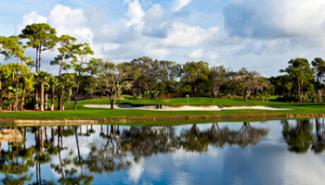 The 1st Green at the Champion Course
Here at the Honda Classic being held on the Champion Course at PGA National Resort & Spa, the driving range is packed at mid-day with players working on their swings as gurus, agents and caddies huddle nearby. For golf nuts, watching Tour players hit on the range is heaven. Oh they make it look so easy.

Padraig Harrington is launching shot after shot with effortless power toward puffy-white clouds on the horizon under the watchful gaze of Dr. Bob Rotella - the noted golf mental coach and sports psychologist he works with.

As Harrington makes his way to the putting green after his warm-up, I stop Dr. Rotella and ask him his thoughts on why the Honda has become so popular with the Tour elite as 19 players who have won majors are entered this week. "Well, the players love the course," he says.
I also ask what the players might be thinking when facing the Champion's "Bear Trap" - the stout trifecta at Nos. 15, 16 and 17. "To the pros it's a mental challenge more than anything. It's a chance to beat the rest of the field by playing them well," he remarks.

I wonder how hackers like me might approach the notorious three-hole stretch. "Well, to amateurs, it's probably both a mental and a physical challenge," chuckles Dr. Rotella. That's it.

Few locales come better equipped to stage a PGA Tour event as PGA National Resort & Spa. The storied destination is blessed with two indispensable assets - vast manicured grounds with ample room for grandstands, scoreboards and hospitality tents, plus glorious South Florida weather. It's an ideal combo.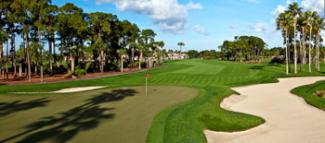 Champion's Third Green
Even as this week is poised to break attendance records with Tiger Woods entered in the first stop of the "Florida Swing," there's never a cramped feeling here. In addition to the famed Champion Course, PGA National boasts four other superb layouts and two huge double-sided driving ranges (one for the pros, one for guests). It's all laid out in a panorama of seemingly endless golf holes and lakes teeming with flora and fauna. Heck, they could probably hold two Tour events at the same time and no one would be the wiser.

Plus, we haven't even mentioned the David Leadbetter Golf Academy, Dave Pelz Scoring School (the only locale to have both), a year-round Tour quality club-fitting trailer and sports-fitness center with the latest gizmos to get one in peak physical condition. If you're serious about getting better at the ancient Scottish game - whether you play for $5 million purses or just want to beat your pals on Saturday morning - this is the spot.
Another appealing aspect of the Honda at PGA National is that many of the players stay and hang out at the 379-room resort hotel. It's about as up-close and personal as you can get to world-class golfers.

There's Thomas Bjorn having his morning coffee on the veranda overlooking the zero-entry pool. In the gym, while huffing and puffing on the treadmill, you look over and see fit Justin Leonard hard at work on the elliptical machine. In the lively lobby watering hole - iBAR - there's Graeme McDowell having a pint with Lee Westwood, while Boo Weekley is making his pals laugh with down-home stories in that wonderful drawl of his. It's almost like a professional golf fantasy camp.
Yes, it's Tuesday on the PGA Tour - everyone has hope for a great tournament. Who knows what the week will bring? A win for Tiger in his new place of residence? Perhaps Rory will be holding the cup after taming the Bear Trap with his elegant swing. Or maybe Padraig will win his second Honda Classic title under the tutelage of Dr. Rotella. It all remains to be seen. Whatever happens, it's going to be fun to watch at PGA National.

For more information about the Honda Classic, visit www.hondaclassic.com or http://www.pgatour.com/tournaments/r010/. For more information about PGA National Resort and Spa, visit www.pgaresort.com.
In addition to writing on golf and travel, author and noted speaker David Wood has made several appearances on "Late Night with David Letterman" as well as dozens of other television shows. His book - "Around the World in 80 Rounds" - was just released in paperback on www.Amazon.com. Currently he works in public relations with Buffalo Communications in Vienna, Va. His website is www.DavidWoodSpeaking.com.