'Deane Beman - Golf's Driving Force' by Adam Schupak
By: Tony Dear
With two young kids, work commitments and all the other stuff that steals time these days, I don't get a lot of it for reading. For me to start a book, get into it, take every opportunity to read even a few pages (bedtime, mealtimes and, yes, visits to the bathroom), then actually finish it, it has to be really, really good.
The fact I finished "Deane Beman: Golf's Driving Force" in about three weeks, says two things: 1) I must be a bit of a sad golf geek for reading 365 pages about a former PGA Tour commissioner at all, let alone one that hasn't been at the job for fully 17 years; and 2) This must be an extraordinarily good read.
Adam Schupak's book detailing - and I mean "detailing" - the history of the PGA Tour; how it separated from the PGA of America; how Beman, its second-ever commissioner, overcame numerous challenges (like going head to head with Jack Nicklaus, Arnold Palmer and a load of other big-time players who didn't like the direction he was taking the Tour) to make it such a financial powerhouse; how he introduced TPC courses, the Players Championship, and the Senior PGA and Hogan Tours (now Champions and Nationwide Tours); and how he took on club manufacturer Ping in the 1989-1993 groove controversy, really brings to life a story whose ship most golf commentators assumed had long since sailed. Indeed, were it not researched so thoroughly and told so brilliantly, you'd have to say it probably wasn't worth telling.
Schupak self-published the book and released it in March. The timing of this review is significant because it was at Royal St. George's, where Darren Clarke won the 140th Open Championship earlier today, that a 21-year-old Beman beat Bill Hyndman (who had beaten a 19-year-old Jack Nicklaus in the quarter-finals) to win the 1959 Amateur and become the youngest American winner in the event's 74-year history.
Beman could have been, if not a great golfer, then certainly a very successful one. A member of four Walker Cup teams, he not only won the Amateur Championship in '59 but the U.S. Amateur in 1960 and '63. After turning professional in 1967, he won four times on the tour he would one day lead, and in '69 finished tied for second at the U.S. Open, a shot behind winner Orville Moody.
His decision to turn administrator wasn't taken lightly, of course, but a problematic hand/wrist injury was keeping him from becoming as good a golfer as he wanted to be, so he took the plunge believing he could have a bigger and better impact on the game as the commissioner than as a player.
As Schupak's book records so well, it was a good decision.
"Deane Beman, Golf's Driving Force," by Adam Schupak, East Cottage Press, $27.95, 365 pages, ISBN 780615 458793.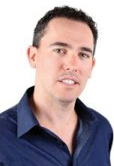 Adam Schupak
Brief Q&A with the book's author Adam Schupak

The book appeared 17 years after Beman passed the Commissioner's baton to Tim Finchem. Was there a worry that people's interest in this particular story might have vanished long ago?

Schupak: During my first meeting with Deane, he showed me a folder of rejection letters from publishers from a previous effort in the late '90s. Even then, the overriding message was his window had passed. I was convinced it would be different this time. I was wrong. Interest was tepid to say the least. The economy was at its worst. Publishers weren't taking any chances. So what to do? Self-publish. This was a story that I felt had to be told.

Beman always came across as a bit curt and taciturn. Is that fair and, if so, has he mellowed in his old(er) age?

Schupak: His approach was substance over style. He often knew he might take a PR hit, but he was focused on results. As far as dealing with players some of whom were bridge buddies from his playing days, he couldn't be friends. I think he was in many ways miscast. Whether it was flipping flapjacks on Thanksgiving day or having the TPC maintenance team plant shrubs in the yard of an employee's new home, I heard some wonderful anecdotes of the nice things he did for his staff that contrasted from the usual descriptions of gruff and mercurial. My favorite was the time during construction of the TPC Sawgrass when he sent Allan MacCurrach, the Tour's chief agronomist, to the airport to pick up a package. MacCurrach watched this case of Coors circle the conveyor belt a few times before he realized it was addressed to him. The crew certainly enjoyed the cold ones! My book forces a reassessment of Beman, who he really is and puts into broader context the magnitude of his achievements.

The book is a mighty piece of research. How long did it take to gather all that info and how on Earth did you work it into your regular job?

Schupak: I'm still trying to figure it out myself. The project took me 2+ years. The first year all I did was write a book proposal treatment and do some research. Then I got serious. There were a lot of sacrifices made, including rusty golf clubs. My weekends, nights, holidays and vacation time was consumed by the book and interviewing more than 200 people. But it was also a journalist's dream to have access to all of Beman's records and Tour board minutes going back to Day One, which no one ever had access to before.

Did Beman place any restrictions on you?

Schupak: None at all. In our initial conversation, I said that I didn't want to be his stenographer. He cut me off and said, "Good, I don't want you to be. Go talk to anyone you want." He accepted that some people still were going to think he did things incorrectly. He's comfortable with his record. But it's one thing to say you're going to be hands off and grant editorial control, and it's another to live up to it. Beman gave me the tools I needed to tell the narrative and devoted himself to making sure I understood how he put together the pieces of the puzzle.

Did you play much golf with Beman during the research? Is he still a bit useful?

Schupak: As Beman likes to say, he only plays once a day. He's a Hogan-phile, who tries to hit a thousand balls a week. As previously noted, I hardly teed it up but we did play once at TPC River Highlands. I can confirm that he still knows how to get the ball in the hole quite well.

Did Beman ask to sign off on the book before it went to the printers?

Schupak: He read it beforehand. There were a couple of instances where admittedly I "overwrote," and he asked me to change a word. There were a few things he would've preferred I left out to protect the image of others, not his own. In each case, I told him why I thought a detail or anecdote mattered to the story. He accepted my explanation. There were no arguments. I admire the way he let me tell the story as best I could.

The above review originally appeared on Tony Dear's website, http://www.bellinghamgolfer.com.
Tony Dear is an Englishman living in Bellingham, Wash. In the early 1990s he was a member of the Liverpool University golf team which played its home matches at Royal Liverpool GC. Easy access to Hoylake made it extremely difficult for him to focus on Politics, his chosen major. After leaving Liverpool, he worked as a golf instructor at a club just south of London where he also made a futile attempt at becoming a 'player.' He moved into writing when it became abundantly clear he had no business playing the game for a living. A one-time golf correspondent of the New York Sun, Tony is a member of the Golf Writers Association of America, the Pacific Northwest Golf Media Association and the Golf Travel Writers Association. He is a multi-award winning journalist, and edits his own web site at www.bellinghamgolfer.com.