Derby Days: 48 Hours in Kentucky
By: Elisa Gaudet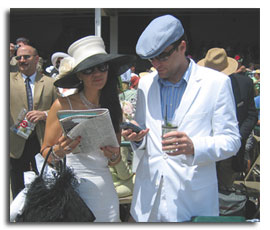 Forty-eight glitzy, sultry hours in Kentucky all happened because of . . . the hat.

A few months ago, I bought a giant black and white hat in a store in Miami. I did not have a reason or purpose to do so. Call it an impulse buy.

I had just interviewed Jerry Bailey in a golf tournament. Not only is he a great golfer, 11 handicap, Jerry is one of the most celebrated jockeys ever, having won the Kentucky Derby, the Preakness and Belmont two times each, 15 Breeder's Cups, and ridden 5,892 horses to victory. He'd mentioned he would be broadcasting from Churchill Downs for ESPN, and a reckless thought now formed: how better to use my new hat than with a spur-of-the-moment trip to the emerald-green lawns of Louisville? The most exciting two minutes in sports became an inspiring 48-hour trip.
Just before arriving I finished Jerry's book, "Against the Odds: Riding For My Life," in which he very candidly allows us into his life and battle with alcoholism. Bailey's ability to pick himself up after hitting bottom and then go on to achieve the success he has, was an amazing inspiration. Charlie Rose had it right when he said, "In the 'Sport of Kings,' Jerry Bailey is the king of kings."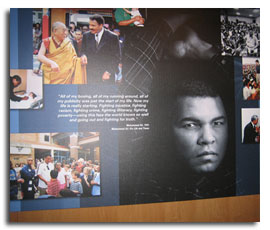 The Derby was a riot of parties, Hollywood celebrities, sport and music, the smell of freshly-mown grass and mint in a thousand juleps, the British elegance of ladies in terrific hats. Muhammad Ali, a Louisville native, was in attendance on Saturday, and, curiosity piqued, Sunday I visited the Muhammad Ali Center, which was worth the entire trip. This spectacular museum is far more than a tribute to the boxing career of the GOAT (Greatest of All Time); it's a fascinating chronicle of the social and political upheavals of the 1960s and '70s. It's all there: Cassius Clay's choice to change his religion and name; his stand against the war in Vietnam, which cost him several years of fights at the peak of his ability; and his battle with Parkinson's disease. New generations were reminded of his strength when he slowly lit the eternal flame at the Atlanta Olympics. bringing great attention to the fight against Parkinson's. Ali is simply the most fascinating athlete of all time, a true fighter.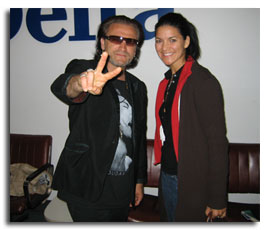 The cavalcade of greatness didn't end there. Later on Sunday, I arrived at my gate to spy, going relatively unnoticed, Bono, U2's lead singer. Bono's songs have taken people on great spiritual journeys, but beyond U2, Bono has dedicated himself to the fight against poverty, and in particular the developing world's crippling debt burden. We discussed the ONE campaign, hunger and extreme poverty and, less importantly, my world of golf (which he has tried, but doesn't play regularly). As we parted, he left me with this: "I hope U2 is able to inspire you to make a difference in your world".

Jerry Bailey, Bono and Muhammad Ali are not content to just be the best in their respective professions. They have used their celebrity status to draw attention to addiction, world poverty, racial injustice and religious intolerance, and inspired us to do the same.
It turns out there is enough room in 48 hours for mint juleps and social consciousness. Find the greatness within.
(And by the way – the hat looked great!)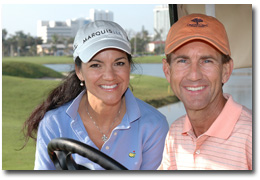 Elisa Gaudet brings a wealth of entertainment and golf experience to Cybergolf. Elisa has spent the past several years in the golf industry in the U.S., Latin America and Spain. She worked for the PGA Tour and the Tour de las Americas before founding Executive Golf International, a golf marketing company that works with clients to develop strategies using golf as the medium. Often referred to as the Maria Bartiromo (a business analyst for CNBC) of golf, Elisa says: "Golf, as a marketing tool, has been around for years. It's amazing how many new ways companies can align their brand with the golf market to reach their target audience. Our goal is to create alliances and establish cross-border relations." Elisa also worked in the entertainment industry for over 10 years, including five in Los Angeles as a model and actress. She can be seen at many celebrity golf events and often gets the inside scoop from PGA Tour players. For more information about Elisa, visit her websites at www.onthelip.com or Executive Golf International www.execgolfintl.