Desert Dunes Golf Club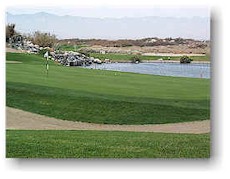 If you've ever played Ballybunion over in Ireland and wanted to find a course close to it in layout and feel, without having to take another plane over the "pond", get yourself to Desert Hot Springs and play the Desert Dunes.

This is the first "desert course" that Robert Trent Jones, Jr. designed. Built back in 1988 on 174 acres of land, Jones wanted the look and feel of an Irish links course. He got it! By design, the golf course sits in an area where the wind can definitely kick up from time to time to give you that British Open atmosphere. There is even a sign in the clubhouse that says "No wind checks"! Don't be scared though, it's not like it's a scene out of the Wizard of Oz or anything, the only thing that's wicked out here is a five-footer for par!
The layout is championship caliber. The course has been rated "four stars" by Golf Digest's "Places to Play" and was a U.S. Open qualifying site. In addition to that, it was the host for the 2nd stage of a P.G.A. tour-qualifying event. This course has GAME!
Most of the courses in the Palm Springs area are south of I-10, but Desert Dunes is just to the north of it, located just two miles up from the freeway on Palm Drive. Being out of the main zone is a blessing. You really get a feeling that you're out in the middle of nowhere, yet your just minutes from the core of the Palm Springs area.

As far as the course is concerned, it only took nine months to build it, that's because there was a minimal amount of earth moved to create the finished product. The desert kit fox also makes it home here, so the holes had to be designed around their living areas. Desert Dunes is one of the few places you can play that doesn't have condo lined fairways and a bunch of traffic noise. It's really a stroll through a desert park.
Desert mesquite is the main thing you'll hit a ball into if you stray off the fairway, don't go after them though, unless you like to have scraped up arms at the end of the day. There interesting to look at, but nasty!
Tamarisk trees completely line two of he holes. Usually when a tree is in the way of a shot, someone will say, "they're ninety percent air, go for it", tamarisk trees are ninety percent "don't even think about it."
From the back tees, the course plays 6,876 yards. Bring your "A" game if you play from the tips, the par 5's range from 530 to 586 yards. And if you're looking for relief on the par-3's, think again Maynard, the shortest one from the black tees is 176 yards.
The key to this course is placement of the tee shot. There are a lot of holes that dogleg, so course management is imperative if you don't want to fill a pint glass with tears at the 19th hole. Watch out for the greens too, just because you land on them doesn't mean your ball will stay on them. There are sneaky breaks that will break your heart if you're not careful.
It's strange to come to the desert to play a course right out of a European travel brochure, but seeing is believing. And if you're lucky, maybe you'll have the luck of the Irish on every hole.