Desert Willow Golf Resort
Usually you don't pick up a copy of Smithsonian magazine and find a picture of a golf course on the cover, but it did happen once – the course: Desert Willow Golf Resort. Touted by the Smithsonian as a course being nature-friendly, the course is situated in the city of Palm Desert and was built with the environment in mind. The Hurdzan / Fry design company along with PGA tour professional John Cook have put together 36 holes of desert, golf-worthy of any magazine cover.
Firecliff, the first of the two courses built in 1997, is more of a target golf layout. Trying to stay in harmony with the land, this course winds through a desert park setting with tons of different kinds of cactus to look at. Don't let your mind wander too much though because the course itself needs your undivided attention. A championship course measuring 7,056 from the tips, it's enough to tighten a few muscles you didn't even know you had. Tight fairways, plus 104 bunkers and waste areas will keep you glued to your golf game, but the views of the Santa Rosa mountains will help you relax between shots. In contrast to all that sand, is all that water. Eight water features are placed around the course, not just to look at, but to avoid, they can become one-way ball washers in a hurry! Throw in a couple of par 3's in the 190-200 yard range (guarded by bunkers of course) and all of a sudden laying out by the pool sounds like a great idea!
The other nice thing about being described as an environmentally sensitive golf course is that there aren't any holes lined with condo after condo, just cactus after cactus. If more wide-open golf suits your tastes, flip over to the Mountain View course where there are less bunkers and more landing area to give your driver a break. Don't take this course for granted though, it measures out at 6,913 from the back tees and has large undulations on the greens that come into play on nearly every pin placement. So get that short game in order for this track, because two putts aren't guaranteed.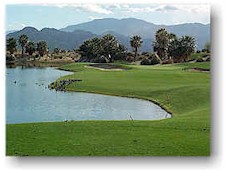 Once you're done with your round and the final numbers add up higher than you'd like, you can always go over to the David Leadbetter Golf Academy located on site. They offer hourly instruction all the way up to three-day sessions for those you have major repairs needed for their swings or their psyches!

The course is tournament friendly with a 33,000 square-foot clubhouse overlooking the 18th green and a large practice facility right along side of it. There is a Marriott near by if you want to stay for awhile. If you've always wanted to play one of those courses on the magazine covers, now's your chance. Get to Palm Desert and get back to nature at Desert Willow.