Designing 'Playable' Golf Courses
By: Blaine Newnham
Phil Mickelson wasn't whining. He was just stating the obvious. Many of today's golf courses are too difficult for those trying to play them.
Mickelson took shots at architect Rees Jones for his redesign of the Atlantic Athletic Club during the PGA Championship and the recent BMW Championship at Cog Hill in Chicago.

Of the Atlantic Athletic Club course, Mickelson said, "It's a perfect example of how modern architecture is killing the game, because these holes are unplayable for the members. It's a good reason why the number of rounds is down on this course."

This is happening on courses everywhere.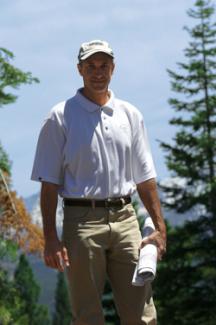 John Harbottle III
John Harbottle III, the Tacoma golf course architect who designed two of the Washington state's most acclaimed courses, Gold Mountain Olympic and Palouse Ridge, was recently asked to make White Horse near Kingston "more playable."

So what exactly does that mean? And how did he do it? The trick in golf course architecture - and it's nothing new, A.V. Macan espoused the notion nearly 100 years ago - is to make a course simultaneously enjoyable for average players and a true test for good players.

Harbottle clearly did it at Gold Mountain, recent site of the USGA Junior Boys Championship. One day the "pros" play it, the next the cons, like me and you.

For my money, Chambers Bay, home of the 2015 U.S. Open, might do it best. It is wide open, has few forced carries, has a slope from the back tees of only 135 - and yet knocked America's best amateur players to their knees in last summer's qualifying rounds for the U.S. Amateur when the average score of the field one day was 80.
So what's going on in golf architecture? Harbottle is a member of what might be called the Northwest's "First Family of Golf" - his mother is a former U.S. Women's Amateur champion and his father a multiple club champion at Tacoma Country and Golf Club and a former finalist in the U.S. Senior Amateur.

Other courses Harbottle III designed include Monarch Bay, Stevinson Ranch and Schaffer's Mill in California and Genoa Lakes in Nevada. Among his restorations are Los Angeles Country Club and Stanford Golf Club in California, the Eugene, Waverley and Portland clubs in Oregon, and Hillcrest in Idaho.

He seems to understand the game from all angles, his portfolio ranging from a redo of the acclaimed North Course at Los Angeles Country Club to removing nearly 60 bunkers and at least that many trees at White Horse.

Harbottle senses a change in golf architecture, away from architects asked by developers to design a notorious course to attract publicity and sell lots to a return to its Golden Era. Away from what Rees Jones did at AAC where for the pros in the PGA Championship played a 250-yard par-3 over water.

"No doubt you see more bunkers, more water, more contour, more trees on today's courses," said Harbottle, "and there is no doubt that all the elements provide interest and character for the game. But mere difficulty is not what the great architects strive to provide with their designs."
He went on to say, "Golden Era architects like Macan, (Alister) Mackenzie, (George) Thomas and (Donald) Ross wished to make the course challenging for a proficient player but enjoyable for the average golfer. Variety is more important than mere length and interest more important than difficulty. I think we are beginning a trend back toward Golden Era values in today's new designs and renovations. They are simply more playable, maintainable and sustainable."

At White Horse, Harbottle made changes that would help the average player without weakening the hole for the good player. A good example is found at No. 2, where he removed bunkers on the left side of the fairway and the left-front of the green to allow both a path to the hole for average players as well as a bailout.

The hole is brutally long and tight as everything slopes right, especially near the green where there are two deep greenside bunkers. "With the removal of left fairway bunkers, the proficient player can draw the ball off the tee to find the fairway and does not think much about the left green bunkers or that the approach is narrow," said Harbottle. "The proficient players carry the ball onto the green and use spin to stop it."
The average player, on the other hand, can now play left of the green with the hope of chasing a shot onto the putting surface. "We have speeded up play, increased playability, decreased maintenance costs and not made the hole much different for the better players," said Harbottle.

So what makes a course playable, not just easy, but playable?

"Playability has to do with creating alternate ways to play a hole," said Harbottle. "Take the 18th at Gold Mountain Olympic for instance. It is a short par-4 with water down the right side. Longer players may choose to drive the green, which is one of the more challenging shots on the course. They can also play short-left of the green to an area where the green is in view and angled to receive more of a running approach.

"There is also an option to lay up well short and have a full short-iron into the green, but the approach shot will be blind, as it must come in over a tall mound."
From a different set of tees, average players have similar options.

Harbottle is clearly buying into the USGA's push for people to move forward in their selection of a set of tees. He understands what technology has brought to the game, but also how course maintenance has changed.

"Years ago courses had no fairway irrigation," he said, "They were generally shorter by today's standards and played fast and firm. As equipment advanced, course became longer and longer. And while the back tees are getting longer and probably always will, the trend toward shorter and multiple tee yards is coming on strong."

Harbottle understands we need a cultural as well as physical change. "The most ironic thing I have noticed lately is that rather than seeing many of the less proficient players moving forward to a shorter yardage, it is the older low-handicap players that are moving up," he said.

"These better players can shoot the same scores they did years ago when they play the right tees and they are not too shy to do it."
Blaine Newnham has covered golf for 50 years. He still cherishes the memory of following Ben Hogan for 18 holes during the first round of the 1966 U.S. Open at the Olympic Club in San Francisco. He worked then for the Oakland Tribune, where he covered the Oakland Raiders during the first three seasons of head coach John Madden. Blaine moved on to Eugene, Ore., in 1971 as sports editor and columnist, covering the 1972 Olympic Games in Munich. He covered five Olympics all together - Mexico City, Munich, Los Angeles, Seoul, and Athens - before retiring in early 2005 from the Seattle Times. He covered his first Masters in 1987 when Larry Mize chipped in to beat Greg Norman, and his last in 2005 when Tiger Woods chip dramatically teetered on the lip at No. 16 and rolled in. He saw Woods' four straight major wins in 2000 and 2001, and Payne Stewart's par putt to win the U.S. Open at Pinehurst. In 2005, Blaine received the Northwest Golf Media Association's Distinguished Service Award. He and his wife, Joanna, live in Indianola, Wash., where the Dungeness crabs outnumber the people.