Developer of Central Washington Resort Hires KemperSports
SBC Development, a partnership involving Colorado-based Eagle Resort Development and Yakima-area developers Craig Shultz and Gary Scott, has announced its selection of KemperSports as manager of the Vineyards Resort Golf Course near Yakima, Wash. The planned 18-hole golf course will be the centerpiece of the $500-million Vineyards Resort, a 500-acre master-planned wine and golf community in the heart of Central Washington's wine country, two hours southeast of Seattle.
The Vineyards Resort Golf Course will be crafted by Hurdzan/Fry Golf Course Design, a firm that has designed numerous layouts across the U.S. and Canada, including Desert Willow Golf Resort in Palm Desert, Calif. The 7,500-yard, par-72 Vineyards, scheduled to open in summer 2009, will feature high-desert landscapes, organic wine country vegetation and picturesque views of Mounts Adams and Rainier.
"Our goal is to develop the first and finest resort in Washington Wine Country," said Richard Barnes, principal managing partner of Eagle Resort Development. "We look forward to combining our history in real estate development and resort construction with KemperSports' expertise in golf course management and operations to create a first-class experience."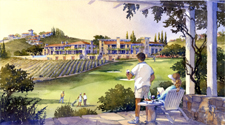 The Tuscan-themed Vineyards Resort will be the first high-end resort property in Washington's wine country, an area traditionally known for its fishing and snow skiing and just a short distance from dozens of world-class wineries. The project involves 582 resort-style homes - including golf cottages, patio homes, villas, and condos, along with a boutique hotel. The community is being designed around a spacious clubhouse that will contain a recreation center, health spa, tennis courts, outdoor and hot-therapy pools, and a full-service restaurant, bar and specialty wine club. Upon completion, the Vineyards Resort will also feature a village with cafés, shops, gardens and a courtyard.
"We are excited to partner with the developers to introduce a premier golf and resort experience to the Yakima Valley," said Steve Skinner, president and COO of KemperSports.
For more information about the Vineyards Resort, call 509/225-7200 or visit www.vineyardsresort.com.