Developer Plans Golf Course to Complete Community
Model home lots were platted and grading work begun in March at Dale Tittlemier's Boulevard Park project in Pueblo, Colorado. The community, slated to house a nine-hole golf course, will consist of various residential units and office complex. The upcoming course will feature an indoor electronic golf area, and be augmented by a pro shop, snack bar and tennis courts.
Tittlemier has been seeking other home builders for the 210-acre community. Calico Homes, Richmond America Homes and Today's Homes were brought on board in April. "Right now, we're working on about 230 condo units along the edge of what will be the golf course," said Tittlemier. "We're looking to develop the course in conjunction with the condos."
Condo owners will have complete access to the course; residents will also be able to access nearby Pueblo recreation areas, restaurants, and other local amenities via bike paths from the community.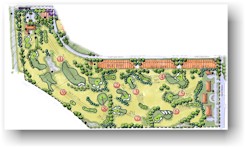 Tittlemier told Cybergolf that the course must still receive building permits from the city, which he expects to go smoothly. A Denver-based designer has completed a preliminary design of the course; the developer was "still reviewing proposals from about 10 other designers" in early April.