Discover the Joys of Golf North of Myrtle Beach
Once golfers visit the Myrtle Beach, they may never want to return home, unless they decide to move to this popular area of South Carolina permanently. This portion of Atlantic coastline has become one of America's premier golf destinations, boasting well over 100 courses within close proximity of each other. Called the "Grand Strand," the area was recently named by the International Association of Golf Tour Operators as the "established golf destination of the year."

But just above this golfing hotbed, across the border in North Carolina, lies a less-heralded but equally deserving destination for linksters. From Calabash on the south to New Bern on the north – and big-city Wilmington in the middle, sit dozens of wonderful golf facilities.
The featured courses include:

Belvedere Plantation Golf & Country Club
Fairfield Harbor Country Club - Harbour Pointe & Shoreline Courses
Legends Resorts - Marsh Harbour & Oyster Bay Golf Links
Meadowlands Golf Club
North Shore Country Club
Sea Trail Resort & Golf Links – Byrd, Maples & Jones Courses
Topsail Greens
Belvedere Plantation Golf & Country Club – Hampstead

Opened in 1972, Belvedere Plantation lies off of Route 17 North, just 20 minutes north of Wilmington. The 18-hole, par-71 layout features bentgrass greens, pine-lined Bermuda grass fairways, water on half the holes, and a scattering of bunkers that make even skilled players think twice before addressing the ball. The waste areas are nicely groomed and the elevated tees are reminiscent of a Donald Ross-style layout, thanks to architect Russell Birney's design. Belvedere Plantation was recently sold to Jack Broadbridge, the New England native's first golf course.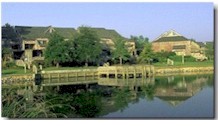 Fairfield Harbour Country Club – New Bern

Harbour Pointe Course
A host site of Senior Series Tour events, this D.J. Vector design plays slightly shorter than the neighboring Shoreline Course at Fairfield Harbour. From the back tees, it measures 6,650 yards, so golfers can enjoy strolling down gently rolling fairways that meander through marshlands without self-inflicting too much pain. Built in 1985, this is the newer of the two courses, yet it costs only $21 a round. Carts are required before 1 p.m. For tee times, call 252-638-5338.

Shoreline Course
The par-72 Shoreline, or "Clubhouse" Course, was designed by Rees Jones and opened in 1971. Despite it being crafted by such a "name" designer, Shoreline's greens fees are a modest $25. The course wraps around ponds and canals and opens to sweeping views of nearby waterways. Golfers better not gawk at the scenery too long though, as dozens of bunkers around the Bermuda putting surfaces will grab inattentive shots. Shoreline has hosted the T.C. Jordan Tour. Please call ahead for starting times at 252-514-0050.

Legends Resorts

Marsh Harbour Golf Links – Calabash
This 18-hole Dan Maples design opened in 1980 with help from developer Larry Young. Precise shotmaking is placed at a premium here, where elevated fairways run along low-lying marshland that can gobble up golf balls quickly. Marsh Harbour is one of eight golf courses owned and operated by Legends Resorts, all of which grace the Carolina coastline. The Oyster Bay Golf Links (see below) lies near Marsh Harbour. The other six facilities are in Myrtle Beach. A round of golf at Marsh Harbour costs $40. The number for tee times is 800-552-2660.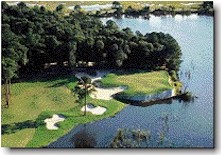 Oyster Bay Golf Links – Sunset Beach
Dan Maples has made his mark in Myrtle Beach, and he's doing the same in North Carolina. When Oyster Bay opened for play in 1983, it was named Golf Digest's Resort Course of the Year. Golf Digest later ranked the facility among the top-50 public courses in the U.S. in 1990. Oyster Bay offers many risk-reward opportunities, just what Young envisioned when he and Maples began the project. Among the 6,700-yard, par-70 course's more salient features are two island green par-3s; marsh-lined holes; lengthy par-4s and par-5s; short-but-tricky par-3s; and fresh-water lakes. Golfers who have played here before gladly pay the $50-per-round tariff. Call 910-579-3528 for a tee time.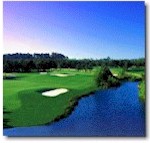 Meadowlands Golf Club – Calabash

Set among pine trees and minutes from the Atlantic Ocean, this Willard Byrd layout is not far from Myrtle Beach. Meadowlands regulars say they enjoy the quiet and relaxed setting found during a round here. North Carolina hardwoods and pristine lakes encompass the par-72 track, which measures a whopping 7,254 yards from the tips. Greens fees are $38 during peak times. Work is now underway on another18, called the Farmstead. It's slated to open in September 2001. Call 910-287-7529 for more information on the new course, or to reserve a tee time at Meadowlands.


North Shore Country Club – Sneads Ferry

When Golf Digest gives a course a four-star rating, golfers listen, and that's the case with this Robert Moore-designed track, which brings water into play on 10 of 18 holes. Tight bunkering around the bentgrass greens and Bermuda fairways beg for accurate shot making. Fortunately, an assortment of tees makes the course playable and fun for all concerned. Low handicappers will be tested from the tips, which stretch the layout to over 7,000 yards. North Shore has catered to the local golfing community and out-of-town visitors since opening in 1988. North Shore is the only course in Sneads Ferry, a scenic burg at the mouth of New River Inlet. For information on golf packages and tee times, dial 800-828-5035 or 910-327-2410.
Sea Trail Resort and Golf Links – Sunset Beach

Byrd Course
Sea Trail Resort consists of three 18-hole courses. The Willard Byrd layout opened in 1990. It was built around man-made lakes that are as large as 20 acres. Strategy off the tee is important on the course, where golfers need to be tactful when approaching the tricky, undulating greens. The finishing hole, leading up to the Jones-Byrd Clubhouse, concludes at a green tucked between two sparkling ponds. It is no wonder Golf Digest gave the Byrd course a four-star rating in its 2001 "Places to Play" guide. For tee times at the Byrd Course, call 800-287-1122.

Jones Course
Rees Jones designed another of the 18-hole tracks at Sea Trail Resort. His layout opened the same year as Byrd's. After seeing the kind of reception Maples' course received, and watching the Byrd course being built at the same time as his, Jones must have felt some pressure to deliver. The son of the late, great Robert Trent Jones came through in the clutch, with the course improving further after a 1999 remodel that gave a more natural look to the grasses and wildflowers. The fairways here are wide but guarded by large bunkers. Water enters play on 11 holes. Like its sister courses, the Jones Course received four-star honors from Golf Digest in its 2001 "Places to Play" guide. At $52 per round, the Jones layout is the most expensive of the three courses here. For reservations at the Jones Course, call 800-287-1151.

Maples Course
The original layout at Sea Trail Resort, the Maples Course opened in 1986. Architect Dan Maples gave the venue a unique look and feel by weaving holes through ancient, twisting oak trees and Carolina pines. It too received a four-star rating in Golf Digest's 2001 "Places to Play" guide. Golfers should be leery of the 400-yard 15th, which has a sand trap that extends the length of the hole. At $42 per round, local and visiting golfers often return for more. For reservations, call 910-287-1151.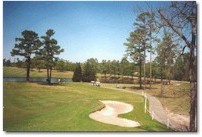 Topsail Greens Golf Course – Hampstead
Located 10 minutes from Topsail Island and its white-sand beaches, Topsail Greens is known for its elevated greens and water-laden holes, one of which is manifested at No. 8, which boasts an island green. Designed by Russell Birney and opened for play in 1976, Topsail Greens offers affordable golf, with prime-time weekend rates of $30. Tall coastal pines, lakes, sandy waste areas and unpredictable winds make this par-71 layout a tester. For more information and tee times, call the pro shop at 910-270-2883.