Do Mermaids Golf?
By: Elisa Gaudet
A question I am sure many have pondered as they venture out into the deep blue: Lurking in the mind of every late-night swimmer, scuba diver or golfer as he looks over the edge of an ocean hole searching for a lost golf ball … are there sharks?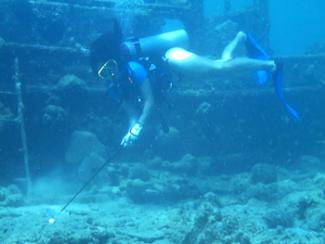 Golfing Mermaid
Some might ask, do Mermaids golf? Like the Loch Ness monster, myths of underwater sirens golfing have filled the ship journals of many sailors and perhaps drunken golfers at the 19th holes in such renowned ocean courses as Kiawah Island in South Carolina, Old Head in Ireland, Turnberry in Scotland, Casa De Campo in the Dominican Republic and probably the most well-known, Pebble Beach. The sea and golf also meet in one spectacular location, Curacao.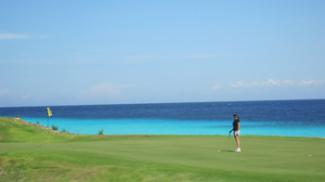 Elisa on One of Old Quarry's Beach Holes
Golf

You can now add to the list of ocean paradise courses, the Old Quarry Golf Course at the Santa Barbara Plantation (www.santabarbaraplantation.com) in Curacao, Netherlands Antilles. If you're looking for a phenomenal sea and golf getaway this Curacao location is as good as it gets. The newly opened par-72 layout designed by Pete Dye is named "Old Quarry" after the historic marble quarries that offer the second best views from the golf course after the strikingly blue nearby water. The mine still functions once a week and the topography surrounding the course can best be described as Arizona-meets-Cape Town-South Africa-meets-the-Caribbean. The Santa Barbara Plantation property and golf course are located in the middle of this rocky landscape with Caribbean waters running alongside the entire coastline.

Measuring 7,200 yards from the tips, the course offers a visually stunning experience for any level of golfer and the natural surroundings makes it difficult to concentrate on the game. There are eight ocean- and bay-side holes. Featured are vistas of the Caribbean and the picturesque Spanish Water Bay, named centuries ago after the Spanish sailors who came ashore looking for treasures and freshwater.

Adding to the charm are trees estimated to be 200 to 300 years old. In order to create a least disturbance effect, Dye used paspalum grass on the fairways and tees and native grass for the rough. The resort irrigates the course with recycled water mixed with salt water. Throughout the project and at the Hyatt there is a strong theme of respect for the environment and protection of nature and its resources.
"The ambiance is what makes it special," says Dye. "First you see the Caribbean, then the bay and the boats, then that big mountain. This land is incredible - the contours, the views, the ruins, the setting. Here the topography has enough movement; you don't have to create it."

The course is part of Santa Barbara Plantation, a 1,500-acre, resort-style community just 25 minutes from Curaçao's capital city of Willemstad and 40 minutes from the airport. The development also has the Hyatt Regency Curaçao Resort & Spa and 120-slip Seru Boca Marina on Spanish Water, capable of accommodating vessels up to 80 feet in length. In addition, Santa Barbara Plantation features a beach sectioned off by a floating dock to make it safe and easy to snorkel right off the beach. Hyatt Regency Curaçao Resort & Spa (www.curacao.hyatt.com) offers great food and great service. From the moment you arrive to every area you frequent, including golf, spa, restaurants and the pool-side lunch spot, SWIM, which boasts delicious fish tacos, the staff is attentive.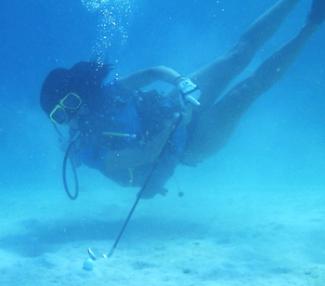 Elisa Tries Out a Sand Wedge Underwater
Diving

Scuba Diving Magazine's 2010 Readers Choice Awards gave Curacao high marks in a number of categories, including second place for Top Shore Diving and Top Beginner Diving and Third Place for Top Marine Life, Top Visibility, Top Health of Marine Environment, Top Macro Life and Top Overall Diving.

The diving facility Ocean Encounters (www.oceanencounters.com) is operated by Christian Ambrosi and his family. They took over the business in 2003 after many years visiting the island. Curacao boasts one of the best dive sites in the world and it did not disappoint. The dives are very well run by knowledgeable, friendly people of different nationalities who truly enjoy diving and love the ocean. The equipment and boats are great and well maintained. They went above and beyond to ensure everyone, both snorkelers and divers, had a pleasant experience and assisted greatly in locating and photographing the golfing mermaid.
Ocean Encounters is a PADI 5* IDC Resort and National Geographic Dive operator. Their fleet includes eight boats and six different locations around the island, taking underwater explorers to the best diving and snorkeling sites.

Calm conditions, good visibility, healthy reefs, great macro life, unlimited shore diving and over 100 dive sites make Curacao a diver's dream. Because Curacao - part of the "ABC" islands of the Netherlands Antilles (Aruba, Bonaire, and Curaçao) - is surrounded by a fringing reef created by geological events long ago, dozens of dive sites are within feet of the shoreline. Some of the standout shore dive sites include Playa Lagun, Playa Kalki (Alice in Wonderland) and Cas Abao. If you enjoy the boat-diving experience, there are a myriad of sites within a quick boat ride of nearby resorts. Two of the better known can't-miss dives include Mushroom Forest and the Superior Producer wreck.

It is here with all the great splendor of aquatic life that we realize how fragile and important the ocean is and the importance of protecting this natural resource. Christian and his group have a "zero contact" policy: no touching and no contact of sea life. Oceana (www.oceana.org), the largest international organization focused solely on ocean conservation, is dedicated to protecting the world's oceans and working tirelessly on strategic, directed campaigns that will help return our oceans to former levels of abundance.

Golfing Mermaids were spotted near the Tugboat dive site. A tugboat wrecked 25 years ago just a few yards offshore and rests at 17 feet in a protected bay that has become a famous site for divers as well as snorkelers. The site offers lots of diving choices - wall, wreck and deep. Located on the protected southeast side of Caracasbay, the Tugboat site is accessible only by boat. A steep wall is located a mere three-minute swim from the wreck, which drops about 100 feet. Overgrown with tube sponges, coral, and a variety of colourful reef fish, including majestic blue parrot fish and yellow tail snappers, the abandoned tugboat makes this an ideal location for a mermaid's version of miniature golf. No doubt the mermaids obtain most of their golf balls in the water off hole Nos. 1 and 2.
Elisa Gaudet brings a wealth of entertainment and golf experience to Cybergolf. Elisa has spent the past several years in the golf industry in the U.S., Latin America and Spain. She worked for the PGA Tour and the Tour de las Americas before founding Executive Golf International, a golf marketing company that works with clients to develop strategies using golf as the medium. Often referred to as the Maria Bartiromo (a business analyst for CNBC) of golf, Elisa says: "Golf, as a marketing tool, has been around for years. It's amazing how many new ways companies can align their brand with the golf market to reach their target audience. Our goal is to create alliances and establish cross-border relations." Elisa also worked in the entertainment industry for over 10 years, including five in Los Angeles as a model and actress. She can be seen at many celebrity golf events and often gets the inside scoop from PGA Tour players. For more information about Elisa, visit her websites at www.onthelip.com or Executive Golf International www.execgolfintl.com.