Do the Internationals Have a Chance in the Presidents Cup?
By: Tony Dear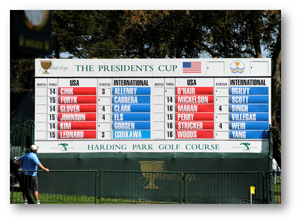 How do you define the word "rout"? Does the result have to be as lopsided as that of the 1947 Ryder Cup when the U.S. crushed Great Britain and Ireland 11 to 1? Will the International team's 20½ - 11½ drubbing of the U.S. at the 1998 Presidents Cup, or the 18½ - 9½ maulings the Europeans handed out at the Ryder Cup in 2004 and 2006 do? Perhaps America's 16½ - 11½ victory at last year's Ryder Cup will suffice?
However you classify it, with the three top-ranked players in the world, five in the top 10, an average ranking of 14, its lowest-ranked player in 38th place, and eight 2009 PGA Tour winners combining for a total of 19 Tour wins, the U.S. would appear set for another at the eighth Presidents Cup, starting October 8th at Harding Park Golf Course in San Francisco.
Frankly, the numbers support a very healthy U.S. victory as the International team, whose top-ranked player is 10th, has an average ranking of 29.25 and just six PGA Tour victories this year, the majority of them coming long before anyone - barring captains Fred Couples and Greg Norman, Harding Park's head superintendent and Mike Bodney, senior VP of the event - really gave much thought to the Presidents Cup. It has three players with no prior experience of international or professional team competition against one for the U.S., and three that require translators at press conferences and in the team room to help them understand Norman's battle plan. It has by far the youngest player on either side - in fact the youngest player in the tournament's history, two players who have never won on the PGA Tour, one who has dropped from World No. 3 to 65th in just 16 months thanks to 10 missed cuts in 19 PGA Tour appearances this season, and three who haven't had a top-10 finish in America since May. There are seven whose world rankings have fallen since the start of the year. Anthony Kim and Justin Leonard are the only Americans whose stock has dropped in the same period.
So what will the winning margin be? Are we looking at a rout of which captain Ben Hogan, Byron Nelson, Sam Snead and the rest of America's 1947 Ryder Cup team would be proud, or will the Americans have to be satisfied with just a five- or six-point gap?
Most punters on both sides of the Pacific and Indian Oceans will bank on a U.S. victory, of course. But the International team will also have its backers and not just because the 11-4 odds offered across the Internet for the first International win on American fairways seems incredibly generous given it is only a two-horse race and the less fancied of the two is still a world-class performer.
Then there's the reputation of the captain to consider. Though Ishikawa was only two-years-old and Camilo Villegas 11 when the "Great White Shark" won his second and last major, it goes without saying Norman has the respect of his entire team, especially among the Australian contingent. To a man they will want to perform heroically for him just as they did for Gary Player in South Africa in 2003, Virginia in 2005 and Montreal two years ago.
Next, bear in mind that in one sense they actually have more Presidents Cup experience than their opponents. Tot up the number of appearances made by the players on each team and the number comes to 32, but members of the International team have played more matches - 157 to 149 - than the Americans.
The teams shared the majors in 2009. Geoff Ogilvy is the reigning WGC Matchplay champion and has won the event twice in the last four years. Tim Clark beat Woods quite handily in the second round of this year's matchplay. Ernie Els won the original World Matchplay Championship at Wentworth in England seven times, plus he appears to be back in some sort of form with top-10 finishes in the year's final two majors and at two of the FedEx Cup playoffs. In August, Yang became the first man to beat Woods at a major after the world number one held the 54-hole lead. Villegas and partner, Masters' champion Angel Cabrera, will form a natural Spanish-speaking bond. Adam Scott, though a surprising pick given his miserable season, is a world-class player determined not only to justify his place on the team but also validate the faith Norman, his childhood hero, put in him.
No less significant will be the International team's acknowledged status as distant-second favorites. It would be wrong to suggest they will feel they have nothing to lose the way Bob May had nothing to lose when he came up just short against Woods at the 2000 PGA Championship, or Rocco Mediate when he took Woods to 91 holes at last year's U.S. Open. The International team does include six major champions, four of them multiple-major winners, after all. But regarding themselves as second best might work in their favor this time, says Weir, who adds that when, in the past, he and his teammates thought of themselves as the superior team they invariably lost. Also noteworthy perhaps is that four of the Internationals (Singh, Cabrera, Weir and Clark) finished in the top 20 when the WGC Amex Championship was played at Harding Park four years ago.

The course routing has changed dramatically since then as a result of Bodney's desire to make the superb 18th hole a crucial part of as many matches as possible. Had it remained as the 18th, it's likely less than half the matches would actually reach it, so Bodney devised a routing whereby it moved to No. 15, and the old 1st, 7th and 9th became the final three holes. That trio, though far less appealing visually than the corner of the property where the original closing stretch occurs, does in fact promise a good deal of excitement as it is made up of two short par-4s and a short par-5 - holes that will encourage aggressive play, especially in better-ball. It's likely that a par on any one of them will not be good enough for a halve.

First to take them on, assuming they get this far of course, will be Weir and Clark for the Internationals, Kim and Phil Mickelson for the U.S. It's an intriguing foursomes match-up as we will see early if the stability, patience, poise and relative calm of the Internationals is better suited to the venue than the exuberance of the Americans. The rough is not especially long, so one expects to see Mickelson and Kim blasting away even though that strategy failed them in the Saturday foursomes at Valhalla last September when they took a 4-up lead to the 7th tee against Henrik Stenson and Oliver Wilson but lost the match 2 & 1.

Woods is out in the fifth match alongside Steve Stricker, and their opponents are Ogilvy and Ishikawa. It's likely Couples held his No. 1 player back as he doesn't have the best record in team competition (23-24-3 in the Ryder and Presidents cups) and observing their standard-bearer being beaten is not terribly encouraging for his teammates. One wonders how Woods and Stricker will fare as partners, and how Ishikawa will react to playing his first Presidents Cup match against his idol. Will the 18-year-old succumb to nerves or will his star shine brighter and rise even higher than it already has?

The U.S. plays a team competition every year now, but despite their frequency the matches always evoke a great deal of interest. The Presidents Cup doesn't quite have the prestige of the Ryder Cup just yet. However, an International win this week will go a long way to raising its public profile and establishing its credibility. But can the Internationals pull off so unexpected a triumph against so strong an American team?

We'll find out this weekend.
Tony Dear is an Englishman living in Bellingham, Wash. In the early 1990s he was a member of the Liverpool University golf team which played its home matches at Royal Liverpool GC. Easy access to Hoylake made it increasingly difficult for him to focus on Politics (his chosen major) and, after dropping out, he ended up teaching golf at a club just south of London where he also made a futile attempt at becoming a "player." He moved into writing when it became abundantly clear he had no business playing the game for a living. A one-time golf correspondent of the New York Sun, Tony is a member of the Golf Writers Association of America, the Pacific Northwest Golf Media Association and the Golf Travel Writers Association. In 2009, Tony won first place for Editorial/Opinion in the ING Media Awards for Cybergolf. The article (http://www.cybergolf.com/golf_newsa_euros_take_on_the_2008_ryder_cup_matches) that impressed the judges was the one about Europe's Ryder Cup team and Captain Nick Faldo's decision to pick Paul Casey and Ian Poulter rather than Darren Clarke.